Investment Strategy Brief: Omicron Overreaction?
The uncertainty around a new COVID-19 variant is reflected in the markets – get our take on how Omicron will impact investors.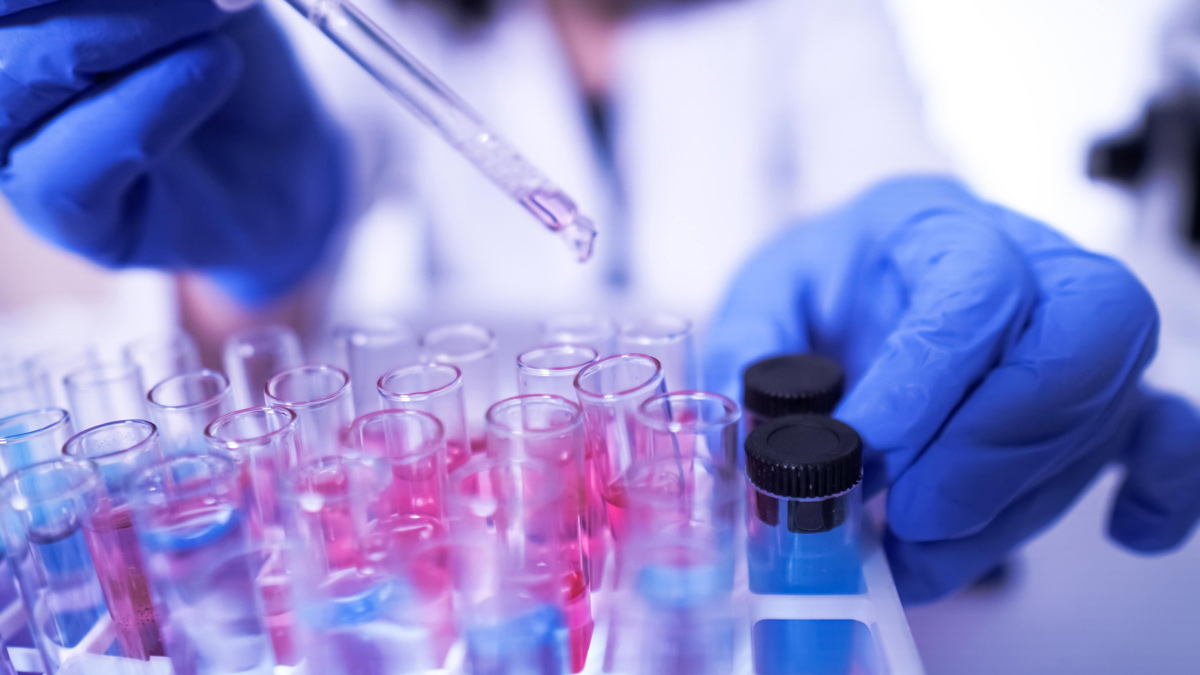 Financial markets pulled back at the announcement of a new COVID-19 variant, Omicron. It is premature to definitively state whether the variant's presence will be a lasting financial market issue. We expect key information on its global health and policy impacts to come over the next few weeks. Below we share our early-stage findings from the incremental news released thus far.
Transmission rate fears may be overdone. Omicron appears to have originated in South Africa where HIV rates are high and vaccination rates are low. It is caught by standard PCR tests as opposed to full genetic sequencing, so it is more easily detected. It is also unclear how reliable the South African detection rate is, as Omicron may have been spreading undetected earlier such that rapid growth claims may be overstated. Omicron is feared to be more transmissible than the Delta strain when it reaches developed economies; but all of the above reasons indicate that those fears may be overdone.
Many layers of protection in place. Omicron shows more mutations than previous variants of concern and it is reasonable to conservatively assume that vaccines will have reduced efficacy. With that said, we now have many layers of protection in the form of vaccines, natural immunity, treatments and diagnostics. And while the efficacy of some layers may decline, it would originate from high levels. Early news has been somewhat reassuring on this front. Omicron cases appear to be fairly mild in severity so far. Former head of the Food and Drug Administration (FDA), Dr. Scott Gottlieb, said that within vaccine circles there is reasonable confidence that current vaccines will remain effective. Pfizer's CEO stated he is very comfortable its new antiviral treatment (Paxlovid) will still work. Early data shows most diagnostics continue to function, allowing for containment screening. Finally, it should not be difficult to adapt current vaccines to produce a more targeted solution.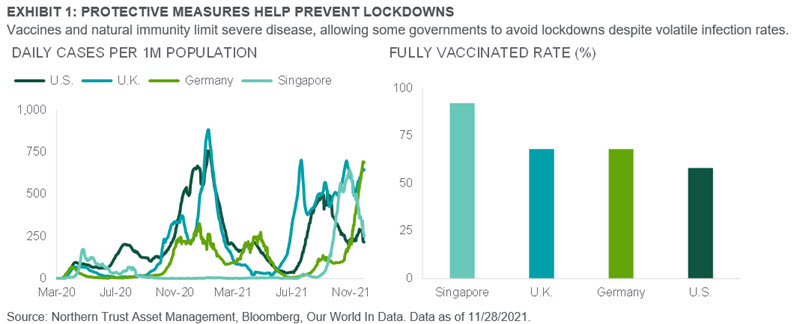 The financial market impact. At this stage it is too early to tell whether or not Omicron poses a meaningful risk to our financial market outlook. Financial market volatility is understandable given the uncertainty surrounding the nature of the new variant in its early stages of discovery. Encouragingly, global equities have already recovered some of last week's initial pullback. Vaccine efficacy against severe disease and limited political desire to return to the stringent lockdowns of the pandemic's past will be key to a continued constructive growth outlook. Countries with less effective layers of protection and lower levels of natural immunity remain most at risk of ongoing COVID-19 headwinds. We will continue to evaluate the situation as it evolves over the coming weeks.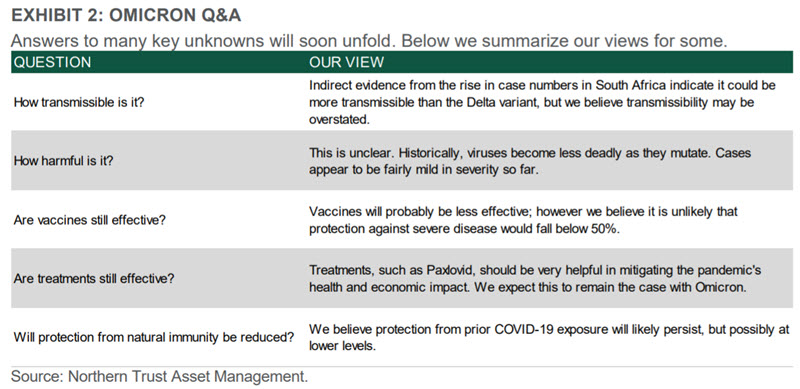 ---
© 2021 Northern Trust Corporation. Head Office: 50 South La Salle Street, Chicago, Illinois 60603 U.S.A.
IMPORTANT INFORMATION. For Asia-Pacific markets, this information is directed to institutional, professional and wholesale clients or investors only and should not be relied upon by retail clients or investors. The information is not intended for distribution or use by any person in any jurisdiction where such distribution would be contrary to local law or regulation. Northern Trust and its affiliates may have positions in and may effect transactions in the markets, contracts and related investments different than described in this information. This information is obtained from sources believed to be reliable, and its accuracy and completeness are not guaranteed. Information does not constitute a recommendation of any investment strategy, is not intended as investment advice and does not take into account all the circumstances of each investor. Opinions and forecasts discussed are those of the author, do not necessarily reflect the views of Northern Trust and are subject to change without notice.
This report is provided for informational purposes only and is not intended to be, and should not be construed as, an offer, solicitation or recommendation with respect to any transaction and should not be treated as legal advice, investment advice or tax advice. Recipients should not rely upon this information as a substitute for obtaining specific legal or tax advice from their own professional legal or tax advisors. Information is subject to change based on market or other conditions.
Past performance is no guarantee of future results. Performance returns and the principal value of an investment will fluctuate. Performance returns contained herein are subject to revision by Northern Trust. Comparative indices shown are provided as an indication of the performance of a particular segment of the capital markets and/or alternative strategies in general. Index performance returns do not reflect any management fees, transaction costs or expenses. It is not possible to invest directly in any index. Gross performance returns contained herein include reinvestment of dividends and other earnings, transaction costs, and all fees and expenses other than investment management fees, unless indicated otherwise.
Northern Trust Asset Management is composed of Northern Trust Investments, Inc. Northern Trust Global Investments Limited, Northern Trust Fund Managers (Ireland) Limited, Northern Trust Global Investments Japan, K.K, NT Global Advisors Inc., 50 South Capital Advisors, LLC, Belvedere Advisors LLC and investment personnel of The Northern Trust Company of Hong Kong Limited and The Northern Trust Company.
Jim McDonald
Chief Investment Strategist
Jim McDonald is an executive vice president and the chief investment strategist for Northern Trust. He is responsible for overseeing the strategic and tactical asset allocation policy for our institutional and wealth management clients globally.