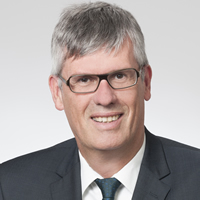 Karsten Illy is Country Head of Northern Trust's business in Switzerland and plays a leading role in growing and expanding its specialist asset servicing solutions. He manages the local team as well as the delivery of all asset servicing solutions for investment managers, asset owners and financial institutions. He was previously Chief Operating Officer and responsible for fund accounting, fund reporting, project management and IT.
Prior to joining Northern Trust, Karsten held various positions at UBS Fund Management (Switzerland), Basel, from 1999 to 2017 including Head of Fund Administration and Deputy CEO. Previous appointments have been with Deutsche Bank, Frankfurt and Dresdner Bank, Frankfurt.
Education:
• 1986-1992: University of Karlsruhe, Germany: Diplom in Wirtschaftsmathematik (Master in Mathematics and Economics)
• 1990-1991: University of Wisconsin Madison, USA: Master of Arts in Mathematics.