Subscribe to Investment Strategy Commentary
Get an edge in your portfolio with some of our best research by our top investment experts, delivered periodically.
2018 Corporate Social Responsibility Report: Achieve Greater
Corporate Social Responsibility 2018 - Employees

We recognize that our employees are critical to our success, and we take our search for and retention of top talent seriously. We target  our talent identification, talent sourcing methods and recruiting strategies to specific locations using a variety of channels including job boards, colleges, professional networks, associations and online social networks. We base hiring decisions on a variety of factors, including educational background, diversity, relevant experience, past accomplishments, professional licensing and strong evidence of integrity and ethical behavior.
Talent Management and Education
Northern Trust's talent management team has developed a customized training portfolio of core, manager, sales and client servicing blended learning solutions. In 2018, Northern Trust employees logged a total of more than 455,000 hours of training, an average of more than 23 hours of training for each employee.
Northern Trust provides targeted learning and development opportunities for managers including training classes, guidebooks, articles, webinars and suggested web pages organized by leadership level and encompassing a range of topics including team development, results delivery, performance management, emotional intelligence, agility and productivity.
Managers also benefit from external development programming on various management and leadership topics. These interactive programs provide peer networking opportunities and direct access to well-known expert facilitators. In addition, Northern Trust offers an educational assistance program that encourages employees to pursue further education. Our U.S. Education Assistance Program provides tuition reimbursement to support the degree aspirations of our employees. In 2018, more than 400 employee participants completed more than 1,200 classes. And through partnerships with Northern Trust, some education providers offer additional assistance in the form of grants or tuitions discounts. For example, DePaul University delivers a two-year onsite MBA program to more than 90 employees across three cohorts. The program offers a tuition discount on the program as well as Northern Trust's assistance on much of the remaining tuition.
To build a healthy pipeline of leadership talent to meet our evolving business needs, Northern Trust also administers multiple leadership programs tailored by career level.
The Northern Trust Rotational Development Program is designed to build the technical skills, business acumen and leadership abilities of recent college graduates. It serves to attract, develop and retain a diverse pipeline of future leaders while continuing to make the hiring of women and people of color a priority. Over an eighteen-month period, program members participate in meaningful job rotations. Career tracks include credit, corporate finance, investments, global fund services and technology. On-the-job learning is supplemented with additional development activities, including a comprehensive program orientation, mentoring, leadership speakers, a book club, community service events, a competitive business case challenge and targeted training courses. Eighty-eight percent of the participants who join the program are successfully placed into permanent roles.
The Enterprise Talent Leadership Program aims to prepare high-performing, mid-career employees for leadership success and to build a diverse pipeline of successors for key leadership positions. Demonstrating Northern Trust's commitment to the career progression of its participants, 32 percent of the current cohort has taken a new or expanded role since joining the program. Additionally, alumni participants are a significant part of our senior leadership pipeline, with more than half of former participants holding key leadership roles. The program offers the following components:
Leadership assessment and self-awareness
Career mapping and development planning
Mentoring assignments
Targeted development and leadership skill-building
Exposure to senior leadership

The Women's Leadership Development Forum is a series of professional and personal development programs designed to address Northern Trust's corporate need to grow and develop strategic thinkers and leaders. During the May 2017-June 2018 session, the program's 178 participants were divided into 15 cohorts that were each facilitated by two Northern Trust senior  vice presidents. The program's structured curriculum is anchored in research and best practices, with the content and program design driven by past leadership program feedback, recent employee survey results and interviews with senior-level female Northern Trust employees.
Participants are guided through discussions and exercises during six sessions:
Leading on purpose
Increasing your confidence
Establishing your power base
Discovering your influence style
Navigating your path
Building & sustaining your network

Diversity
Northern Trust values diversity as an essential element of our corporate culture. Our strength in fostering and supporting a globally diverse and inclusive workforce helps us succeed as a business enterprise and an effective community advocate. Whether performing as individuals
or working together as teams, the quality and diversity of Northern Trust employees clearly distinguishes us from our competition. A diversified workforce is one of our strongest assets, enabling us to best serve our clients, investors and the public.
Northern Trust's Head of Corporate Social Responsibility and Global Diversity & Inclusion reports directly to the Chief Executive Officer. Two Chief Diversity and Inclusion Officers are responsible for the design and execution of topic-relevant programs across the Americas, EMEA and APAC.
Northern Trust's senior management team realizes and embeds our vision for diversity and inclusion at all levels of our business. The Corporate Governance Committee of the Board of Directors is responsible for providing oversight of our diversity and inclusion policies, programs and strategies.
We strive to enhance the pipeline of women and minority talent through an integrated strategy that addresses key role development, talent acquisition and career progression.
Northern Trust is a member of two asset management industry- specific diversity organizations: The Diversity Project (both the UK and North America chapters) and LGBT Great (the UK Chapter, with plans to expand to other regions).
Leading asset management firms founded both organizations to drive continuous change across the asset management industry in all tenets of diversity, equity and inclusion.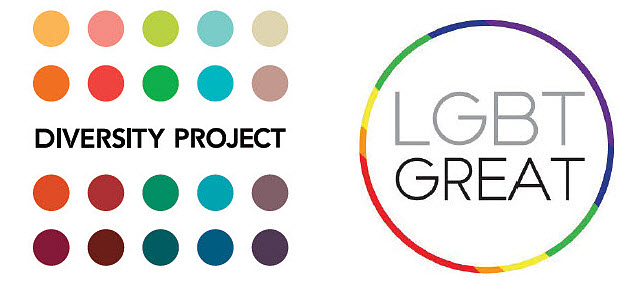 Diversity Project
The Diversity Project aims to accelerate progress towards an inclusive culture in the investment industry. An inclusive culture supports more effective teamwork, gives wider perspectives, better investment decisions, better results for our clients and ultimately more sustainable businesses. The Project spans the whole range of the profession: asset owners, fund managers, fund selectors, pension consultants, actuaries, trustees, wealth managers and professional standards and trade bodies. It is overseen by a CEO Advisory Council that provides strategic input and business leadership. An Executive Steering Committee leads the implementation of the strategy through committees and work streams. A further group of individuals and ambassadors from all levels of the industry helps deepen the Project's impact through individual engagement. In all cases, business leaders function as volunteers as they drive change.
The Project envisions a truly diverse and inclusive asset management industry with the talent to deliver the best possible results for our clients and to reflect the society we serve. The Diversity Project believes recognizable and measurable progress can be achieved over a long-term timeframe. The Project aims to achieve diversity across all dimensions, including gender, ethnicity, neurodiversity, socio- economic background, sexual orientation, gender identity, age and disability.
LGBT GREAT
LGBT Great is a global investment industry organization working to develop all aspects of LGBT+ equality and inclusion within the workplace and make a positive difference for employees and clients. It is the first organization to focus exclusively on the LGBT+ agenda specifically in the asset management industry.
The group's vision is an LGBT+ inclusive global investment industry that understands, supports and promotes LGBT+ people. It believes that the investment industry canbe an excellent choice of career for LGBT+ talent, and that the industry can benefit from the unique skills and experience this talent can bring. LGBT Great recognizes its responsibility to champion LGBT+ employees' contributions to Northern Trust's success.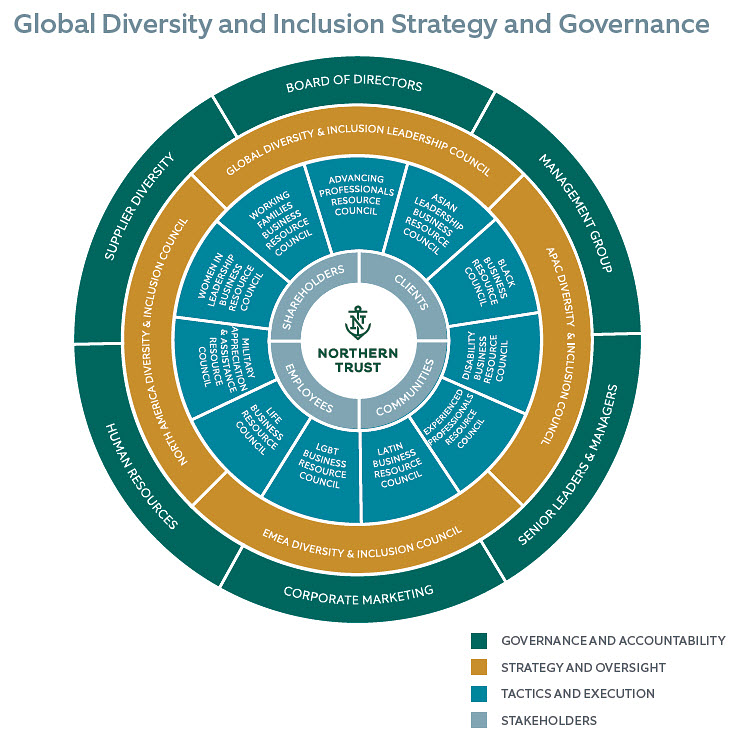 Business Resource Councils
Northern Trust is committed to building a work environment responsive to and inclusive of our employees' diverse identities, beliefs and interests. To help ensure our commitments to diversity, inclusion and innovation are embedded in the fabric of our company, Northern Trust sponsors 11 employee resource groups (ERGs), which we call business resource councils (BRCs). These councils are open to all Northern Trust employees who share an affinity for the mission of the group, and are employee-initiated, governed, and led. The BRCs play a vital role in the recruitment, retention and development of a globally diverse workforce and serve as community advocates, further enabling Northern Trust to be an employer of choice.
Northern Trust's BRCs help foster a culture of inclusion by:
Working to ensure our business practices are shaped by a multiplicity of perspectives, allowing Northern Trust to deliver with confidence best-in-class services and innovative strategies
Helping employees support one another in their personal and professional growth
Providing networking and mentoring opportunities
Assisting with branding strategy and business development
Serving as liaisons to prospective and existing clients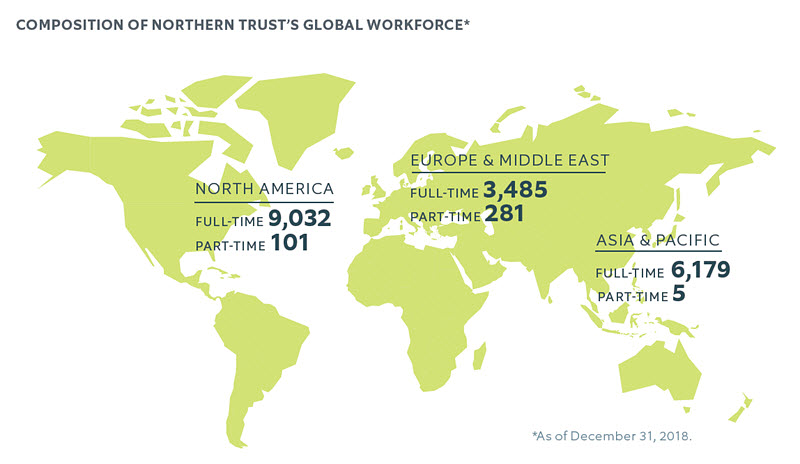 Professional Development
In 2018, our BRCs led more than 50 events focused on advancing diversity, inclusion and engagement, internally and externally. The councils chose speakers from membership organizations, clients, the community and the government sector.  One of the key programs, ANCORE, was sponsored by our Advancing Professionals Resource Council. After a successful launch in 2017, this innovative program hosted a second cohort in 2018.

ANCORE is designed to strengthen employees' foundational business technical skills,   connect these principles to Northern Trust's business model, and provide exposure to higher education opportunities and senior leadership. The program targets high-performing, highly engaged individuals. Once accepted into the program, participants attend six sessions led by representatives from top area business schools and key Northern Trust leaders.

Professors from The University of Chicago Booth School of Business, DePaul University and Kellogg School of Management at Northwestern University led theory-focused sessions, while Northern Trust leaders brought theory to practice through sessions in the areas of sales and marketing, investments and business strategy. Response to the 2018 program was oversubscribed within two days and the approval rating was 97 percent.

In early 2018, the ANCORE program received a Northern Trust Chairman's Award for its success in driving alignment to the corporate goals of diversity and inclusion and employee development.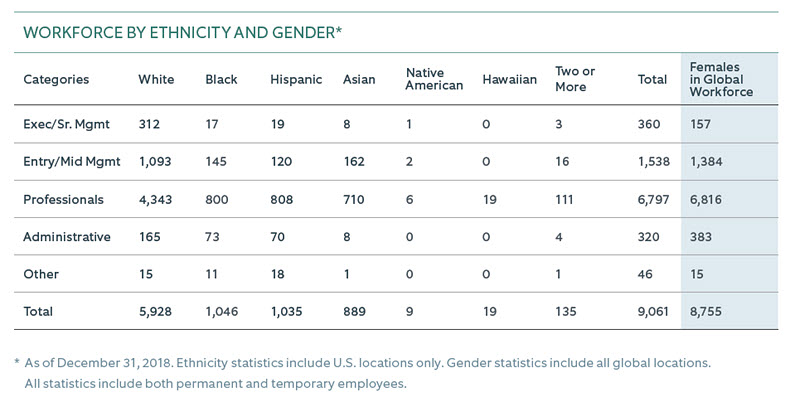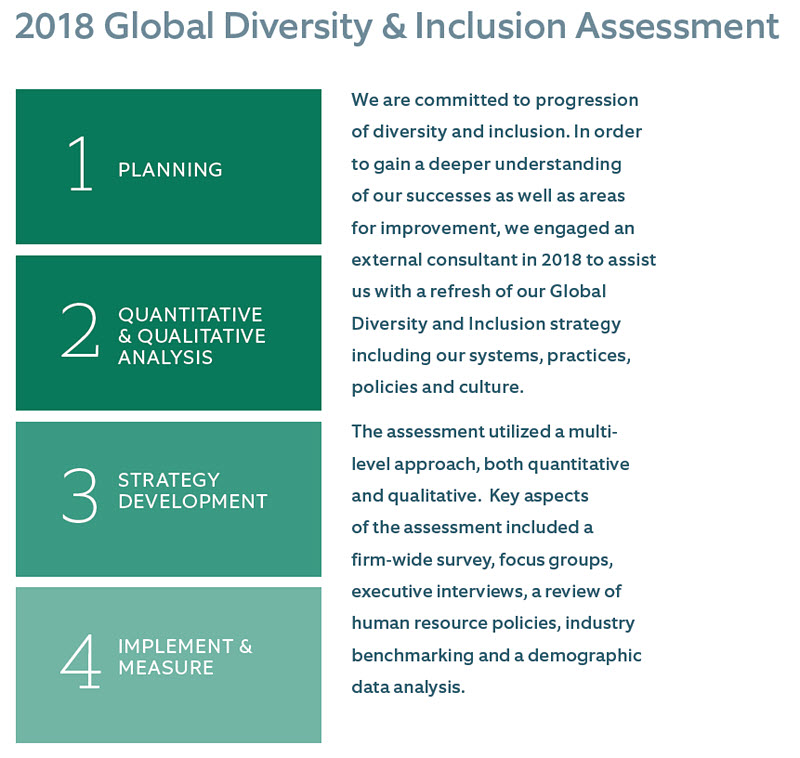 Northern Trust's human rights and workforce principles apply to all global operations and clearly state our support for the rights of minority groups, women and workers. Our principles expressly reference our conformance with public policies including the International Labour Organization's standards and the Organisation for Economic Co-operation and Development's guidelines for multinational enterprises. Employees worldwide also may exercise freedom of association with regard to collective bargaining and trade agreements as permitted by applicable regional laws.We apply these standards to our suppliers and vendors as well as to our employees, who receive training on antidiscrimination, diversity and inclusion and the prevention of sexual harassment. We also provide training specifically on cultural change, which is especially helpful for expatriates and employees serving short-term assignments abroad or experiencing global relocation.A number of senior-level company officers are responsible for overseeing the execution of our human rights and workforce standards.
These standards commit us to providing fair and equal wages to employees regardless of gender, and offering competitivecompensation and benefits to our workforce.