Ramón "Ray" Cepeda
Senior Managing Director
Call: 312-557-3270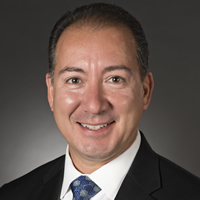 Before joining Northern Trust in 2007, Ray spent his career in commercial lending having closed and managed over $3 billion of commercial real estate loans to investors and developers on retail, office, industrial and multi-family assets around the U.S. Additionally, Ray started a middle market lending team, initially focusing on Hispanic owned companies with revenues in excess of $50 million, including U.S. subsidiaries of Mexican owned companies.
He graduated from The University of Illinois at Chicago with a bachelor's degree in criminal justice and economics.
He's married with three children and loves to spend as much time as he can with his family. An avid boater, Ray spends much time out on Lake Michigan, where he keeps a boat during the summers. Ray is also an active member of the Columbia Yacht Club.
As senior managing director of specialty lending, he leads both the commercial real estate lending team and the professional services team within Wealth Management. The real estate team works with high net worth families, individuals and closely held partnerships to provide loans and advice in the area of commercial real estate. The professional service team focuses on regional and national firms within the legal, accounting and consulting practices. Our team provides corporate lines of credit, partner loan programs, and treasury management.
A Mexican-American native of Chicago's Little Community, Ray is an active member of board of Trustees at The National Museum of Mexican Art, Neighborhood Housing Services of Chicago, Chicago Architecture Foundation and The University of Illinois board of Trustees as appointed by Governor Rauner.
Learn how we help families make decisions