Marc Cosentino
President, Pacific Northwest Region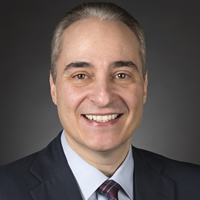 Previously, he served as Head of Client Advisory for Northern Trust's Global Family Office business, a group that delivers advice created for the unique needs of the wealthiest families and their private investment offices, businesses and charitable entities. Prior to this role, he served as Head of Institutional Asset Servicing for US based foundations, endowments, healthcare organizations and public entities. He has over 30 years of financial services experience and has been with Northern Trust since 1989.
He graduated from DePaul University with a bachelor's degree in accounting.
He's a Senior Vice President and Certified Treasury Professional (CTP) and is an active member of Northern Trust's Diversity & Inclusion Leadership Council. He is also serving on Northern Trust's Disability Resource Council.
He enjoys traveling and spending time with family and friends.
As the President of Northern Trust's Pacific Northwest business, he is responsible for the investment management, trust and estate planning, private and business banking and financial consulting business across the region.
He actively participates on the boards of The World Trade Center and The Youth Center.
Learn how we help families make decisions