John D. Fumagalli
President of Florida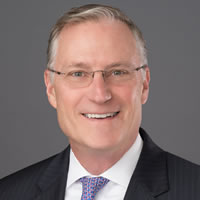 John joined Northern Trust in Chicago as a Second Vice President in 1989. He was named Vice President in 1992 and a Senior Vice President in 1999. While in Chicago, he served as the Managing Director of Northern Trust's Oak Street Financial Center and was responsible for the Northwestern Memorial Financial Center. In 2001, he was appointed President and CEO of the Saint Louis Financial Center. In 2005, he assumed responsibility for the Southwest Florida Region. In 2011, he was appointed Regional President of West Florida, directly responsible for all activities on the west coast of Florida.
He earned a B.A. degree in Economics in 1983 from The College of the Holy Cross in Worcester, Massachusetts, and a Masters degree in Business Administration in 1997 from the J.L. Kellogg School of Management at Northwestern University.
As the President of the Florida Region, he has the responsibility for managing the company's investment management, trust and estate planning, private and business banking and financial consulting business in Florida. He was promoted to Executive Vice President of Northern Trust in February 2016. John is also a member of the firm's Wealth Management Executive Leadership Team and serves on the firm's Business Leadership Council.
John is past Chair of the Foundation Board for Florida Gulf Coast University. He is also member of The Board of directors for The Beacon Council, Florida House, The Miami Foundation, and the Perez Art Museum Miami. John serves as a Trustee for Barry University, Palmer Trinity School and is on the Council of Advisors For Imagine Solutions.
Learn how we help families make decisions