Tim Geraghty
Northern California Region President
Call: 415-765-4416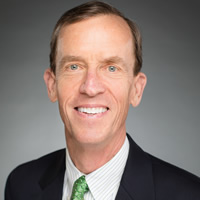 Prior to joining Northern Trust, Tim spent 30 years at Bank of America where he was Senior Vice President and Market Executive for the Private Bank in Northern California.
Mr. Tim Geraghty is the Region President of Northern California. Tim and his partners provide Northern Trust's wealth management services to individuals, families, corporations and foundations throughout Northern California. These services include investment management, financial consulting, fiduciary services, and private banking.
Tim Geraghty is FINRA licensed (Series 7, 9, 24, 63, and 66), and is a Registered Representative of Northern Trust Securities Investments.
Mr. Geraghty earned his Master of Business Administration degree in Finance from Loyola University (Chicago), and a Bachelor of Arts in Economics and History from Emory University (Atlanta).
Tim serves on the board of directors of several nonprofit organizations, including the United Way of the Bay Area and the SF-Marin Food Bank. He is also very involved in his church community.
He is an avid reader, enjoys hiking and the outdoors, and is determined to eventually outsmart the deer who frequently dine in his vegetable garden!
Learn how we help families make decisions