Jim Hock
Senior Managing Director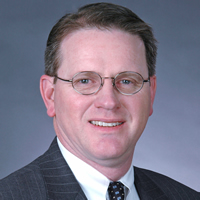 Jim currently leads a team of experienced professionals providing holistic wealth management services and solutions for high and ultra-high net worth clients and families. Since joining Northern Trust in 1989, he has served in a wide variety of management roles in both commercial banking and wealth management. Prior to joining Northern Trust, Jim worked in commercial banking at First Wisconsin National Bank (now US Bank) in Milwaukee.
Jim has served on many not-for-profit boards over his career, including healthcare, education and social service agencies. He is currently on the board of directors of The American Blues Theatre in Chicago.
He graduated from Wheaton College with a Bachelor's degree in Business and Economics. He further studied for his Master's degree in Economics at the University of Wisconsin – Milwaukee.
Jim is a Senior Vice President and Senior Managing Director. He has completed a number of advanced education courses, including three levels of Personal Trust School.
As a senior managing director in Chicago, he focuses on his team's delivery of capabilities, advice and service excellence in every client relationship experience. Jim has a strong background in wealth management and commercial banking with years of experience working with business owners and their families.
Learn how we help families make decisions