Paul G. Hudson
Senior Managing Director, Sarasota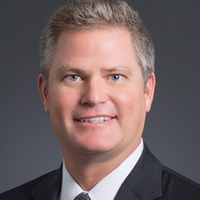 Paul Hudson is the Market Leader of Sarasota and Manatee Counties. Paul is responsible for leading the sales, holistic advice and client servicing activities and business development strategies. Paul works closely with various Centers of Influence and not-for-profit organizations in the community.
Paul attended Florida State University graduating in 1992, receiving his Bachelor of Science degree in Finance.
Paul and his wife Jenni have two children, Kai and Broc. Paul is an avid fisherman and boater who also enjoys hiking and travel.
Paul's decades of experience helps him identify key issues and planning opportunities. Paul leads a collaborative process between clients and their investment, tax, estate, financial planning, insurance and other advisors to achieve optimal outcomes.
- Trustee and Board Chair, The John & Mable Ringling Museum of Art
- Trustee and Development Committee, Florida State University Foundation
- Advisory Board, Mote Marine
- Board Member and Past President, Historic Spanish Point
Learn how we help families make decisions