Lily Kwok
Head of Client Services, Hong Kong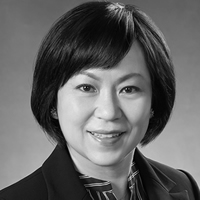 Lily Kwok is a Senior Vice President at Northern Trust, based in Hong Kong. She is the Head of Client Services for the Institutional Investor group across Hong Kong, Macau and Taiwan, and is responsible for developing and implementing Northern Trust's business strategy in these markets.
Lily joins Northern Trust from FinEX Asia, a digital asset management company that utilises artificial intelligence and blockchain technology in its investment, where she was a Business Relationship Director. Prior to that, Lily was the Head of Business Development and Client Solutions for Market and Financing Services at BNP Paribas Securities Services (Hong Kong), Senior Portfolio Analyst at Performance Measurement and Analytics Division at State Street (Australia), Regional Head of Client Services for Securities Finance Asia ex-Japan at State Street (Hong Kong), and brings nearly four years of external audit experience with PriceWaterhouseCoopers (Hong Kong).
Lily has been in the asset servicing industry since 1991, and has extensive knowledge in custody, fund accounting, portfolio performance measurement and analytics, and securities lending. Lily began her career in marketing and sales in 1998 playing leadership roles in corporate marketing, new business development and client relationship management for institutional investors across Asia Pacific.
Lily is a fellow member of the Hong Kong Institute of Certified Public Accountants and a lifetime member of the Association of Women Accountants (Hong Kong). She holds a Bachelor of Commerce degree from the University of Queensland and an Executive MBA from the Australian Graduate School of Management - University of New South Wales. She has been serving as an Organising Committee Member of the Financial Services Interest Group of Hong Kong Institute of CPA since 2003.