Ronald J. Mallicoat, Jr.
Group Managing Director - President Metro Chicago
Call: (312) 444-3428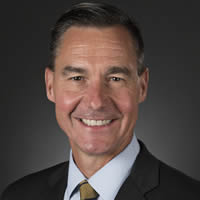 Ron joined Northern Trust in 1988. He presently leads a group of Chicago-based Advisory Teams that serve the investment, fiduciary, planning and banking needs of affluent families and individuals. He was formerly a division manager in the Middle Market Client Group, which oversees Northern's relationships with mid-size business and their owners and executives.
He received a B.B.A degree in Finance from the University of Iowa where he was a Collegiate Scholar and an M.B.A. degree with Honors in Finance and Economics from the University of Chicago Booth School of Business.
Ron is a Certified Wealth Advisory® (CPWA) having completed coursework at Chicago Booth. He is a member of the Investment Management Consultants Association (IMCA).
He is married with two children and enjoys reading, travel, sports and running. His daughter has Down Syndrome and he is very interested in planning and policy matters tied to disability. Ron and his family live in Northbrook, Illinois.
As a Group Managing Director, Ron is accountable for clients served by the Advisory Teams based in Chicago. He has considerable experience working with family enterprise.
Ron is a Director of Illinois-based Advocate Health Care and its philanthropic arm, the Advocate Charitable Foundation. He is also a member of the Governing Council at Advocate Lutheran General Hospital, Park Ridge, Illinois. He is currently a member of Advocate's Investment Committee. He is a Trustee of the Steppenwolf Theatre Company and a member of the Economic Club of Chicago and the Union League Club of Chicago.
Learn how we help families make decisions