Charles G. Mueller
Group Managing Director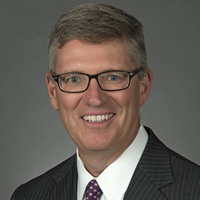 Charlie's expertise is his ability to bring together specialists from multiple disciplines in a highly coordinated manner to help clients achieve their goals through the lifecycle of their wealth.
His three decades of experience help him identify the key issues and planning opportunities and lead a collaborative process between clients and their investment, tax, estate, financial planning, insurance and other advisors to achieve the best outcomes.
As the President of the West Florida Region for Northern Trust, Charlie is responsible for leading the delivery of holistic advice and client service through investment, fiduciary, banking and wealth planning professionals.
He has over 30 years of experience in serving business owning families, corporate executives, professionals, not-for profits and other wealth owners in a variety of wealth management and commercial banking roles.
Most recently Charlie led the Advisory Services Practice at Northern which are capabilities that help clients fulfill their intent through Trust, Estate Settlement, Guardianship, Wealth Planning, Philanthropy, Family Education and Governance, Real Estate, Family Business and Oil, Gas and Minerals services.
Charlie graduated with honors from the University of Illinois College of Commerce and Business Administration in Urbana-Champaign in 1982 with a B.S. degree in Finance.
He holds the certifications of Certified Trust and Financial Advisor, CTFA and the Certified Private Wealth Advisor, CPWA.
Charlie is married to his wife, Toni of 34 years. Toni is a Certified Naturalist They have two children Charlie, a Physicist, and Katherine, a Nurse. Charlie is an avid pilot and enjoys flying on weekends. He also enjoys fishing, sporting clays, kayaking, hiking, golf, reading, travel.
Post Trustee and Board Chair, The Nature Conservancy, Illinois Chapter, Chicago, Illinois. Post Trustee and Grant Committee, DuPage Foundation, Downers Grove, Illinois. Post Trustee Steppenwolf Theatre Company, Chicago, Illinois. Post Trustee and Board Chair, Lifeline Pilots, Inc., Peoria, Illinois Post Commissioner and Board Chair, The Butterfield Park District, Lombard, Illinois, Board Member Naples Zoo, Task Force on Sea Level Rise, Conservancy of Southwest Florida.
Learn how we help families make decisions