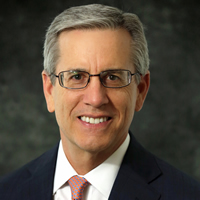 Ken joined Northern Trust in 2010 after 28 years in the financial services industry. This includes 22 years with Smith Barney, both as a financial advisor (1983 - 1996) and as a branch manager in Mesa, AZ (1995 - 2000) and in Clayton, MO (2001 - 2005). More recently he worked for JPMorgan where he had responsibility for the firm's wealth management offices in Wisconsin and Minnesota (2005 - 2008) and then lastly for the Chicago market (2008 - 2010).
He graduated with a Bachelor's degree and MBA from Brigham Young University.
Ken is a former Certified Public Accountant.
Ken enjoys exercising and reading.
Ken oversees a team of professionals that serve high net worth individuals and families in the area of banking, lending, investment management and estate management.
Ken is a former board member, vice-chairman, and treasurer of the Scottsdale Cultural Council. He is also a former board member of Scottsdale Musicfest.
Learn how we help families make decisions