Emilio S. Salvi
Managing Director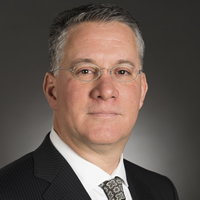 Emilio has over 33 years of experience in the banking and wealth management business. Currently, Emilio is a Senior Vice President and Managing Director of Northern Trust's Oak Street Financial Center and Banking Team Leader for a Wealth Management team at 50 S. La Salle Street.
Before assuming his current role he was the Managing Director of Northern Trust's Hinsdale Financial Center in Hinsdale, IL from February 2010 to March 2015. He served in a similar capacity at Northern Trust's location at Oak Street from September 2007 to February 2010. Emilio was the Managing Director of the Northwestern Memorial Hospital Financial Center from February of 2002 to September of 2007.
Emilio joined Northern Trust 1985 and was named an Officer in December 1990, Second Vice President in July 1995, and Vice President in February 1998. He was named a Senior Vice President of the company in July 2005. He has worked in several of Northern Trust's Illinois locations, including Park Ridge, Schaumburg, 50 S. La Salle, Wacker Drive, Northwestern Hospital, and Oak Street.
Salvi received a B.A. degree from Indiana University in 1989.
Emilio lives in Clarendon Hills with his wife, two daughters and a son. He enjoys being a hockey dad, golf, sporting clays and motorcycles.
As Managing Director of the Oak Street Financial Center, Emilio leads a team of wealth management professionals that advise clients on banking, fiduciary and investment matters. Emilio has successfully led teams in many of Northern Trust's Financial Centers in Illinois since 2002.
Emilio is currently on the Board at La Rabida Children's Hospital. He is the past Chairman of the Hinsdale Hospital Foundation Board and has served on the Board of Friends of Prentice Women's Hospital.
Learn how we help families make decisions