Gilbert A. Segovia
Managing Director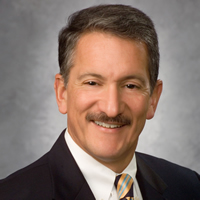 Gilbert A. Segovia is the President of the West Michigan Business Unit of Northern Trust Company. He has over thirty-five years of experience in private and commercial banking in the Grand Rapids area.
Gil holds a Bachelors of Arts Degree in economics from the University of Michigan, Ann Arbor. 
Gil and his wife Kindy have two daughters. He loves to spend as much time as he can with his family. He also enjoys golfing and being out on his boat on Spring Lake.
Gil joined Northern Trust in 2009. As Managing Director, he leads a team of multi-disciplined wealth professionals, including portfolio managers, trust administrators, commercial and private bankers along with wealth strategists, who serve clients in the West Michigan area.
Gil is a board member of the Muskegon Museum of Art and University Club of Grand Rapids. He is also on the Finance Council of Holland Home.
Learn how we help families make decisions