R. Michael Strickland
Managing Director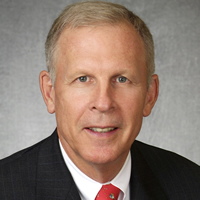 Before joining Northern Trust, he served as CEO of the Barnett Bank of Palm Beach County, and President of the Palm Beach Division of U.S. Trust.
He graduated from Rollins College in 1972 with a BA in Economics and an MBA in 1973. He is also a 1984 graduate of the Program for Management Development at Harvard University.
He is a Senior Executive of the Northern Trust Palm Beach Office.
He is married, and was formerly an avid tennis player and 1972 NCAA College Division National Doubles Champion.
As a 31 year resident of Palm Beach with 42 years of experience in the banking industry, he has a strong knowledge of the market served by Northern Trust.
He is an Honorary Trustee of Rollins College, Trustee of the Elizabeth Morse Genius Foundation, and Director of the Marshall and Vera Lea Rinker Foundation.
Learn how we help families make decisions