David C. Wicks
Head of Continental Europe and CEO of Northern Trust's EU bank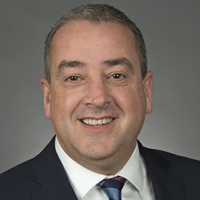 David is an Executive Vice President and currently serves as Head of Continental Europe. In this role he is responsible for developing strategy, regulatory oversight and governance for Northern Trust's business in continental Europe and overseeing client relationships for the Institutional Investor Group. Additionally, David has been appointed as chief executive officer of Northern Trust's EU bank headquartered in Luxembourg, and is a member of its European Management Committee.
An experienced executive, he has been with Northern Trust since 1998 and has held a variety of leadership positions in operational risk management, core operations and general management. He has a proven track record in managing start up and business as usual operations.
David has over 30 years of experience in the securities industry and previously worked for Wood Mackenzie, Fidelity, Bankers Trust, Smith New Court, Union Discount and UBS in a variety of finance, credit, risk and operations management positions.