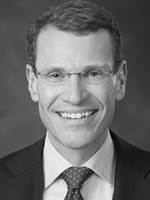 As President and CEO of Northern Trust – Missouri, Clint leads a team dedicated to service, expertise and integrity in investment management, fiduciary administration and private banking services for individuals, families and endowments.
Before joining Northern Trust, Clint served two terms as Missouri's 45th State Treasurer. As Treasurer, he managed a $3.5 billion portfolio, led the State's banking system and worked on issues that touched retirement security, economic development, small business, agriculture, college savings, military installations and housing.
As a managing director, he leads a team of twenty professionals in Northern Trust's Missouri office who are dedicated to partnering with clients to invest, develop charitable and estate plans, manage risk and access banking solutions. Northern Trust has served high-net-worth individuals, families, closely-held business owners, senior executives and endowments for 130 years. Clint serves on Northern Trust's Wealth Management leadership group.
Clint graduated from the University of Missouri-St. Louis with a bachelor's degree and Master in Business Administration. He is a Certified Private Wealth Advisor® professional, a designation that takes a holistic and multidisciplinary approach to helping families achieve confidence and clarity around managing wealth.
Clint enjoys running, cooking, reading and being active. He and his wife served as foster parents and are active in child advocacy issues. They both enjoy traveling and love movies.
Clint serves as a trustee and/or director on the following boards: Clark-Fox Policy Institute in the George Warren Brown School of Social Work at Washington University in Saint Louis; Concord Coalition, a non-partisan organization advocating for responsible fiscal policy; University of Missouri-St. Louis Chancellor's Council; St. Louis Community Foundation and Missouri Historical Society. He traveled to Spain and Brazil as an Eisenhower Fellow, studying economic development and energy policy. In addition, he served as an Rodel Fellow, a program dedicated to building bi-partisan dialogue in the United States.
Learn how we help families make decisions