Avoiding the Dip
Investors are concerned that a yield curve inversion signals an upcoming recession.
---

OUTLOOK
Investors are concerned that a yield curve inversion signals an upcoming recession. While this is a valid concern, it should be confirmed by other signs like deteriorating credit conditions. As shown below, high yield spreads haven't shown the deterioration they did during prior pre-recessionary periods.  Leading economic indicators have been slowing since late 2017, with much of the weakness concentrated in manufacturing. The service sector, a much larger part of most developed economies, has held up reasonably well. The weakness in manufacturing has coincided with the ramp-up of the trade wars, and is unlikely to reverse course soon. We should, however, reach some level of stability as global trade resets to a new level. We currently consider the potential for a trade armistice to be an upside risk to the markets, as it would positively surprise investors who have settled in for a drawn-out fight.
Recent months have seen central bankers start to pivot towards easier policy, including the European Central Bank (ECB) at its June meeting. In response to slow growth and low inflation, we expect it to restart quantitative easing measures later this year and this expectation has led to a drop in European interest rates.  We also think the recent leadership announcements for the ECB, European Council and European Commission bolster the case for pro-European Union policies in the coming year.  The Federal Reserve has taken a further dovish turn, supporting market expectations of a near-term rate cut (or cuts). Historically, this has been supportive of equity prices, especially in non-recessionary periods. Other central banks are likely to follow the lead of the Fed and the ECB in coming quarters.
We have three primary themes in our current tactical asset allocation policy. Firstly, we favor U.S. equities over emerging markets as they are less vulnerable to trade risks. In fact, this month we further increased our U.S. equity position by reducing our position in investment-grade bonds. Secondly, we favor interest-rate-sensitive real assets such as global real estate and global listed infrastructure as they are benefitting from the new, lower interest rate environment. Finally, we continue to like the downside mitigation and upside participation embedded in high-yield bonds.  While there are always plenty of concerns on the horizon, we still think risk-taking will be rewarded over the next year.

---

INTEREST RATES
Interest rates are falling around the world.
Low inflation and easy monetary policy will keep rates low.
Our portfolios are neutral-to-long duration in this environment.
Negative interest rates are back in a big way, with the universe of negative-yielding bonds now over $13 trillion. Japanese and German 10-year bond yields remain solidly in negative territory, while French 10-year government bond yields also recently went below zero. Perhaps more amazingly, the Greek government is now able to borrow at about the same rate as the U.S. government:  As of July 11, the Greek 10-year yielded 2.3% vs. the U.S. at 2.1%. This is remarkable given where we were four years ago, when Greece 10-year debt was briefly yielding over 19% (vs. the U.S. at 2.2%).
Driving global rates lower is the combination of slow economic growth and the new easing cycle now upon us. The Fed will take the lead, with a rate cut this month now a certainty and more cuts likely after that (we expect a total of three rate cuts in 2019). The European Central Bank also looks set to lower rates and will likely resume bond purchases. The Bank of Japan and Bank of England – among other central banks – will likely follow. We expect interest rates to continue their downward trend and are positioning portfolios with a neutral-to-long duration profile.

---

CREDIT MARKETS
Technicals (supply/demand) are extremely favorable right now.
Fundamentals remain solid, with continued low default rates.
We maintain our material overweight to high yield.
The high-yield market is supported by a supply shortage. In fact, as seen in the chart, we are on pace to pass the record supply shortfall of 2018. What exactly is supply shortfall (or surplus)? Simply put, it's the difference between natural supply and natural demand. Supply changes are a result of gross new issuance and the mix of "fallen angels" (companies that have moved out of investment grade and into high yield) and "rising stars" (the opposite). Demand changes are driven by such things as corporate actions, maturing bonds, coupon-reinvestment and mutual fund flows.
Substantial inflows and rising star activity are driving 2019's significant supply shortfall. This shortfall results in valuation support as managers must invest capital in order to maintain neutral cash balances. Capital market activity has also improved, driven by the fall in U.S. Treasury rates. Gross new issuance is higher than 2018; however, it is still lower than previous years. Meanwhile, after an outflow in May, high-yield fund flows moved higher in June as central banks provided dovish commentary and the search for yield resumed. This strong technical environment is complemented by continued solid fundamentals (default rates are low and interest coverage ratios are high) – driving our 5.8% return forecast. We view this as attractive in the context of lower expected equity returns and reiterate our material high yield overweight.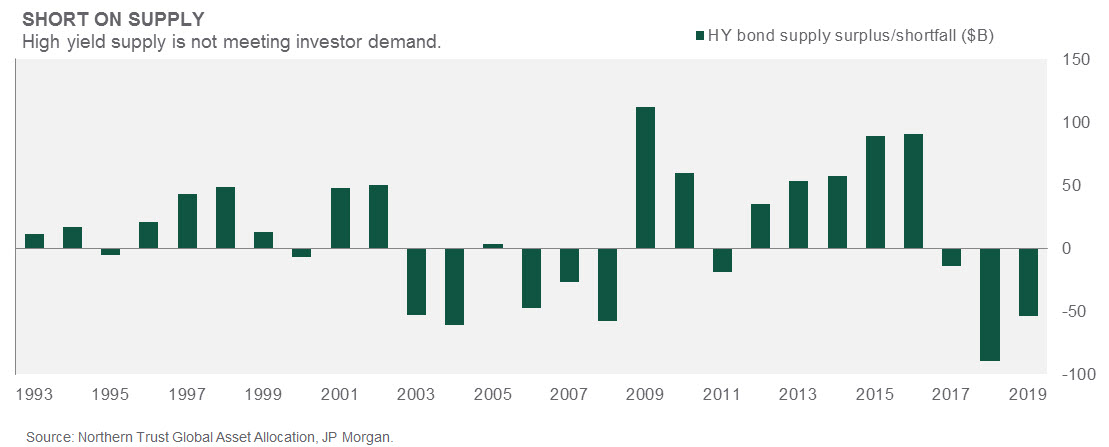 ---

EQUITIES
Some reduction in U.S.-China tensions will support sentiment.
Confirmation of Fed rate cuts will support valuations.
We are overweight equities, preferring U.S. companies.
Global equities moved higher over the past month, led by U.S. equities hitting new highs. The U.S.-China trade ceasefire and increased expectations for Fed rate cuts have provided a positive backdrop for market sentiment. With only modest earnings growth in 2019, nearly all of the gains in the market this year have come from valuation expansion – not higher profits. Yet, for the most part, this year's material expansion of valuations regains only what was lost in the 2018 decline.
We anticipate "cautious optimism" coming out of second-quarter earnings reports, reflecting decent (still positive) underlying economic growth, tempered by uncertainty regarding the first and second-order trade conflict impacts. The chart reviews the building blocks of 2019 earnings-per-share growth vs. 2018. Revenue growth has slowed, but the bigger impacts have come from the loss of tax reform benefits and slightly lower margins due to higher labor and other input costs (e.g., tariffs). Overall, we expect valuation pressures from subdued growth to be offset by the benefits of the lower rate environment. We remain constructive on U.S. equities and underweight emerging market equities with China – and other emerging market countries – still in the crosshairs.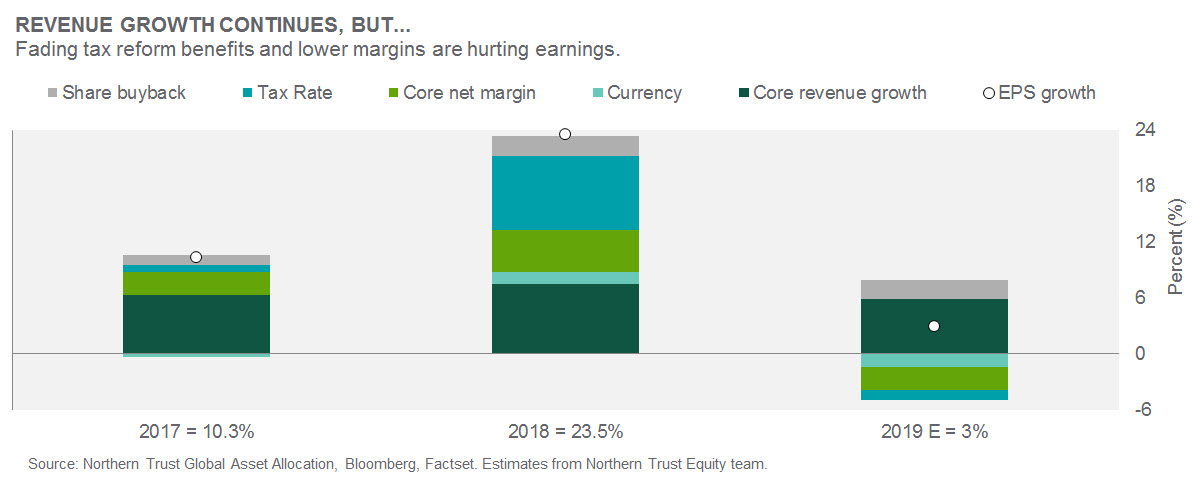 ---

REAL ASSETS
Interest rates will remain subdued over our tactical horizon.
The search for yield will support "cash flow" asset classes.
We remain overweight global real estate and infrastructure.
Generally, we confine our interest rate commentary to the interest rate section – but our current overweight to interest-rate-sensitive global real estate and listed infrastructure warrants further discussion of our outlook. The strong June jobs report and a slightly higher-than-expected inflation report have pushed interest rates higher recently. Specifically, after falling for most of this year, the U.S. 10-year Treasury yield has moved from a low of 1.95% to 2.13% in a fairly short span of time. We don't think this upward march will continue. The strong June jobs report followed a weak May jobs report, and the three month moving average (used to smooth the monthly data) remains below the Trump administration's average monthly job creation (see chart). Similarly, the slightly higher-than-expected inflation reading is in the context of a downward trend. Year-over-year wage growth is moderating and longer-term inflation expectations are still below the Fed's inflation target.
We expect interest rates globally to remain capped, with an expectation that the 10-year U.S. Treasury yield will move back towards 2%. Continued low rates will push more investors to seek yield alternatives; the 4.0% yields on global real estate and listed infrastructure look very attractive in this environment. Our global policy modal remains overweight to both, with a strategic allocation to natural resources.

---

-Jim McDonald, Chief Investment Strategist
IN EMEA AND APAC, THIS PUBLICATION IS NOT INTENDED FOR RETAIL CLIENTS
© 2019 Northern Trust Corporation.
The information contained herein is intended for use with current or prospective clients of Northern Trust Investments, Inc. The information is not intended for distribution or use by any person in any jurisdiction where such distribution would be contrary to local law or regulation. This information is obtained from sources believed to be reliable, and its accuracy and completeness are not guaranteed. Information does not constitute a recommendation of any investment strategy, is not intended as investment advice and does not take into account all the circumstances of each investor. Forward-looking statements and assumptions are Northern Trust's current estimates or expectations of future events or future results based upon proprietary research and should not be construed as an estimate or promise of results that a portfolio may achieve. Actual results could differ materially from the results indicated by this information. Investments can go down as well as up.
Northern Trust Asset Management is composed of Northern Trust Investments, Inc. Northern Trust Global Investments Limited, Northern Trust Global Investments Japan, K.K, NT Global Advisors Inc., 50 South Capital Advisors, LLC and investment personnel of The Northern Trust Company of Hong Kong Limited and The Northern Trust Company.
Issued in the United Kingdom by Northern Trust Global Investments Limited.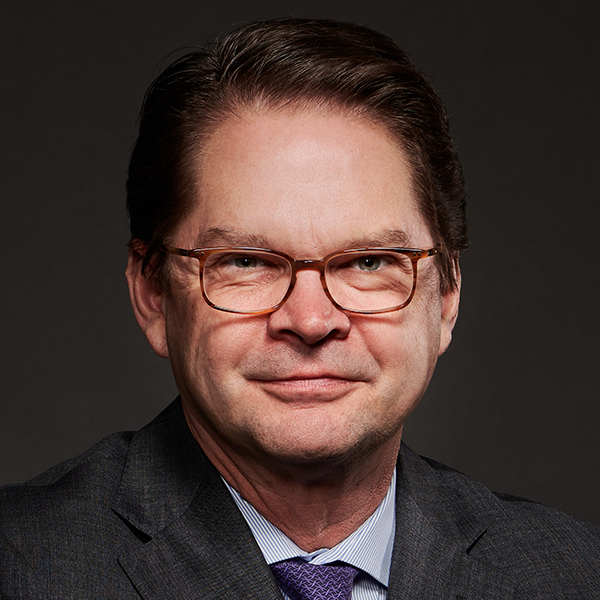 Jim McDonald
Chief Investment Strategist
Jim McDonald is an executive vice president and the chief investment strategist for Northern Trust. He is responsible for overseeing the strategic and tactical asset allocation policy for our institutional and wealth management clients globally.