Accidentally Global: Tax Tips for International U.S. Families
Answers to common questions on international tax law.
summary
The world is increasingly interconnected, but crossing international borders in our lives can lead to complicated tax and wealth planning dynamics.
In many instances, clients may even find themselves in these situations unexpectedly.
In the following discussion, Northern Trust's experts offer insights into three of the most common questions that we hear surrounding international taxation.
International tax rarely is top of mind for U.S. families who are living and working in the U.S. But, many clients find themselves accidentally global, or intentionally global with unintended consequences. A child may move abroad temporarily or permanently. A beach vacation may inspire an international real estate purchase. Or, one may marry a citizen of another country.

This piece covers the top three international tax questions we hear from clients and provides our best thinking in order to help you and your family make informed decisions.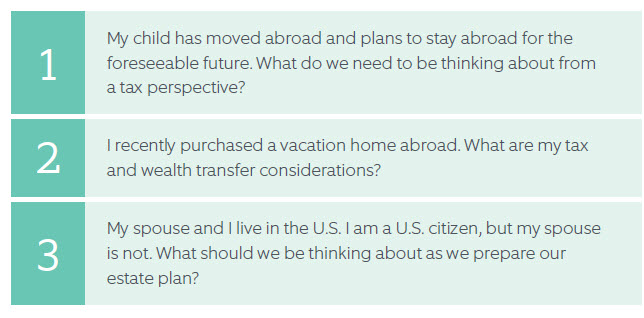 Of course, your tax situation is unique and should be evaluated with the help of your trusted legal and tax advisors.
MY CHILD HAS MOVED ABROAD AND PLANS TO STAY ABROAD FOR THE FORESEEABLE FUTURE. WHAT DO WE NEED TO BE THINKING ABOUT FROM A TAX PERSPECTIVE?
From a U.S. income tax perspective, your U.S. citizen child must file a U.S. income tax return every year and must report all of his or her taxable income, regardless of where in the world the income is earned and regardless of type (salary, investment income, etc.). The laws of the foreign country also may require your child to file an income tax return and pay income taxes there.
Paying taxes on the same income in two different countries can be onerous, so your child will want to mitigate double taxation to the extent possible. The four main avenues for mitigation are: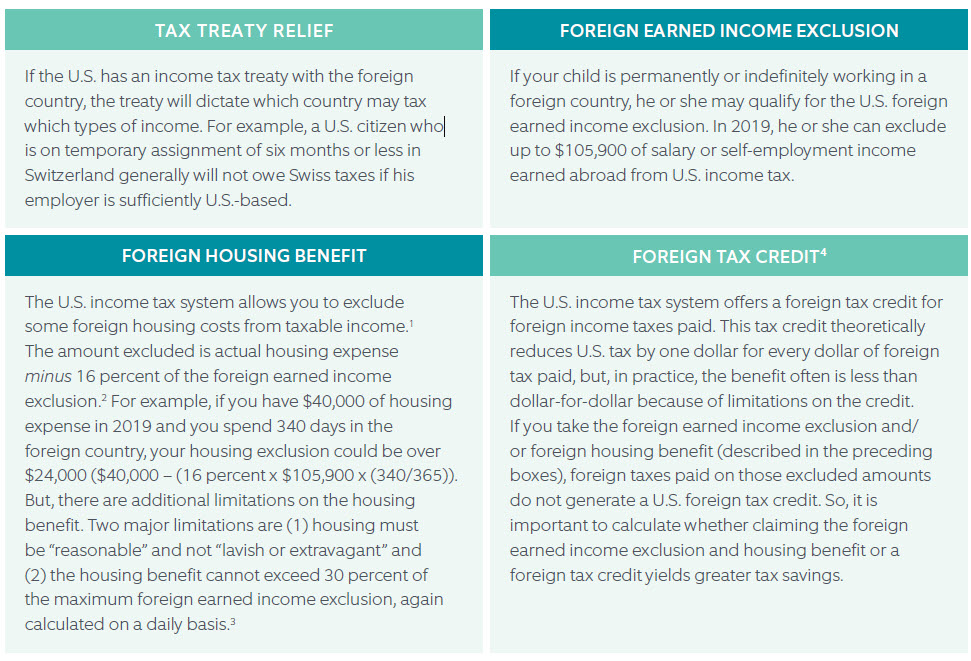 ---
1 The foreign housing exclusion is only for employees, but self-employed individuals can receive a foreign housing deduction in lieu of the exclusion.
2 The foreign earned income exclusion here is a daily calculation that is reduced if you do not spend 365 days in the foreign country.
3 The 30 percent cap is not fixed. Instead, the IRS typically publishes different caps for different international cities every year to reflect cost of living differences. The cap for London, England is greater than the cap for San Jose, Costa Rica, for example.
4 A foreign income tax deduction also is available to taxpayers who itemize deductions. But, the foreign tax credit tends to yield more tax savings.
---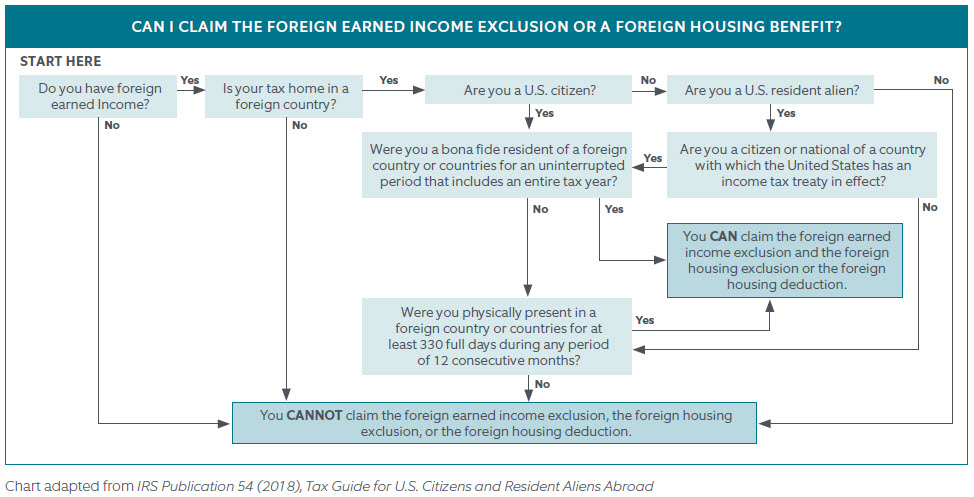 Wealth Transfer Considerations

The U.S. tax consequences of giving money to your child or grandchild are the same whether he or she is living in the U.S. or abroad. However, the foreign country could impose tax on you as the donor or on your recipient and could also have filing and disclosure requirements. These requirements could even impact the beneficiary of an existing trust.
The U.S. has estate tax and/or gift tax treaties with 15 countries, which can help prevent tax in two countries. For example, under the U.S. estate and gift tax treaty in Germany, cash gifts from a U.S. citizen to someone living in Germany generally will only be subject to gift tax in the U.S. But, treaty relief depends on the type of asset you are transferring and is not always complete. And, the U.S. does not have a transfer tax treaty with the vast majority of countries.



I RECENTLY PURCHASED A VACATION HOME ABROAD. WHAT ARE MY TAX AND WEALTH TRANSFER CONSIDERATIONS?

From an income tax perspective, a home that is owned under individual title (not through a partnership, corporation, trust or other legal entity) and that is used strictly for personal enjoyment (no rental income) should not trigger U.S. income tax unless and until it is sold for a gain. But, the foreign country and local municipality may impose a myriad of taxes, including property taxes, recording taxes and stamp taxes.

Mortgage interest paid on a foreign home can be deducted in the U.S. just like it is on a domestic home. The rule for both U.S. and foreign homes is that interest on up to $750,000 of principal is deductible if the debt was used to "acquire, construct or substantially improve" a primary residence or one other secondary residence of your choice. This rule is effective for 2018 through 2025; for debt incurred (or homes under contract) before December 15, 2017 or after 2025, the principal amount is $1 million, not $750,000.





Foreign real estate taxes are not deductible from 2018 to 2025. But, the itemized deduction for those foreign real estate taxes is scheduled to return in 2026.
Wealth Transfer Considerations

Local law generally governs the transfer of real estate, whether during life or at death. In the U.S., a basic will and testament is the foundation of estate planning, and we use revocable trusts to transfer real estate and other assets to friends and family seamlessly when we die.

The rest of the world does not play by these rules. Many civil law countries do not have trust laws, which means that if you put foreign real estate into your U.S. revocable trust, it likely will have no meaning in the eyes of a foreign judge. Similarly, a foreign court that looks at your U.S. will and testament may ignore it, either because it does not meet the requirements of a properly executed will under local law or because its terms conflict with local law. While the U.S. generally allows you to leave property to whomever you would like, many foreign countries say that property goes to immediate family regardless of your personal wishes. In sum, foreign real estate may very well require a foreign estate plan. Work with your tax advisor and a local attorney to determine whether you need a foreign plan.

From a transfer tax perspective, double taxation is a concern. This is because the foreign country may impose gift, estate, inheritance or even income taxes when you transfer your foreign real estate. And, the U.S. estate and gift tax calculations include the value of all your assets, including real estate abroad.

The U.S. estate tax system may give you a credit for foreign estate or inheritance taxes paid, but the credit only is available if the foreign tax is substantially equivalent to the U.S. estate tax. Thus, for example, the Canadian gains tax imposed at death would not, in the absence of treaty relief, generate a U.S. estate tax credit because it is unlike the U.S. estate tax (see sidebar). Fortunately, there is treaty relief that bridges the Canadian income tax and the U.S. estate tax.

As mentioned above, the U.S. has gift and estate tax treaties with 15 countries. The treaties generally allow both the U.S. and the foreign country to tax the transfer of real estate, as long as the U.S. allows a credit for the foreign transfer taxes paid. But, that U.S. credit does not have to exceed the amount of U.S. tax in order to satisfy the treaty terms. This means that if the foreign transfer taxes are higher than the U.S. transfer taxes, you will pay the higher foreign amount.




QUESTION 3
MY SPOUSE AND I LIVE IN THE U.S. I AM A U.S. CITIZEN, BUT MY SPOUSE IS NOT. WHAT SHOULD WE BE THINKING ABOUT AS WE PREPARE OUR ESTATE PLAN?
Many people are surprised to learn that while the U.S. income tax rules for a mixed citizenship couple (U.S. citizen married to a non-U.S. citizen) look much like the familiar rules for a U.S. couple, the gift and estate tax rules for mixed citizenship couples differ dramatically.
Let us begin with the gift tax. A person subject to the U.S. gift tax may make annual exclusion gifts of $15,000 per year, per donee. And U.S. citizen married couples may "split" their gifts, meaning that gifts by one spouse may be treated as if made by each spouse, in effect allowing a gift of up to $30,000 to be split and be gift tax free. Non-U.S. citizens are entitled to the same annual gift tax exclusion, but gift-splitting with a non-U.S. citizen spouse is not allowed.
Another unique feature of the gift tax for non-U.S. citizen spouses is that the unlimited marital deduction for gifts between spouses does not apply for gifts to a non-U.S. citizen spouse. There is, however, an elevated annual gift tax exclusion amount, which is $155,000 in 2019. Beware of potential gift tax implications of asset titling, such as adding a non-U.S. spouse as a co-owner of investments.
Finally, there is the estate tax to consider. Transfers between U.S. citizen spouses at death are eligible for a 100 percent marital deduction, in effect deferring the estate tax to the death of the surviving spouse. However, this is not the case for a transfer at death to a non-U.S. citizen spouse. There is no marital deduction unless the transfers are made through specialized trusts or similar structures, technically referred to as Qualified Domestic Trusts (QDOTs). If the deceased spouse is a U.S. resident or citizen, the $11.4 million exclusion (in 2019, adjusted annually for inflation) will be available for the federal estate and gift tax, which provides some planning relief.

CONCLUSION

Many U.S.-based families find themselves with sudden and unexpected international ties. There is no substitute for a good attorney in the foreign country because, as global as the world is, there is no standardized international law. The only consistent theme is that proactive planning can help save major taxes and headaches down the line.
---
FOR MORE INFORMATION
As a premier financial firm, Northern Trust specializes in Goals Driven Wealth Management backed by innovative technology and a strong fiduciary heritage. Our Wealth Planning Advisory Services team leverages our collective experience to provide financial planning, family education and governance, philanthropic advisory services, business owner services, tax strategy and wealth transfer services to our clients. It is our privilege to put our expertise and resources to work for you.
If you would like to learn more about these and other services offered by Northern Trust, contact a Northern Trust professional at a location near you or visit us at northerntrust.com.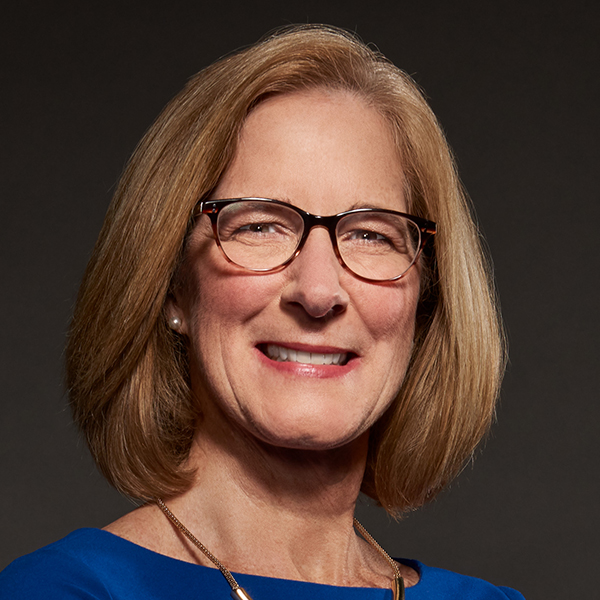 Suzanne L. Shier
Wealth Planning Practice Executive & Chief Tax Strategist/ Tax Counsel
Suzanne L. Shier is the Wealth Planning Practice Executive and Chief Tax Strategist/Tax Counsel for Wealth Management at Northern Trust and serves on the Wealth Management Operating Group.
RELATED ARTICLES
The close proximity between Canada and the United States allows for cross-border opportunities in career, investing and our personal lives. The corresponding tax issues, however, can be complex – even with the U.S.-Canada Tax Treaty. Below, we discuss methods for preparing for some of the most common concerns associated with inbound wealth, outbound wealth and cross-border marriages.
Steps to take at each stage of the journey.
Optimizing equity-based compensation starts with understanding the scope of its intricacies.