Family Business Transitions: Selling the Business
For business-owning families, there are few crossroads as significant as a potential sale. Planning and process can help increase the probability of a smooth, successful transaction.
By Claudia Sangster, Kevin M. Harris and Dale Sands
The likelihood of successful transitions of family businesses to the third generation and beyond is distressingly low:
Less than 12% of businesses survive to the third generation.1 Put another way, 88% of businesses that hardworking family members created fail to survive two generational transitions. What are the primary causes for the dismal outcomes in transitioning family businesses? How does a business- owning family avoid becoming a statistic, prepare the correct transition strategy, and execute the critical implementation?
This discussion is the second of a two-part series exploring these questions. In Family Business Transitions: Rising to the Challenge we looked at reasons for the high failure rate of family business transitions across multiple generations and how families can circumvent these issues. We explored two primary reasons:
The next generation is not interested or adequately prepared to lead the business.
The leadership has not thoughtfully planned or prepared for leadership transition.

In this discussion, assume the family and the business are at a crossroads: 
     
Sometimes, the family receives an unsolicited offer from an interested buyer. Sometimes, the family has determined that the time is right to consider a sale for various reasons. For instance, market conditions for the sale of similar companies are favorable to sellers such that the economics cannot otherwise be replicated  (a "Black Swan" event). There may be no family successor to continue leading the business. Or, in some cases, required capital expenditures to stay competitive are more than the family wants to invest. There are many reasons that might dictate exploring the possibility of a liquidity event.
With experience as our guide, we have identified a common framework of interrelated considerations that business owners should take under advisement as they seek to make the decision to sell and, if the answer is yes, to plan for and optimize the outcome of what typically is the most important financial event of their lives — the sale of the family business. The topics we address in our discussion include: 

Whether a transaction unfolds in the form of a recapitalization or an outright sale of the business to a financial or strategic buyer, this discussion highlights the common threads that generally traverse all deal types. Our goal is that it helps business owners engage in thoughtful planning and make well-informed decisions in advance of a sale. It is important to note that there are also gift, estate and philanthropic strategies that should be considered, but we do not address them in this discussion.
Generally, there are three time frames, or stages, during which to consider the topics we address: pre-liquidity, the liquidity event itself, and post-liquidity. In our discussion, we focus on the pre-liquidity stage.
In addition to our broad topics, we also list key takeaways before and after the transaction. Every business owner should consider these as part of planning for the liquidity event. The significance of planning cannot be overly emphasized — the earlier the better.
 
Q. IS THIS BUSINESS AN "HEIRLOOM" OR A "FINANCIAL" ASSET?
Whether market conditions or an unsolicited offer to purchase is the reason to consider a sale, in contemplating the sale of a family business the family needs to grapple with emotions that can and do emerge. Often, the business represents years of sacrifice and hard work, and the family has a strong personal connection that spans generations. It may seem that considering selling the business is a betrayal of the prior generations who have left it in the hands of future generations. It may even feel that there is an implied contract dictating that the business remains in the family. It is important to recognize emotions — including sorrow, anger, and loss — and discuss them openly as the family decides whether or not to sell the business. It may be that the current generation does not feel the same loyalty to the business and that their emotional attachment is not strong. Those in control of the decision to sell or not should ask the question, "Is this business an heirloom-legacy asset or a financial asset?" The discussion surrounding and answer to this question can help the family as it decides whether to keep or sell the business.
Q. IS THE FAMILY PREPARED TO CONTINUE OPERATING THE BUSINESS?
Are there family successors ready, willing and able to step into management and leadership roles? Are there family members able to be groomed for these roles within a reasonable timeframe? If not, is the family willing to retain a non-family executive to run the business? If the answer to these questions is no, the family should consider selling.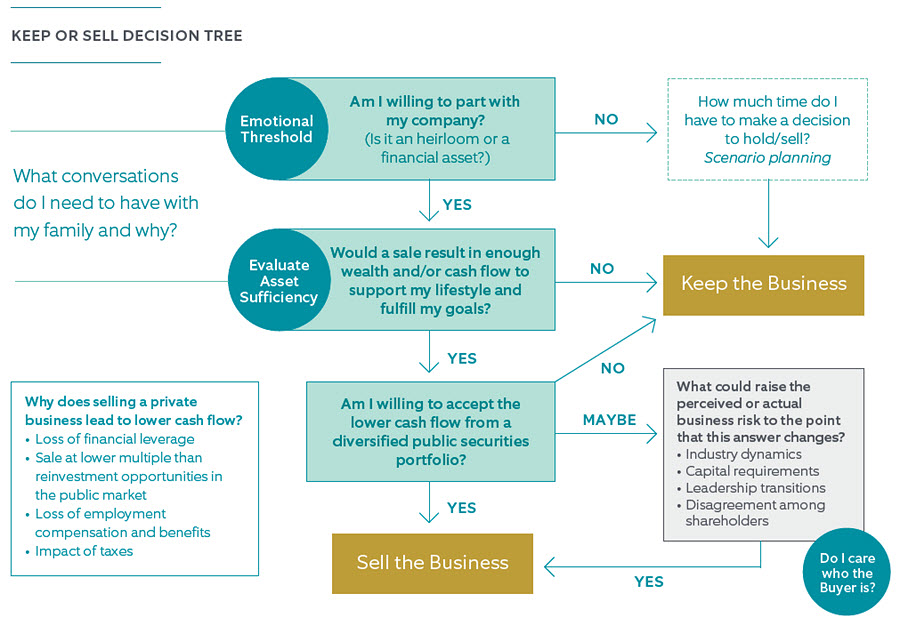 ---
FOR MORE INFORMATION
As a premier financial firm, Northern Trust specializes in Goals Driven Wealth Management backed by innovative technology and a strong fiduciary heritage. Our Wealth Planning Advisory Services team leverages our collective experience to provide financial planning, family education and governance, philanthropic advisory services, business owner services, tax strategy and wealth transfer services to our clients. It is our privilege to put our expertise and resources to work for you.
If you would like to learn more about these and other services offered by Northern Trust, contact a Northern Trust professional at a location near you or visit us at northerntrust.com.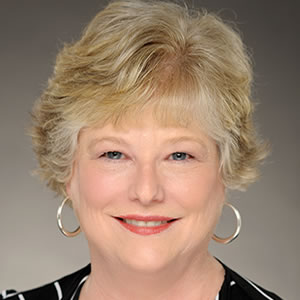 Claudia B. Sangster
Co-Director, Family Education and Governance
Claudia collaborates with clients and their advisors in identifying and establishing educational programs and governance structures to help families create their legacy of wisdom, wealth and giving through multiple generations.
RELATED ARTICLES
Family business transitions are often difficult, but there are steps families can take to help increase the chances of success.
The Supreme Court's Kaestner decision is welcome news for taxpayers, but the ruling will likely have material impact only in limited circumstances.
Thoughtful planning and good advice can position you not only for today, but for whatever tomorrow brings.