Subscribe to Investment Strategy Commentary
Get an edge in your portfolio with some of our best research by our top investment experts, delivered periodically.
Doves and Bulls and Bears Oh My
The second quarter equity rally with the reopening of economies has believers and doubters. Learn why.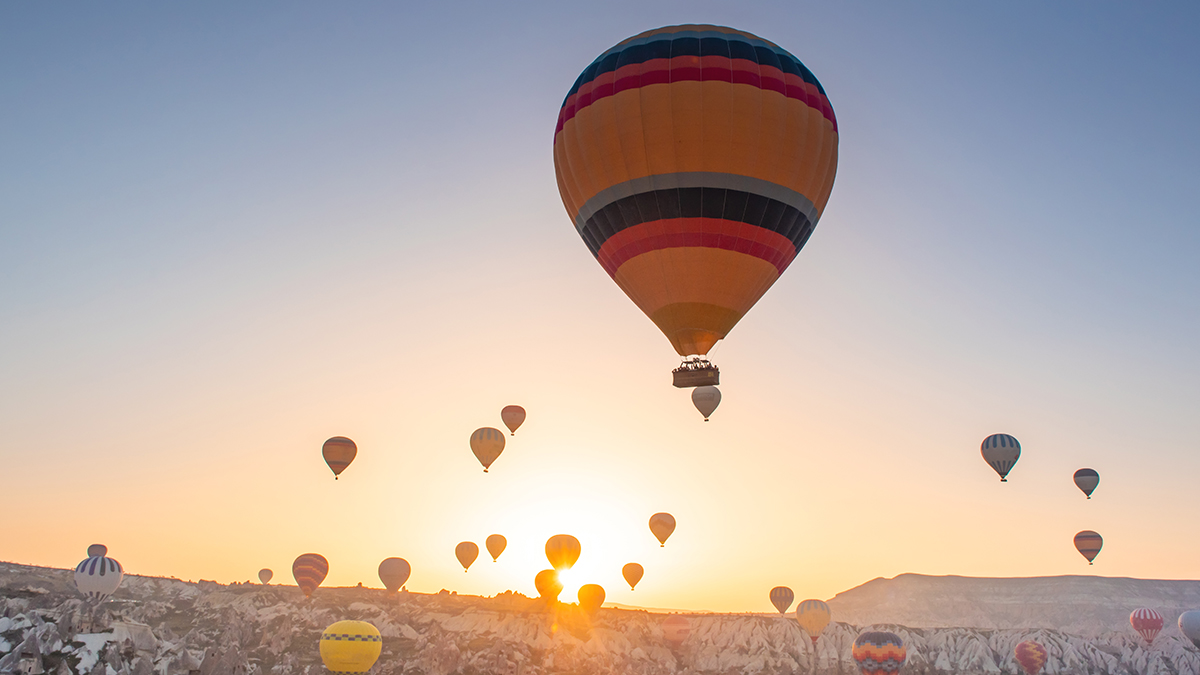 ---
What a year 2020 has been. In the first quarter, global stock markets went from all-time market highs to a bear market (conventionally defined as a 20% equity market drop) in just 22 days, falling 34% in the process. Since then, through the end of the second quarter, global equities have rallied 38%, flirting with the start of a new bull market. The rally has been supported by massive global fiscal stimulus and central banks comprised of overly accommodative doves (those favoring easy monetary policy) — in this case, extremely dovish policy. At the start of the crisis, the Federal Reserve was growing its balance sheet through asset purchases by over $100 billion per day. Thus far, the Fed has increased the size of its balance sheet by $3 trillion to $7 trillion. Central banks around the world — such as the European Central Bank — have also been extremely dovish in their monetary policy. Dovish monetary policy and aggressive global fiscal stimulus when mixed with reopening economies have proven potent, leading to the stock market returns we have seen thus far. But can this continue?
What the Bulls say. Don't underestimate the power of uber-aggressive monetary and fiscal policy, especially as the economy regains traction. U.S. new daily virus cases may be rising but daily deaths are falling, which may be the stat most important to consumers considering a return to "normal" spending behaviors. Also, discovery and production of a vaccine quicker than expected represents an upside surprise that could provide another boost to global equity markets. Valuations may be stretched but are supported by Fed statements that ZIRP (zero interest rate policy) will continue through at least 2022. In this TINA (there is no alternative) environment, stocks are the place to be.
What the Bears say. Equity markets have bounced too far too fast leading to unjustifiably high valuations even in a low interest rate environment. There are still too many risks before we can call an end to the virus-induced bear market. While Europe and China seem to have COVID-19 under control, U.S. cases are rising once again, and we may see states reinforce "stay at home" policies. Fiscal stimulus measures were only designed to replace lost economic activity, and may fall short if the pandemic continues. Even if the worst of the pandemic is over, we are dealing with growing China-U.S. tensions; relations are at their lowest point since the Nixon administration. Finally, we have the U.S. presidential election to consider. A Biden presidency and a Democratic sweep of Congress may lead to a rollback of the Trump administration tax and regulatory policy that helped propel stocks in recent years. The Wizard of Oz (the inspiration for the report title) is said to be filled with metaphors on the economic and political upheaval of the time. We are going through a similar upheaval now. How this new environment is navigated by consumers and corporations will go a long ways towards determining whether the bulls or bears are right.
SECOND QUARTER 2020 TOTAL RETURNS (%)
Markets rebounded sharply in the second quarter but are still mostly negative year-to-date.

---
COVID-19 cases have come in geographic waves. First it was China, then Europe and finally the U.S. However, while China and Europe seem to have their cases under control, the U.S. has experienced a reacceleration within its borders. Thus far, however, this has not stopped the stock market recovery rally. Investors are now focusing more on deaths than cases. And, while new cases have trended up, daily deaths continue to decline. As long as daily deaths decline, economies may remain open, pushing stocks higher.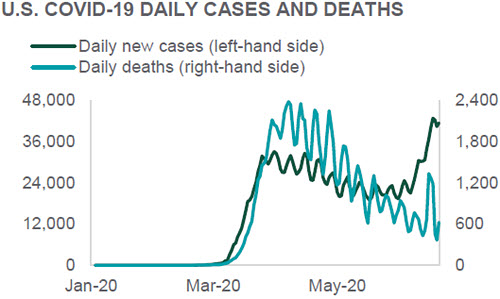 ---
Reopened economies yield rebounding economic statistics. After a dismal April, where many stats were down sharply, most data snapped back nicely in May. Industrial production has been slow to start up again – but, importantly, retail sales increased 18% vs. April. Other data points have shown a similar rebound. May's rebound was not totally expected given how subdued economic activity had become. Continued improvement in the months ahead will paint a fuller picture. Early June economic data has been encouraging.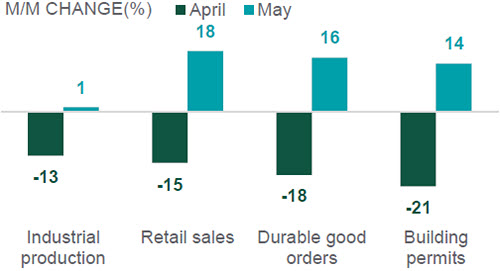 ---
West Texas Intermediate Crude futures hit an unprecedented -$38 in April. Oil supply and demand dynamics are bad, but not this bad. Instead this was very much a technical phenomenon (Europe's Brent Crude futures better reflected economic reality). Futures contract holders are expected to take delivery at expiration. Generally, contracts are unloaded to those who actually want the oil, but storage facilities were mostly full. As such, investors unloading contracts had to actually pay to avoid oil showing up on the doorstep.
---
Despite having a hard time dealing with COVID-19 spread, U.S. stock markets have done the best year-to-date. Much of that can be attributed to the "big 5" U.S. tech companies (Amazon, Microsoft, Apple, Facebook and Google). These companies represent 22% of the S&P 500 (and 12% of the MSCI ACWI), and they all have had positive returns in 2020. For a sense of these stocks' impact, the S&P 500 is down 3% year-to-date; meanwhile the equal-weighted S&P 500 (reducing the impact of the "big 5") is down 11%.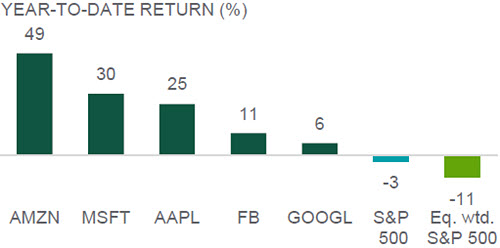 Source: Northern Trust Asset Management, Bloomberg. Top chart: data is 3-day rolling average. Data through 6/30/2020. Past performance does not guarantee future results.
---
The Fed's steadfast commitment to using its full toolkit to support economic growth left the U.S. yield curve largely unchanged during the quarter. Fed officials are now projecting no rate hikes through 2022 as the central bank aims to put the economy on track for full employment. Massive Treasury issuance lifted yields on short-term debt securities a tad from historic lows, though markets absorbed the supply rather easily. In sum, U.S. interest rates remained moored at low levels by COVID-19 growth disruptions and a dovish Fed.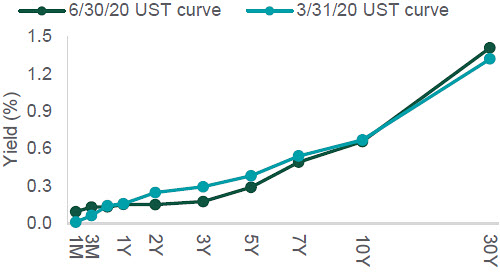 ---
Fed support for fixed income markets helped reverse a majority of the year's credit spread widening driven by liquidity challenges. While credit conditions notably improved — high yield spreads declined from the quarter's high of 942 basis points (bps) to 627 bps — there is still room for normalization as high yield and investment grade spreads remain above early-2020 levels. Higher quality securities within the high yield space led the improvement as economic growth concerns continued to weigh on lower-rated securities.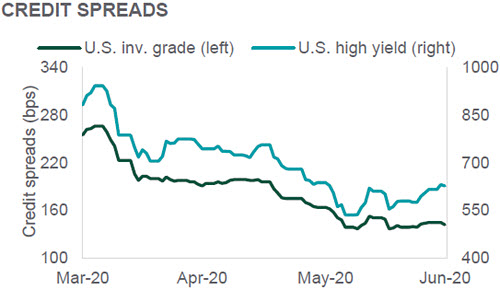 ---
In a remarkable rebound from the largest quarterly decline since 2008, global equities shot up 19.4%. Equity returns grew on the back of tremendous policy support and a pickup in economic activity alongside eased lockdown restrictions. Virus outbreaks in areas of the developing world and U.S. threatened gains, but still failed to reverse the risk-on rally. While all major regions participated in the rebound, U.S. equities led the pack (22.3%) as investors showed a willingness to pay a historically high price for resilient U.S. companies.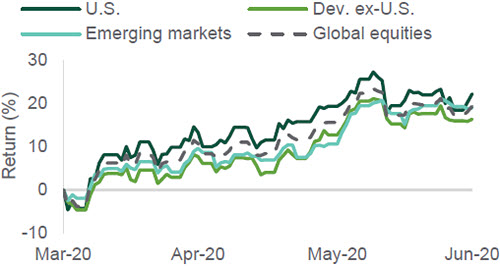 ---
Hopes that global stimulus and economic re-openings will revive demand for natural resources, in conjunction with some normalization of oversupply in oil markets, lifted natural resources 20.5%. Global real estate and global listed infrastructure participated in the quarter's risk-asset rebound, but not nearly to the extent of natural resources and global equities. Asset values in certain property segments within global real estate remain under pressure from virus-driven impairment (e.g. retail, office, hotel and resorts).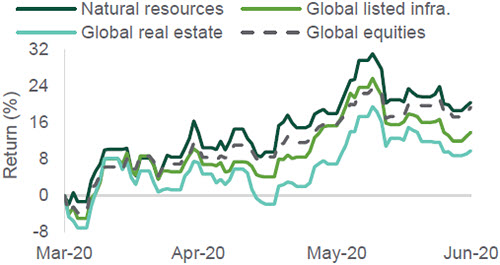 Source: Northern Trust Asset Management, Bloomberg. UST = U.S. Treasury. Indexes are gross of fees.
---

>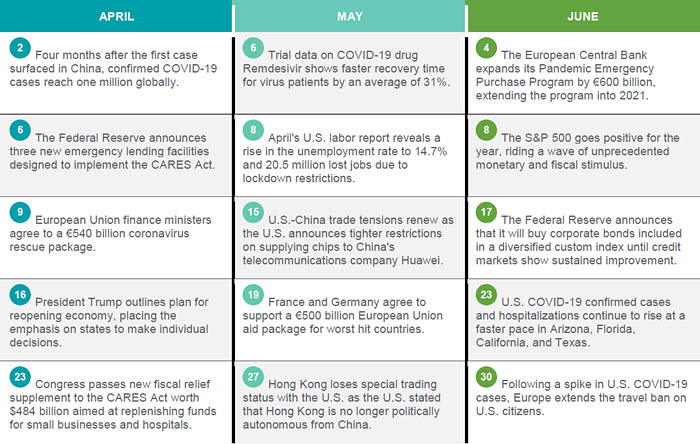 ---
Indexes used: Bloomberg Barclays (BBC) 1-3 Month UST (Cash); BBC Municipal (Muni); BBC Aggregate (Inv. Grade); BBC TIPS (TIPS); BBC High Yield 2% Capped (High Yield); JP Morgan GBI-EM Global Diversified (Em. Markets Fixed Income); MSCI U.S. Equities IMI (U.S. Equities); MSCI World ex-U.S. IMI (Dev. ex-U.S. Equities); MSCI Emerging Market Equities IMI (Em. Markets Equities); S&P Global Natural Resources (Natural Resources); MSCI ACWI IMI Core Real Estate (Global Real Estate); S&P Global Infrastructure (Global Listed Infrastructure).
IMPORTANT INFORMATION. For Asia-Pacific markets, this information is directed to institutional, professional and wholesale clients or investors only and should not be relied upon by retail clients or investors. The information is not intended for distribution or use by any person in any jurisdiction where such distribution would be contrary to local law or regulation. Northern Trust and its affiliates may have positions in and may effect transactions in the markets, contracts and related investments different than described in this information. This information is obtained from sources believed to be reliable, and its accuracy and completeness are not guaranteed. Information does not constitute a recommendation of any investment strategy, is not intended as investment advice and does not take into account all the circumstances of each investor. Opinions and forecasts discussed are those of the author, do not necessarily reflect the views of Northern Trust and are subject to change without notice.
This report is provided for informational purposes only and is not intended to be, and should not be construed as, an offer, solicitation or recommendation with respect to any transaction and should not be treated as legal advice, investment advice or tax advice. Recipients should not rely upon this information as a substitute for obtaining specific legal or tax advice from their own professional legal or tax advisors.
Past performance is no guarantee of future results. Performance returns and the principal value of an investment will fluctuate. Performance returns contained herein are subject to revision by Northern Trust. Comparative indices shown are provided as an indication of the performance of a particular segment of the capital markets and/or alternative strategies in general. Index performance returns do not reflect any management fees, transaction costs or expenses. It is not possible to invest directly in any index.
© 2020 Northern Trust Corporation. Head Office: 50 South La Salle Street, Chicago, Illinois 60603 U.S.A.
---
IN EMEA AND APAC, THIS PUBLICATION IS NOT INTENDED FOR RETAIL CLIENTS
© 2020 Northern Trust Corporation.
The information contained herein is intended for use with current or prospective clients of Northern Trust Investments, Inc. The information is not intended for distribution or use by any person in any jurisdiction where such distribution would be contrary to local law or regulation. This information is obtained from sources believed to be reliable, and its accuracy and completeness are not guaranteed. Information does not constitute a recommendation of any investment strategy, is not intended as investment advice and does not take into account all the circumstances of each investor. Forward-looking statements and assumptions are Northern Trust's current estimates or expectations of future events or future results based upon proprietary research and should not be construed as an estimate or promise of results that a portfolio may achieve. Actual results could differ materially from the results indicated by this information. Investments can go down as well as up.
Northern Trust Asset Management is composed of Northern Trust Investments, Inc. Northern Trust Global Investments Limited, Northern Trust Global Investments Japan, K.K, NT Global Advisors Inc., 50 South Capital Advisors, LLC and investment personnel of The Northern Trust Company of Hong Kong Limited and The Northern Trust Company.
Issued in the United Kingdom by Northern Trust Global Investments Limited.