Check the Technique: Protecting Legacies Under the SECURE Act
Find out what rules have changed under the SECURE Act, their impact and resulting planning opportunities.
By Suzanne L. Shier and Kenneth Little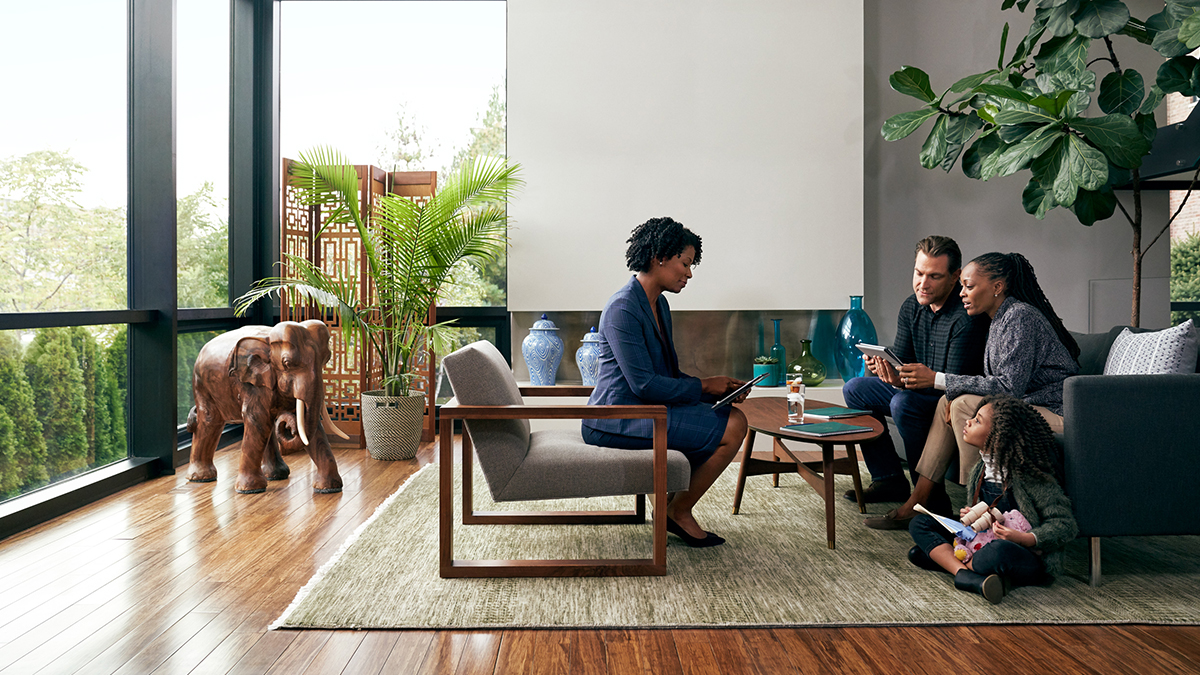 The Setting Every Community Up for Retirement Enhancement Act of 2019, otherwise known as the SECURE Act, is the most comprehensive reform to the retirement landscape in years. Over the past three decades, retirement plan assets have amassed to nearly $25 trillion, accounting for over a third of all household financial assets. Planning with retirement assets to align with family priorities and financial goals, including tax management, differs under the new rules. Notable changes under the SECURE Act include:
Opportunity for tax-minimized saving for retirement is enhanced, and
Opportunity to stretch payouts to beneficiaries after the death of the account owner is diminished
Now is the time to review retirement account savings, beneficiary designations and account payouts to assure that benefits for the account owner and beneficiaries are optimized.



In all instances, confer with your financial, legal and tax advisors to update your retirement savings, gift and estate plans in light of the SECURE Act.
WHAT HAS CHANGED FOR LIFETIME RETIREMENT SAVINGS?
The SECURE Act enhances the accessibility of workplace retirement accounts. For business owners, these changes are evident in the tax incentives for setting workers up with automatic enrollment in retirement plans, allowing workers an opportunity to join multiple employer plans, and making retirement plans available to long-term part-time workers with a decrease to the minimum number of hours worked.
The SECURE Act also provides for greater individual retirement savings. The 70 ½ age limit on deductible contributions to traditional individual retirement accounts (IRAs) is eliminated beginning January 1, 2020. Now, traditional IRA contributions are allowed as long as an individual (or their spouse) receives compensation.
In addition, age 72 is the new 70 ½ for required minimum distributions. For individuals born on or after July 1, 1949, who turn 70 ½ after December 31, 2019, the age for taking required minimum distributions from traditional accounts is increased from 70 ½ to 72. However, those individuals born before July 1, 1949 are subject to the old required minimum distribution (RMD) rules requiring distributions after reaching 70 ½.
Qualified charitable distributions (QCDs) from traditional IRAs to qualified charities are still permitted beginning at age 70 ½. However, in order to prevent "double- dipping," there is an offset for individuals who both contribute to their IRAs and make qualified charitable distributions.
---
Highlights of the SECURE Act:
If you work part time you may become eligible to contribute to your employer's 401(k) plan.
New parents who recently had a baby or adopted a child can take penalty-free withdrawals of up to $5,000 from their retirement accounts.
You may now make deductible contributions to a traditional individual retirement account (IRA) for as long as you continue to work, no matter your age.
If you were born on or after July 1, 1949, traditional retirement account required minimum distributions (RMDs) may be delayed to age 72.
Qualified charitable distributions may still be made from IRAs to qualified charities for account owners age 70 ½ and over.
Naming your surviving spouse as beneficiary of retirement accounts remains a viable option for flexibility and extended payouts.
Most non-spouse beneficiaries are generally required to take full payout of retirement accounts no later than the end of the tenth year following the year of the account owner's death.
If you name a trust as the beneficiary of your retirement account after your death, in many instances the new 10 year payout rule will apply and "stretch" payout over a beneficiary's life expectancy will not be available.
---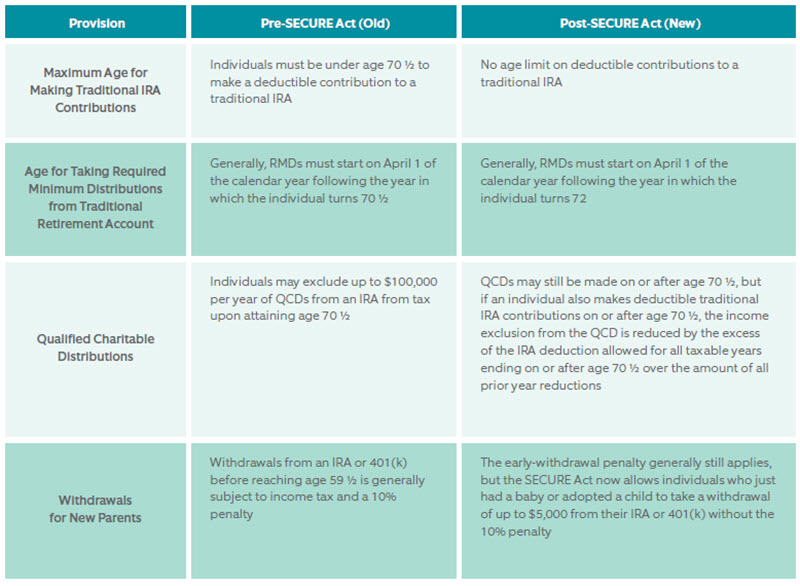 WHAT HAS CHANGED FOR BENEFICIARY PAYOUTS?
Under the SECURE Act there are now three (instead of two) categories of beneficiaries –
Non-designated beneficiaries (NDBs) – beneficiaries without a measurable life expectancy, such as estates, charities and trusts that do not satisfy the "see-through" rules ("see-through trusts")
Eligible designated beneficiaries (EDBs) – a limited class of individuals, including a surviving spouse, minor child of the account owner, disabled or chronically ill beneficiary and a beneficiary not more than 10 years younger than the account owner, and (subject to further guidance from the Internal Revenue Service), specialized see-through trusts
Designated beneficiary (DB) – an individual beneficiary who is not an eligible designated beneficiary, such as an adult child, and see-through trusts
The identity of the beneficiary determines the payout period for the account after the death of the account owner.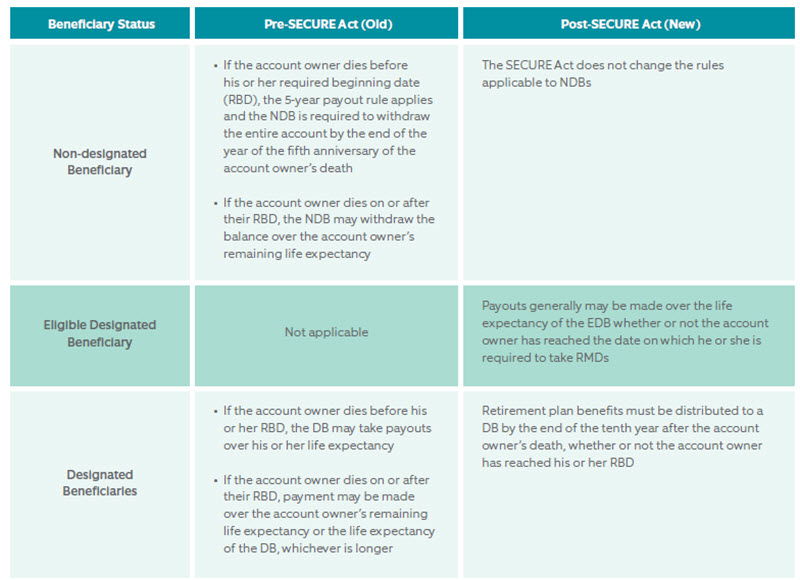 ---
FOR MORE INFORMATION
As a premier financial firm, Northern Trust specializes in Goals Driven Wealth Management backed by innovative technology and a strong fiduciary heritage. Our Wealth Planning Advisory Services team leverages our collective experience to provide financial planning, family education and governance, philanthropic advisory services, business owner services, tax strategy and wealth transfer services to our clients. It is our privilege to put our expertise and resources to work for you.
If you would like to learn more about these and other services offered by Northern Trust, contact a Northern Trust professional at a location near you or visit us at northerntrust.com.