Investment Management Expert
David M. Alongi, CFA
Director, Fixed Income Index Management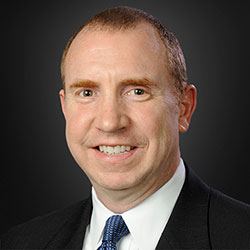 David Alongi is the director of fixed income index management at Northern Trust Asset Management, responsible for leading the portfolio management and trading process for passive fixed income portfolios. He oversees the management of a variety of commingled and segregated account strategies across a wide range of bond market sectors, maturities and currencies.
David joined Northern Trust Asset Management in 2000. Prior to his current position, David was responsible for research, security selection and trading in the mortgage-backed sector, and he was the portfolio manager for the Collective Mortgage Backed Securities Index Fund and various separate account client portfolios. In an earlier assignment, David was in the Treasury department of Northern Trust Corp. where he was responsible for interest rate risk management and hedging strategies for the balance sheet, and he managed the bank investment portfolio. David began his career with Northern Trust in 1990.
David earned a bachelor's degree in psychology from the University of Illinois and an MBA with a concentration in finance from the University of Chicago. He is a CFA charter holder, a member of the CFA Institute and the CFA Society of Chicago, and an Associated Person of the National Futures Association.