October 17, 2013
The U.S. Congress has come to the brink, and to paraphrase Winston Churchill, has done the right thing after exhausting all the alternatives. Legislation, just passed through the Senate and the House, will fund the government through January 15, 2014, and raise the debt ceiling through February 7, 2014. Our base case scenario has been that an agreement would be reached, and that financial markets wouldn't be overly disturbed by the tribulations. The following chart shows how market volatility has been concentrated in the Treasury bills maturing in coming months, while trading in 10-year Treasury notes and equities has been relatively calm. In our investment deliberations, we're working to segregate the short-term implications from the long-term effects on the economy, monetary policy and financial markets.
While this deal clearly reduces short-term risks, it also sets up another round of negotiations and theatrics during the next four months. Whether this inglorious process leads to better tactics in the next round remains to be seen. The fiscal gridlock has already affected monetary policy, contributing to the Federal Reserve's decision to hold off on tapering bond purchases, and it has hit consumer and business confidence. Over the longer term, the dysfunctional decision-making process is beginning to try investors' patience. Financial markets won't be welcoming of a legislative process that regularly threatens government shutdowns or risk of default.
While the U.S. growth outlook is taking a short-term hit because of uncertainty, data from other developed economies continues to show steady progress. We expect the European economy to continue its slow recovery, while signs of improvement in Japan are still outweighing concerns over policy progress. In the emerging markets, China's growth data has been improving during recent months, which should support growth across Asia and help offset continued challenges in Brazil and India. With the U.S. fiscal situation reaching a near-term resolution, we expect steady global growth to join with easy monetary policy to support a continued constructive capital market outlook.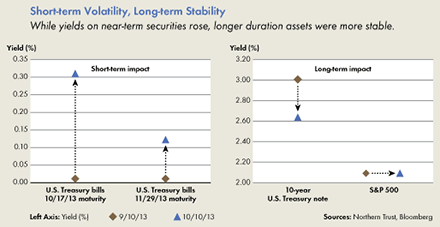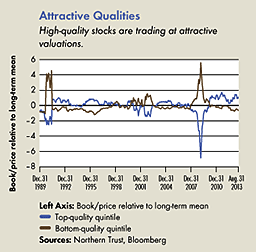 U.S. EquityLow-quality stocks have been in favor since early 2012.

High-quality stocks have rarely been this comparatively inexpensive.
In October 2011, we wrote about the valuation of low-quality stocks, noting that low quality was attractively valued because risk-averse investors had been favoring high quality. Starting with the risk-on trade at the beginning of 2012, however, this trend began to reverse, and today, high-quality stocks trade at a significant discount historically. On a book-to-price basis, the valuation of the top quintile of quality is trading in the 95th percentile vs. history, indicating that quality has been cheaper only in 5% of historical instances. We believe a premium valuation for high quality is warranted, reflecting quality companies' superior profitability and operations, and we would view an overweight to high-quality stocks as attractive.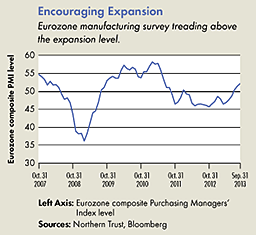 Europe & Asia-Pacific Equity
German Chancellor Angela Merkel was rewarded for her eurozone crisis leadership with a landslide victory.

Merkel now needs to focus on forming a governing coalition.
Having led the repair effort of the eurozone, German Chancellor Angela Merkel has been rewarded with the highest polling numbers on record. Despite this, Germany still lacks a governing coalition. This isn't a great surprise, as the Social Democratic Party of Germany (SPD) leadership had stated that they wouldn't join the coalition. What will be a surprise is if the SPD sticks to this position. A Christian Democratic Union (CDU)/SPD coalition would lead to continuity in the German government's policies and goals, but with Merkel in a strong position at the head of a resurgent CDU. This is quite a performance for a party, and a chancellor, with their fair share of critics in the last few years. Will the eurozone as a whole follow suit? The eurozone composite Purchasing Managers' Index surveys suggest there's a chance.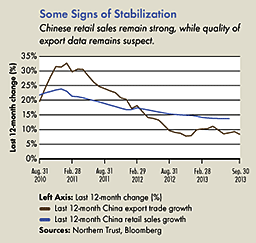 Emerging-Market Equity
Domestic consumption is supporting Chinese growth.

Contributions to Asia's growth dynamics will help offset weakness in other emerging markets.
Constructive Chinese growth data has been emerging in recent months, somewhat tempered by continuing concerns over overall credit expansion and credit quality. Retail sales growth has consistently grown in double digits, while vehicle sales growth nearly hit 20% in September — aided by continuing tax incentives for small-engine vehicles. Total credit growth (including the shadow banking system) has been moderating, but is still leading to money supply growth of 14%. The follow-on effect is starting to be felt in economies like Taiwan's, but South Korea, Indonesia and Vietnam are still experiencing declining manufacturing output. The improvement in Chinese growth is encouraging, but not yet robust. A combination of stronger and broader growth across the emerging markets, along with more moderate monetary policy, is likely needed for sustained emerging-market equity outperformance.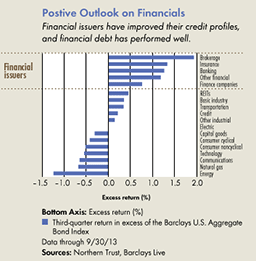 U.S. Fixed Income
The financial sector performed the best in the third quarter.

We expect financial spreads to continue to tighten vs. industrials.
We believe the financial sector will outperform industrial bonds during the next year. Credit fundamentals for financial companies have changed significantly since the credit crisis began in 2007. The firms have replenished the capital they lost through stock issuance and consistent profitability. In addition, they have more-liquid balance sheets and improving credit profiles. Regulation has increased significantly, making these businesses more conservative than in the past. In addition, they're experiencing modest loan growth again. Investors have yet to fully recognize these changes, as credit spreads on financial issuers remain wider than those on industrial issuers. We believe this gap will continue to close in the coming year, and financials will once again trade at tighter spreads than industrial issuers.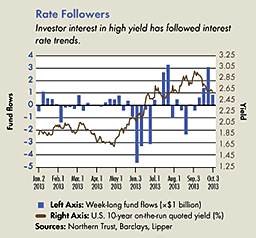 U.S. High Yield
The interest rate outlook has been a primary driver of high yield fund flows and valuations.

An expectation of interest rate stability has begun to draw assets back to high yield, supporting valuations.
Interest rates have been the primary driver of fund flows and valuations since early May. Outflows started in May when Fed officials raised the specter of tapering, but reversed course when yields reached 7%. As valuations stabilized, the market prepared for a reduction in quantitative easing and outflows resumed. With the Fed's surprise decision on September 18 to not taper, leading to lower interest rates, inflows into high yield resumed. Positive fund flows add to the support that high yield enjoys from solid credit fundamentals. Issuer balance sheets remain relatively conservative, debt maturities have been extended and companies continue to cut costs. Overall, we believe this remains a positive environment for high yield investing.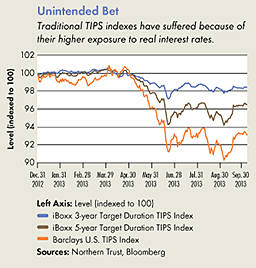 Real Assets
Volatile Treasury Inflation-Protected Securities (TIPS) returns have been caused by fluctuations in real yields, not inflation expectations.

Shortening duration lowers rate sensitivity, leaving a purer exposure to inflation.
It's been a wild ride for the Barclays U.S. TIPS Index in 2013. The index hit a 2013 low in early September (down 9.7%) and then proceeded to rally by more than 3% in the subsequent month. During most of this period, inflation expectations have been in a fairly tight band (1.7 to 2%). So why the heightened volatility? A big factor is the Fed's indecision around tapering and the effect on real yields. (Five-year real yields climbed from –1.7 to 0% before settling back around –0.6%.) We believe inflation protection is prudent, but we don't wish to take on unintended interest rate risk. As such, we prefer targeting the duration to shorter (three- to five-year) time frames.
Conclusion
Our investment policy discussion this month focused on the short- and long-term implications of the fiscal follies in Washington. The government has shut down 18 times since 1976, and these events haven't typically created much market volatility. With the near-term deal in hand, the scope and details around the upcoming negotiations for a longer-term deal will take center stage. Financial markets are becoming accustomed to a certain level of dysfunction in Washington. Contributing to the relative market calm this time around has been the significant improvement in the cyclical fiscal position of the United States. Our fiscal challenges will start to reaccelerate in the second half of this decade, and the markets will begin to demand some visibility on the path forward.
We also continue to spend considerable time on the outlook for monetary policy normalization. Some clarity has been reached with the nomination of Janet Yellen to replace Ben Bernanke at the helm of the Fed. We expect Fed policy to continue to be accommodative during the next year, because the fiscal outlook could remain a headwind, and growth and inflation dynamics remain subdued. This may relieve some pressure on other central banks worried about defending their economies and currencies from the ripple effects of Fed tapering.
Despite the increased concern about the fiscal policy outlook near term, we retained our constructive view toward risk-taking. Markets concentrated their volatility in short-maturity Treasury bills, with risk assets being more heavily influenced by the outlook for interest rate policy. We've recently seen cyclical stocks outperforming defensive ones, and stocks with exposure outside the United States outperforming U.S.-centric companies. We think both of these dynamics are supportive of continued risk-taking in the markets. We see investors now turning their focus back to monetary policy and economic growth — and we see the growth picture continuing to support earnings, dividend and share buyback growth. As long as monetary policy remains accommodative across the developed markets, we think this environment will lead to a favorable climate for global equity markets.
---
Barclays U.S. Aggregate Bond Index
is an unmanaged index of prices of U.S. dollar-denominated, fixed rate, taxable, investment-grade fixed income securities with remaining maturities of one year and longer.
Barclays U.S. Treasury Inflation Protected Securities (TIPS) Index is a rules-based, market value-weighted index that tracks inflation-protected securities issued by the U.S. Treasury.
iBoxx 3-Year Target Duration TIPS Index measures the performance of Treasury Inflation Protected Securities (TIPS) as determined by Markit iBoxx's proprietary index methodology. The iBoxx index methodology targets a modified adjusted duration of 3.0 years and defines the eligible universe of TIPS as having no less than one year and no more than 10 years until maturity as of the Index determination date.
iBoxx 5-Year Target Duration TIPS Index measures the performance of Treasury Inflation Protected Securities (TIPS) as determined by Markit iBoxx's proprietary index methodology. The iBoxx index methodology targets a modified adjusted duration of 5.0 years and defines the eligible universe of TIPS as having no less than three years and no more than 20 years until maturity as of the Index determination date.
S&P 500® Index is an unmanaged index consisting of 500 stocks and is a widely recognized common measure of the performance of the overall U.S. stock market.
It is not possible to invest directly in an index.
Price-to-Book Ratio is a ratio used to compare a stock's market value to its book value. It is calculated by dividing the current price of the stock by the latest quarter's book value per share.
Purchasing Managers' Index (PMI) is a measure of the overall performance of the manufacturing sector, based on a survey conducted with purchasing managers to determine changes in economic conditions. A reading of 50 indicates no change, a reading of greater than 50 indicates an expanding economy and a reading below 50 indicates a contracting economy.