Analysis on Market Segments and Overall Market Outlook
April 17, 2013
Stock market momentum slowed last month as markets paused to assess mixed economic reports. While the U.S. jobs report for March was the headline grabber, there was a more broad-based slowing in the rate of growth globally. Overall manufacturing and services output ticked up in March, but employment lagged and new orders expanded at a slower pace. U.S. growth still should approximate 3% in the first quarter because of strong momentum early in the quarter, but is likely to moderate through midyear. This constrained growth environment continues to ease inflationary pressures, leaving U.S. consumer price inflation at a comfortable 2%.
On the other side of the Atlantic, the eurozone continues to register the weakest growth figures among developed markets, with both manufacturing and services contracting. Policy makers spent much of March working on a restructuring plan for Cyprus, which was roundly booed and then reworked. Growth trends in the emerging markets are more divergent, with growth in Asia stronger than in Latin America. Chinese growth in the first quarter was modestly disappointing, but the cooling in inflation is a welcome development. Japan's oversized monetary stimulus plan has the potential to benefit emerging markets long term from increased global growth, while hurting competing export nations, such as South Korea, in the short term.
Even though the Cyprus "rescue" garnered much attention, the aggressive new Bank of Japan (BOJ) policy was a more consequential development. In committing to purchase domestic assets at a pace more than double that of the Federal Reserve (relative to the size of the economy), the BOJ has taken an aggressive stance toward its 2% inflation goal. The Fed is far from removing accommodation with the current U.S. labor market conditions, while the European Central Bank (ECB) can only be described as recalcitrant. While the ECB's efforts to promote financial market stability are commendable, the lack of focus on economic recovery hinders the eurozone's intermediate-term growth prospects.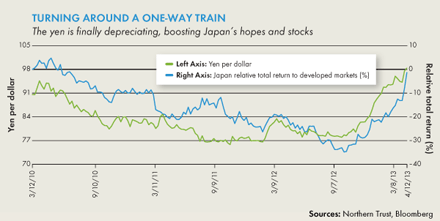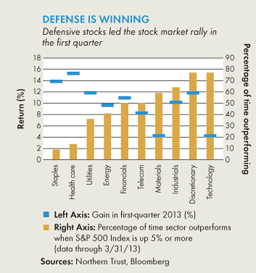 U.S. Equity
The S&P 500 Index has had a quarterly return exceeding 5% 22 times in the past 15 years.


Defensive sectors led the market rally.
The S&P 500 Index ended the first quarter up 10%, and consistent with a strong rally, low-quality stocks outperformed. From a sector perspective, however, defensive sectors, including health care, consumer staples and utilities, were (atypically) the strongest performers, while cyclicals, such as information technology and materials, underperformed. Even though global central bank monetary stimulus has continued to support demand for equities, intermittent volatility driven by developments including the Cyprus banking crisis may have contributed to the more defensive positioning. In addition, higher yielding sectors, such as consumer staples and utilities, benefited from a rotation out of bonds by yield-sensitive investors. The market rally will likely broaden participation to include the more cyclical groups.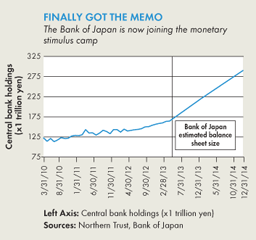 Europe & Asia-Pacific Equity
The long-dormant BOJ has been revived with new leadership.


Animal spirits are awakening; economic activity needs to be next.
In his first meeting as BOJ governor, Haruhiko Kuroda delivered a significant program of quantitative easing (QE) asset purchases in excess of elevated expectations. A combination of increased Japanese government bonds (JGBs), exchange-traded funds and real estate investment trust purchases is targeted to double the yen monetary base in the next two years and deliver 2% inflation in that time. The effect on markets has been significant as the yen extended losses and government bonds rallied. Repercussions are being felt across the market as participants position for a domestic rotation out of JGBs and into treasuries, bunds and gilts. Even though the program was targeted domestically, it looks likely to amount to a cross-border QE program, which should drive significant asset flows from Japan to international bond and stock markets.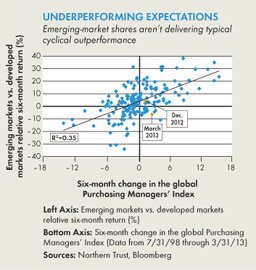 Emerging-Market Equity
Emerging-market stocks are highly sensitive to growth.


We expect an improving outlook as the year progresses.
Emerging-market stocks are more volatile than their developed-market counterparts, reflecting their higher growth and more volatile inflation history. As the accompanying chart shows, a positive relationship exists between changes in global growth rates and the relative performance of emerging-market stocks. In the second half of 2012, emerging-market stocks performed strongly as China's growth reaccelerated. The reverse has been the case so far in 2013 because of concerns about the cyclical Chinese recovery and the effects of yen depreciation on Japan's export competitors. We'll need some evidence of cyclical reacceleration to reignite the relative performance of these stocks, but an attractive valuation and the likelihood of capital flows from developed economies underpins the attractiveness of the asset class.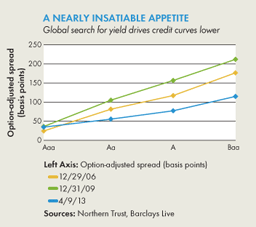 U.S. Fixed Income
The low-rate environment is compressing investment-grade credit curves.


Credit curves have flattened despite lower credit ratings.
We still expect the Federal Open Market Committee (FOMC) to keep rates low for an extended period, driving investors down the credit-quality spectrum to pick up incremental yield. The strong demand for investment-grade credit, and attractive funding costs for issuers, gives corporations an incentive to pursue shareholder-friendly activities with a lower penalty for ratings slippage than in the past. Issuers today are more focused on taking advantage of low funding costs and growing their business than worrying about a high investment-grade rating. This can be seen as BBB securities have grown to 39% of the Barclays U.S. Credit Index from 32% prior to the financial crisis. We also see strong support for fixed income emanating from the BOJ's new QE program.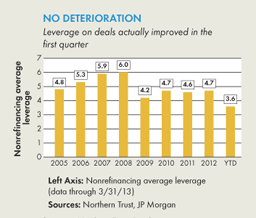 U.S. High Yield
High yield new issuance hasn't been aggressive from a credit perspective in 2013.


A majority of new issuance has been for refinancing.
High yield new issuance has been a strong $89 billion in the first quarter of 2013. Although there are selective aggressive deals, the market as a whole has remained disciplined on credit quality. Seventy percent of new issuance has been to refinance existing debt rather than dividends, M&A activity and leveraged buyouts. In the last five calendar years, approximately 65% of issuance has been for refinancing. It was less than 45% in the preceding five years. The accompanying graph shows that leverage on nonrefinancing new issues has actually moved materially lower following the financial crisis. We believe issuer conservatism and market discipline will help keep the default rate low during the intermediate term, providing support for current tight valuations.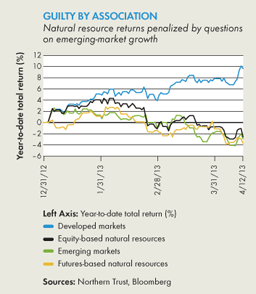 Real Assets
Natural resources disappointed in the midst of the first-quarter stock market rally.


Fresh central bank accommodation is supportive, but China remains a key.
Developed markets have staged an impressive start to the year, but emerging-market and natural-resource stocks didn't keep pace. This atypical relationship extended beyond natural resources, as most "higher beta" sectors, such as technology and industrials, have also underperformed. One potential explanation is that central bank policy has been effective in pushing new investors out the risk spectrum — but only enough to dip their toes in the water of the "least risky" risk assets. Recent mixed data out of China has also raised questions about global growth — a key component of the outlook for commodities. However, we believe unprecedented central bank accommodation — with Japan now entering the fray — will ultimately prove positive for global growth and, by extension, the commodity complex.
Conclusion
The standout performers this year have been the two economies with the most aggressive central banks: Japan and the United States. We believe Japan's monetary policy has the real potential to bolster inflation and growth. The BOJ is likely to push domestic savers to seek yield in foreign markets, supporting the value of those foreign assets. Capital flows out of Japan are another technical support to world bond markets, helping to drive down yields from European sovereign debt to U.S. high yield debt. The United States looks to be a relative safe haven, with relatively stable economic growth and an investing climate that looks attractive to overseas investors.
We entered 2013 with a positive view toward risk taking, as we saw steady economic growth joining easy monetary policy to gradually entice greater allocations to equities. We continue to view the outlook for equities favorably with growth in the United States, Japan and emerging markets to be supportive of risk taking. Even though shrinking credit spreads have reduced the return potential from corporate credit, we continue to favor high yield as a source of yield in a yield-starved market. As a result, we prefer high yield to investment-grade bonds, and also to recognize the asymmetric risk in the bond market today.
Our primary risk case is the potential for "cracks in the monetary policy foundation" — a scenario where the very low interest rate environment suddenly changes due to forced central bank action. This could be the result of a positive growth surprise (potentially less problematic) or an unacceptable inflation pickup (potentially difficult). The lessons of the last two big rate hike cycles in the United States are that slow and steady rate hikes (circa 2004) are manageable, while unexpected jumps in rates (circa 1994) can lead to losses in both the bond and stock markets. Our expectation is that a 2004 scenario is more likely, but not until several years from now.
---
The general meaning of the credit ratings Aaa, Aa, A and Baa, are expressed in Moody's nomenclature: Aaa — Are judged to be of the highest quality, subject to the lowest level of credit risk. Aa — Are judged to be of high quality and are subject to very low credit risk. A — Are judged to be upper-medium grade and are subject to low credit risk. Baa — Are judged to be medium-grade and subject to moderate credit risk and as such may possess certain speculative characteristics.
Basis Points (bps) is a unit of measure used in quoting yields, changes in yields or differences between yields. One basis point is equal to 0.01%, or one one-hundredth of a percent of yield and 100 basis points equals 1%.
Option-adjusted spread measures the yield spread between similar securities (typically bonds) with different options, such as prepayment or call options, which are very interest rate sensitive.
Purchasing Managers' Index (PMI) is a measure of the overall performance of the manufacturing sector, based on a survey conducted with purchasing managers to determine changes in economic conditions. A reading of 50 indicates no change, a reading of greater than 50 indicates an expanding economy and a reading below 50 indicates a contracting economy.
R2 (r-squared) measures the percentage of the dependent variable's movement that can be explained by movement in the independent variable.
The Barclays U.S. Credit Index comprises the U.S. Corporate Index and a non-corporate component that includes foreign agencies, sovereigns, supranationals and local authorities. The index is a subset of the Barclays U.S. Government/Credit Index and the Barclays U.S. Aggregate Index.
S&P 500® Index is an unmanaged index consisting of 500 stocks and is a widely recognized common measure of the performance of the overall U.S. stock market.
It is not possible to invest directly in an index.