---
OUTLOOK
Stock market gains this year have been underpinned by improving corporate profits, so the outlook for growth remains paramount. Fortuitously, current indicators of global manufacturing have been solid. The United States and China have shown steady improvement, Japan's rebound has been stronger and Europe's gains have been downright impressive. Globally, the global manufacturing new orders index has increased from 50 to more than 54, while inventories have actually been declining. This bodes well for the global economy over the next year as companies rebuild inventories to meet current and future demand. Despite the positive economic environment, inflation has been heading lower. Investor expectations for inflation over the next 10 years – as judged by the Treasury Inflation Protected Securities (TIPS) markets – have dropped from 2.0% at the start of the year to just over 1.8% today. Because of technology's disinflationary effect on both supply and pricing of goods, we don't expect a sustained upturn.
So what could derail the expansion? We have identified four potential catalysts: North Korea, the Federal Reserve, a supply shock (such as in the oil markets), and a systemic financial market shock (such as a Chinese credit market crisis). North Korea and the Fed remain risk cases for us – we are concerned about them but we don't think the probability of a negative outcome is high enough to warrant portfolio changes. The risk of a supply shock seems remote, because few markets have tight supply/demand dynamics. The oil markets, in particular, seem well supplied. Finally, systemic financial shocks are highly unpredictable – but the better Chinese economic and financial market performance leads us to conclude this risk is relatively low during the next year.
Through year-end, we expect several key developments beyond the normal drumbeat of economic data. The United States avoided a government funding crisis this month thanks to President Donald Trump's deal with Democratic Congressional leaders, but this will need to be revisited in December. The German federal elections in late September are expected to result in Chancellor Merkel's fourth term, and then the focus will turn to reform within the European Union. Meanwhile, both the Fed and the European Central Bank (ECB) are expected to announce details on their plans to further reduce monetary accommodation. We currently don't expect any of these events to disrupt the positive financial market backdrop, which continues to rely more on economic developments than those of the monetary or political flavor.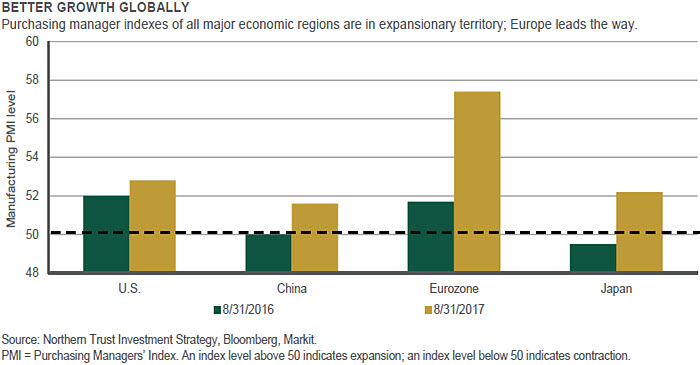 ---
INTEREST RATES
The market has turned more skeptical on future rate hikes as inflation pressures remain dormant.
Our long-term forecasts call for an average of one rate hike per year over the next five years.
ECB tapering is expected to begin in 2018; German bunds may be most affected.
The lack of inflation has lowered market expectations that the Fed will be able to maintain its desired pace for tightening monetary policy. Fed funds futures contracts remain well below the Fed's stated expectations. We expect a shallower path for short-term rates, as the lack of inflation combined with the timing of the initiative to reduce its balance sheet is likely to cause the Fed to pause in raising rates. Over the next five years we expect an average of one rate hike per year.
With continued signs of economic stabilization across Europe, markets eagerly awaited the ECB's September policy meeting for news of policy adjustments. ECB President Mario Draghi did not disappoint, signaling the ECB's intention to announce changes to its quantitative easing program next month (most likely to reduce purchases starting in 2018). However, his reference to risks associated with currency appreciation underlined a cautious tone. This will become an interesting test for the ECB, which has little reason to justify a negative interest policy given Europe's continued broad based recovery. We remain cautious on the outlook for euro-area bond yields. They look vulnerable should the ECB begin the path toward monetary policy tightening. German bunds are likely to fare worse in any market sell off because of the waning flight to quality bias.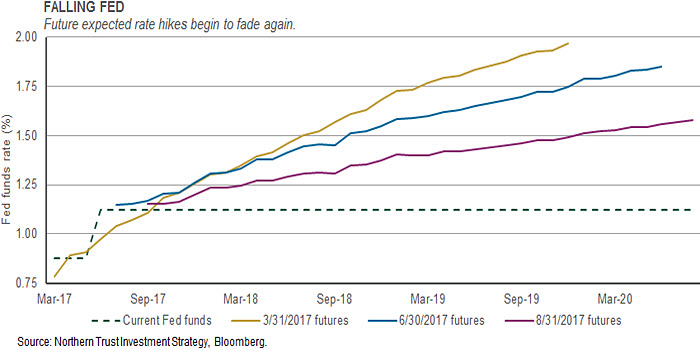 ---
CREDIT MARKETS
High yield credit spreads widened modestly in August as issuance picked up.
High yield fundamentals remain solid, evidenced by falling default rates.
We remain overweight high yield, focusing on B-and CCC-rated issues.
Because credit markets are viewed as a key leading indicator of financial market stress, investors tend to get nervous on any signs of spread widening. High yield credit spreads widened by 0.26% in the month of August. And, as usual, the press wrote stories about investors leaving the asset class and impending doom. We believe the reality is far more benign. First, to put high yield spread widening into context, 0.26% is a 0.3 standard deviation move over the past five years and a 0.1 standard deviation move over the life of the market. In other words, a common sparrow – not a black swan. Second, the August uptick in spreads was driven by technical factors – not fundamental concerns. As seen in the chart, the first three weeks of August had a substantial amount of new issuance (during a period of low coupon payments and fund flows), pushing high yield credit spreads higher by a modest amount. As new issuance declined going into September, credit spreads once again compressed.
Otherwise, little has changed in high yield. Fundamentals remain supportive with default rates trending back downwards after the temporary increase in the wake of the 2014 to 2015 energy price fallout. Markets remain well-functioning with ample liquidity. And mid-single-digit expected returns remain attractive on a risk-adjusted basis. As such, we retain our overweight to high yield, focusing on the B and CCC-rated names within the high yield universe.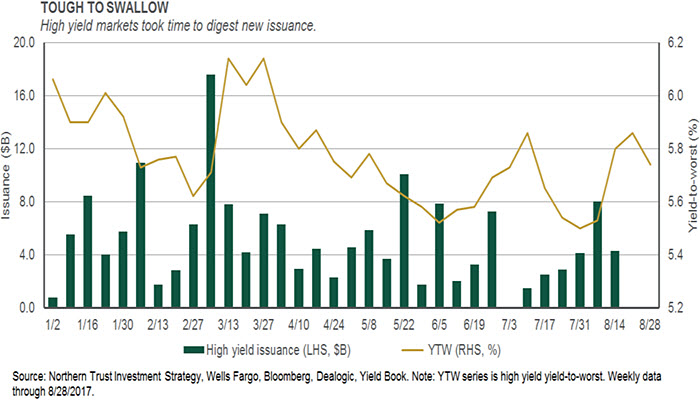 ---
EQUITIES
Growth has regained its lead over value after a brief style rotation in late-2016.
Technology stocks are the biggest driver of growth's outperformance.
Odds are improving that value will close the return gap given relative valuations.
Growth has resumed its post-crisis dominance over value so far in 2017. Outperforming by 14%, it has rebounded from its first material underperformance vs. value in 2016 (-10%). Notably, nearly half of growth's outperformance this year is due to the technology sector – a sector where we've seen significant outperformance and which makes up a much larger percentage of the growth index (38% vs. 8% in value). As we've written several times of late, growth has materially improved in 2017 after a few years of stagnant earnings. Growth's post-crisis outperformance is generally considered to be a function of the slow growth nature of the recovery, creating a greater appreciation for growth stocks when growth is scarce. Value's outperformance in 2016 likely reflected the expectation of a resumption of earnings growth this year, improving the relative attractiveness of value. But the outperformance of value stocks proved short-lived. Growth's outperformance this year has expanded its valuation premium to 10-year highs (see chart). With our expectation for continued solid earnings growth for the broader market, the rally in growth stocks appears extended. While we're not yet calling an end to growth's outperformance, the bulk of its relative gains could be behind us, improving the relative outlook for value stocks going forward.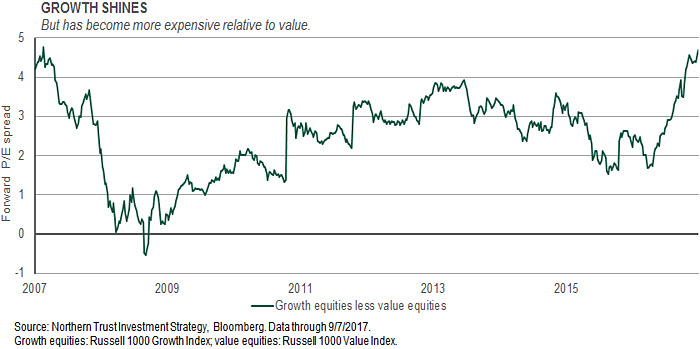 ---
REAL ASSETS
Hurricanes cause short-term disruptions in supply; but longer-term increases in demand.
Gas prices have retreated as refiners resume but lumber prices push higher as rebuilding begins.
We are strategically allocated to all real assets; inflation is low but global growth continues.
Warm waters in the Atlantic Ocean have made for an unusually active U.S. hurricane season, with two major storms making landfall over the past few weeks. Hurricane Harvey made a direct hit on the Houston area – a major refinery center. Then Hurricane Irma drove up the Caribbean and the middle of Florida, directly hitting Florida's west coast. Florida's east coast, including Miami, still felt the impact. Direct damage from the two hurricanes is expected to exceed $200 billion – with Harvey coming in at as high as $180 billion and Irma at around $50 billion (vs. original fears of as high as $200 billion before the storm lost some of its force).
The resulting outlook for the commodity sector requires an analysis of short-term vs. long-term effects on supply and demand. Short-term effects have been dominated by the loss of refining capacity (e.g., gasoline) and crop supply (e.g., oranges). In the case of gasoline supplies – more important to economic functioning – the overall impact has been somewhat muted given high inventory levels and has quickly corrected as refineries come back online. As seen in the chart, wholesale gasoline prices are relatively flat year-to-date after the momentary upwards spike. Conversely, the cleanup process may provide longer-lived demand as infrastructure is rebuilt. In particular, lumber prices have seen a boost. Broadly speaking, we remain strategically allocated to natural resources. Inflation remains low but modest global growth continues – and increased demand from the rebuilding efforts won't hurt.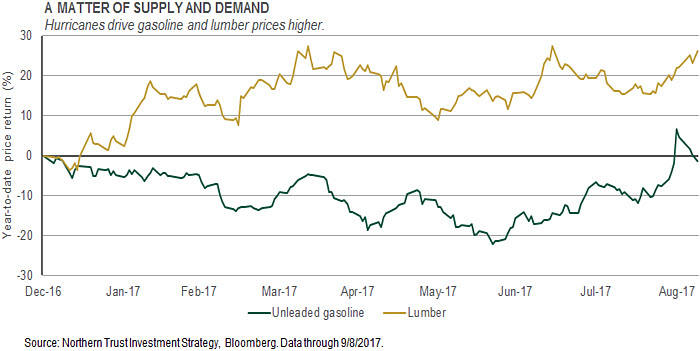 ---
CONCLUSION
Investors have been rewarded this year for risk taking, and we expect the positive environment to continue over the next year. Our recommended equity overweight continues to favor markets outside the United States, as we see improving economic momentum, political leadership and regulatory reform as supportive. The world has experienced several catastrophic events during the last month, from floods in Asia to hurricanes in the Caribbean and United States, and a major earthquake in Mexico. These events have caused great suffering, and will lead to some economic disruption. The major financial markets are unlikely, however, to be significantly affected as the focus on the near-term disruption will turn toward the rebuilding process. The immediate need to provide funding in the wake of Hurricane Harvey likely provided the catalyst behind President Trump's deal with Congress to provide a short-term fix to the debt ceiling and the U.S. government budget.
We upgraded our outlook for European regulatory reform this month, based on the initial efforts by French President Emmanuel Macron to reform the French labor markets. The targeted reforms would make it easier to hire and fire French workers, an important step toward a more flexible economy that will encourage new startups. Importantly, France's two largest unions have said they will not join street protests, a change from the past. With Angela Merkel likely to secure a fourth term leading Germany, the table is set for more unified Franco/German leadership of the European Union. This improves the chances of advancing further financial integration, a long delinquent goal of the EU. The economic backdrop in Europe remains constructive, with the resurgent euro the primary concern. Consumer and business sentiment remains strong, and the equity markets are set up for a bounce after declining 7% in euros since May.
Investor sentiment continues to be restrained, and recent polls in the United States show a jump in the number of bearish individual investors. This is a reasonably good contrarian indicator, and it is also occurring near the end of the seasonally soft June to September market period. Since 1970, the fourth quarter has been the strongest in the United States, with the highest median gains and strongest probability of a positive monthly return. Investor expectations around tax reform in the United States have significantly receded, as high tax rate companies have underperformed all year. We think the Republicans will pass some sort of tax reform before the mid-term elections, but it will take a while and may only have a modest fiscal boost. Risk markets have rallied strongly this year, but this has happened alongside the strong rally in earnings. As long as global growth remains durable, and inflationary trends remain dormant, we believe investors will continue to embrace risk over the next year.


-Jim McDonald, Chief Investment Strategist
---
© 2017 Northern Trust Corporation.
The information is not intended for distribution or use by any person in any jurisdiction where such distribution would be contrary to local law or regulation. This information is obtained from sources believed to be reliable, and its accuracy and completeness are not guaranteed. Information does not constitute a recommendation of any investment strategy, is not intended as investment advice and does not take into account all the circumstances of each investor. Forward-looking statements and assumptions are Northern Trust's current estimates or expectations of future events or future results based upon proprietary research and should not be construed as an estimate or promise of results that a portfolio may achieve. Actual results could differ materially from the results indicated by this information.
This report is provided for informational purposes only and is not intended to be, and should not be construed as, an offer, solicitation or recommendation with respect to any transaction and should not be treated as legal advice, investment advice or tax advice. Recipients should not rely upon this information as a substitute for obtaining specific legal or tax advice from their own professional legal or tax advisors.
Past performance is no guarantee of future results. Performance returns and the principal value of an investment will fluctuate. Performance returns contained herein are subject to revision by Northern Trust. Comparative indices shown are provided as an indication of the performance of a particular segment of the capital markets and/or alternative strategies in general. Index performance returns do not reflect any management fees, transaction costs or expenses. It is not possible to invest directly in any index. Gross performance returns contained herein include reinvestment of dividends and other earnings, transaction costs, and all fees and expenses other than investment management fees, unless indicated otherwise.
Northern Trust Asset Management is composed of Northern Trust Investments, Inc. Northern Trust Global Investments Limited, Northern Trust Global Investments Japan, K.K, NT Global Advisors Inc., 50 South Capital Advisors, LLC and investment personnel of The Northern Trust Company of Hong Kong Limited and The Northern Trust Company.