---
OUTLOOK
Geopolitical developments, from trade policy to economic sanctions, have become key market drivers in recent months. While markets have been unsure about how far trade relations may deteriorate, differentiation is being made between those industries most and least dependent on trade. In addition, tensions have eased somewhat in negotiations over the North American Free Trade Agreement (NAFTA) and between the United States and the European Union, reducing the risk of negative economic fallout between these players.
Tensions between the United States and China, however, remain high and are our central risk case. We expect bilateral actions to continue over the near term, with China matching U.S. actions with reciprocal tariffs. In addition, investment between the two countries will likely face higher hurdles – the recent rejection by China of the merger between U.S. and Dutch semiconductor companies demonstrates the reach of this issue. We expect the extraordinarily high economic interdependence between the United States and China to govern how far eventual trade restrictions will run.
Meanwhile, global economic growth marched ahead in the second quarter, with the United States standing out. Revenue growth for S&P 500 companies has exceeded 10% in the second quarter, with earnings growth of 26%.
We do believe we are at a high water mark for economic growth, with the U.S. fiscal stimulus set to fade in 2019. This should bring growth in the major economies back toward the slower "channel" that we have been experiencing over the last several years. As a result, we expect earnings growth in 2019 to slow to 8% in the United States, 7% across the emerging markets, and 6% across developed markets outside the United States.
The combination of good earnings growth and increased volatility in pockets of the markets has led to improving valuations. As shown below, valuations are less extended than some believe, and are close to median levels outside the United States. They also have improved in all regions since the start of the year – due to robust earnings in the United States and falling share prices in emerging markets. In the United States, for example, valuations have fallen from 19 times forward earnings at the start of the year to 17 times today.
In the fixed income markets, the combination of rising rates and some increase in credit spreads has created an attractive opportunity. With good corporate credit quality and a decrease in expected issuance over the second half of the year, we think the risk-adjusted return outlook for credit is particularly attractive.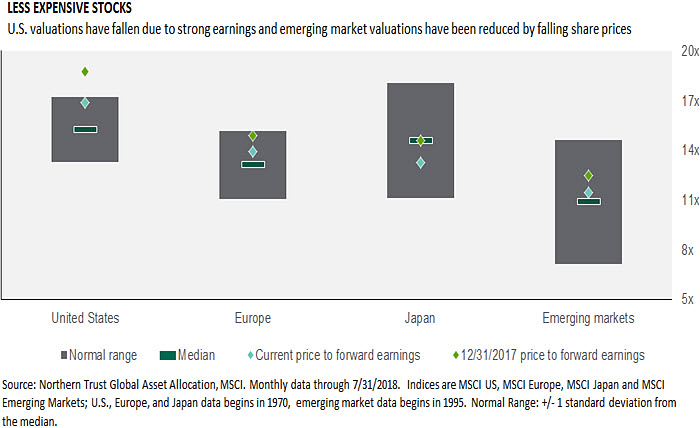 ---
INTEREST RATES
The BOJ's wider trading band has increased volatility
Dovish forward rate guidance by the BOJ has contained the impact of volatility
U.S. rates remain relatively attractive
The Bank of Japan (BOJ) recently announced a wider band of +/- 20 basis points for its 0.0% target for 10-year yields, allowing for marginally higher volatility as it looks to someday exit its accommodative policy. Consistent with other large central banks, the BOJ is being very cautious with any monetary policy changes for fear of disrupting the slow recovery with a policy misstep. To wit, the BOJ paired its broader trading band with a new pledge to keep interest rates low "for an extended period."
In the United States, pension plans have incentive to make contributions prior to September 15 to take advantage of deductions at their old (higher) tax rates. U.S. Treasury STRIPS provide an easy and relatively liquid way to manage duration exposure, and an increase in purchases has contributed to a flatter yield curve recently. Our expectations are for the curve to continue flattening, as the Federal Reserve slowly increases its policy rate, and muted growth and a lack of inflation continue to weigh on the long-end of the curve. As such, portfolios remain positioned with a neutral duration relative to their benchmarks, and we believe that the higher relative yields in the United States remain attractive.
---
CREDIT MARKETS
Fundamentals are improving as default cycles run their course
Positive credit rating migration supports the high yield market
High yield is currently our largest tactical overweight
High yield credit has continued to perform well, providing stability to the risk asset portfolio. Year-to-date, high yield has returned 1.5% (vs. the 2.2% global equity return). High yield credit spreads have been range-bound for most of the year – and have moved back toward their 2018 lows (to 3.25% from a recent high of 3.68%). While the move lower has been aided by technical factors, the primary driver is solid fundamentals. In addition to strong corporate earnings, sector-specific default cycles have run their course. Commodity sector defaults played out in 2016 and 2017 and the retail default cycle is now mostly complete. As a result, the high yield default rate has been declining. Moody's is now expecting a low 2.8% default rate in 2018 – and it's likely to go lower as we head into 2019.
In conjunction, credit ratings have migrated upward. As seen in the chart, notable credit rating improvement has occurred over the past few years, recovering from the commodity and retail default cycles. Since there is typically a negative bias, the current trend around zero is strong on a historical basis. Overall, solid credit fundamentals combined with favorable technicals – wherein demand is steady and supply is falling –continue to provide support for high yield valuations. The index currently sports a 6.3% yield – and we expect the next-12-month return to be in that general vicinity. When compared against global equities, we like the risk/reward trade-off and continue with our material overweight to the asset class.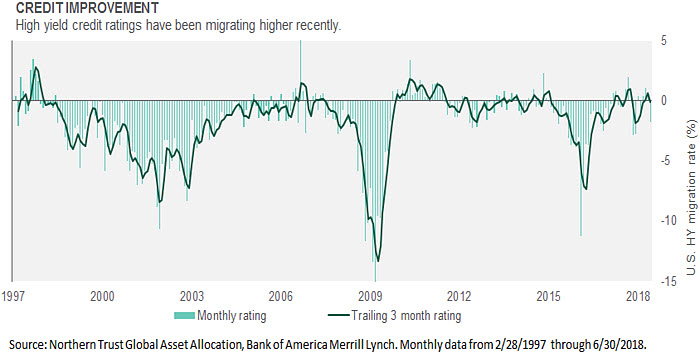 ---
EQUITIES
Solid growth continues to support earnings growth
Emerging markets have lagged over trade and China worries
We expect broad moderation in growth in 2019
With second quarter earnings drawing to a close, results in the United States continue to show strong momentum. Second quarter results topped expectations by 5%, equating to 26% year-over-year growth, and slightly besting the strong first quarter. While lower taxes certainly helped, 10% revenue growth and mid-teens core (ex-tax reform) bottom line growth is impressive, and compares favorably to the rest of the world. U.S. equity markets have materially outperformed so far in 2018, with relative earnings justifying much of the gap.
Developed non-U.S. markets have also shown favorable earnings trends in local currency terms, aided by the translation effect of a stronger U.S. dollar, though trends in emerging markets earnings have been softer. Escalating trade tensions with China offer disproportionately negative implications for emerging markets, adding to pressures tied to the stronger U.S. dollar. If our view on interest rates and the Fed proves accurate, currency may be less of a headwind to emerging markets going forward. While trade rhetoric likely will remain high through the midterms, our base case remains that we will avoid a full trade war. This should provide additional relief to emerging markets.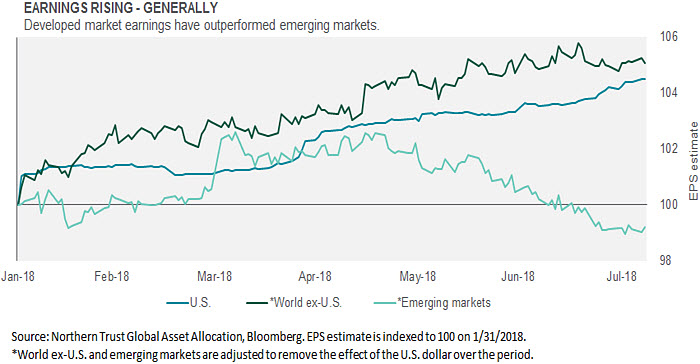 ---
REAL ASSETS
Futures-based commodity strategies continue to struggle
We prefer an equity-based approach to natural resources
We remain strategically allocated to all real assets
Futures-based commodity investors have been waiting for this type of investing environment: strong economic demand, a rebalanced oil market and an uptick in cyclical inflation. But returns on futures-based strategies remain lackluster (a -3.4% return year-to-date on the Bloomberg Commodity Total Return index). While oil prices are higher on a year-to-date basis, many other commodity prices are not. Industrial metals and agriculture products are down 12% and 8%, respectively, as the actual commodity price bears the brunt of recently imposed tariffs. Also, futures-based commodity investing continues to be hampered by upward sloping futures curves. Because most investors aren't willing to take physical delivery of the commodity investments (most don't want bushels of corn dropped off at their door), they instead sell the futures contracts they own ahead of expiration and roll into the next contract. When that next contract is more expensive than the previous one, they suffer a "negative roll-yield." Negative roll-yield has lowered investor returns by 1.8% this year.
We believe a better way to get commodity exposure is through an equity-based approach – investing in companies that are directly exposed to commodity price changes. This strategy avoids the shortcomings of a futures-based approach and has exhibited a high probability of outperforming over various rolling time frames (see chart). Year-to-date, an equity-based approach is up 1.4%, outpacing the futures approach by 4.8%.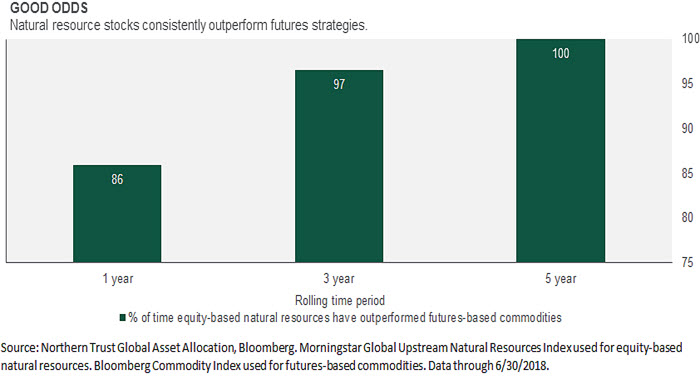 ---
CONCLUSION
We've been very active in our tactical asset allocation recommendations this year, but this month's strategy meetings found us holding steady. This gives us the opportunity to review performance and some of the themes behind this year's moves. Overall, our overweight to risk assets (primarily U.S. equities and high yield) and underweight to fixed income has added value – more than offsetting the drag from our modest overweight to emerging market equities. Our primary moves this year have focused on reallocating from other developed markets back into the United States, adding exposure to fixed income (including investment grade and high yield bonds) and reducing our exposure to inflation-protected securities. These moves are consistent with a view of improving relative performance of the U.S. economy, greater attractiveness of U.S. fixed income after this year's rise in rates, and our conviction that "Stuckflation" will persist over our investment horizon.
Our increasing exposure to yield this year (through investment grade and high yield bonds) should provide some downside protection should growing geopolitical risk drive a sell-off. The picture on trade remains muddled. Negotiations on NAFTA have gone quiet and the newly elected Mexican president has sounded surprisingly pragmatic. Similarly, the threat of escalating tariffs between the United States and Europe seems to have receded after a successful trip to Washington by the president of the European Commission. Our risk case around trade, therefore, centers on the U.S./China relationship. We expect this risk to persist over our investment horizon; there appears to have been little progress to date and neither side is likely to back down. We believe that a full-blown trade war will be damaging to both sides, limiting how far this battle goes.
Our Stuckflation theme underpins our decision to increase exposure to fixed income (and to cut our exposure to inflation-protected securities), while also constraining how far the Federal Reserve will raise rates over the next year. The risk that central banks make a mistake by raising rates due to any cyclical rise in inflation remains front and center. The U.S. yield curve remains relatively flat – with the two-to-10-year curve below 30 basis points. Our base case calls for Rising Monetary Policy Dissent – reflecting both internal dissent at the Fed and dissent between Fed policy and the fixed income markets. At the end of the day, we believe the Fed will avoid making a big mistake, but this will make for interesting times over the next year.
-Jim McDonald, Chief Investment Strategist
IN EMEA AND APAC, THIS PUBLICATION IS NOT INTENDED FOR RETAIL CLIENTS
© 2018 Northern Trust Corporation.
This material is intended to be for informational purposes only and is intended for current or prospective clients of Northern Trust. The information is not intended for distribution or use by any person in any jurisdiction where such distribution would be contrary to local law or regulation. This information is obtained from sources believed to be reliable, and its accuracy and completeness are not guaranteed. Source for market data in commentary is Bloomberg, unless otherwise stated. Information does not constitute a recommendation of any investment strategy, is not intended as investment advice and does not take into account all the circumstances of each investor. Forward-looking statements and assumptions are Northern Trust's current estimates or expectations of future events or future results based on proprietary research and should not be construed as an estimate or promise of results that a portfolio may achieve. Actual results could differ materially from the results indicated by this information. Investments can go down as well as up. Past performance is not a reliable indicator of future results.
Northern Trust Asset Management is composed of Northern Trust Investments, Inc., Northern Trust Global Investments Limited, Northern Trust Global Investments Japan, K.K., NT Global Advisors Inc., 50 South Capital Advisors, LLC and investment personnel of The Northern Trust Company of Hong Kong Limited and The Northern Trust Company.
Issued in the United Kingdom by Northern Trust Global Investments Limited.