---
OUTLOOK
In the first three months of this year, we have upgraded our view toward growth across Europe and Asia, as domestic demand has proven resilient and trade war fears overblown. The euro area's major economies, save Spain, are expected to see accelerated growth in 2017 and current measures of purchasing manager activity imply 2.5% economic growth. That they will likely modestly undershoot this pace illustrates the current tension between "soft" data, such as surveys, and the "hard" data such as gross domestic product (GDP). This debate is especially loud in the United States, as confidence measures remain high while measures of consumer spending and inflation have been more tepid. Nevertheless, corporate earnings are in a steady rebound, as shown below, and continue to support global equity markets.

The political environment globally remains noisy, yet the effect on financial markets is muted. Near-term, the French elections represent the most important hurdle for risk-taking. In the very likely event that no candidate gets a majority of the votes in the first round (being held Sunday, April 23) a run-off will be held May 7. Our base-case scenario (our view of the highest probability outcome) is that Emmanuel Macron will win the run-off, denying Marine Le Pen the presidency. Current polling supports this, but some caution is understandable given the unexpected Brexit and U.S. presidential election outcomes. Our view that political risk in the United States will be low has generally held up since the election, although with some disappointment around legislative progress. While the failure to bring the American Health Care Act (AHCA) legislation to a vote was a defeat, the evolution of the new administration and the moderation of some of its campaign positions have provided some amelioration.

The biggest surprise so far this year may be the behavior of U.S. interest rates, where a rally in the 10-year note has led to yield curve flattening. This is certainly not what the Federal Reserve wants from the market, as it hopes to raise rates at least twice more this year and to begin slowly shrinking its balance sheet. We likely will need some better hard economic data to ensure Fed desires remain aligned with market expectations. And we believe that better growth data will push longer rates back up, further supported by Fed balance sheet management later in 2017. As we don't believe the Fed will move more quickly than the markets expect, we don't think its moves will be disruptive.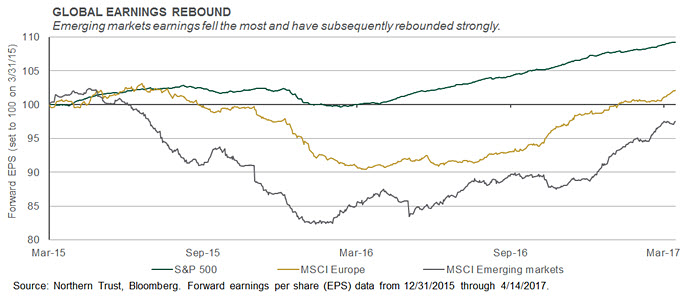 ---
INTEREST RATES
Longer-term rates have fallen amid strong demand and some uncertainty over nominal growth rates.
We expect some upward reversal on U.S. rates as growth holds up, but global rates will be a cap.
We are short duration, overweight corporates and own TIPS to provide an inflation hedge.
Spreads between two-year and 10-year U.S. Treasuries have once again begun to tighten. We expect this to be short-lived, as the Fed remains active and growth is solid, although growth in the first quarter looks to be a bit soft. These views are supported by the relatively low unemployment rate of 4.5% and average hourly earnings that have been ticking higher over the last year and a half. Additionally, record optimism of consumers and businesses since the new administration has come into office leads us to expect better growth and higher inflation moving forward.

We believe that rates will rise and the curve will steepen again as the Fed is likely to begin reducing its balance sheet sooner than originally estimated. We think other central banks, most importantly the European Central Bank, will eventually follow suit and begin to loosen their grip on ultra-accommodative policies. All of this contributes to our view that the 10-year U.S. Treasury is headed toward 3% this year. We recommend that portfolios should be positioned short-duration across benchmarks. We do recommend Treasury Inflation-Protected Securities (TIPS) in this environment, to hedge the risk of faster inflation. We would also overweight corporate bonds within an investment grade bond portfolio, as faster economic growth should translate into better cash flows and increased credit worthiness.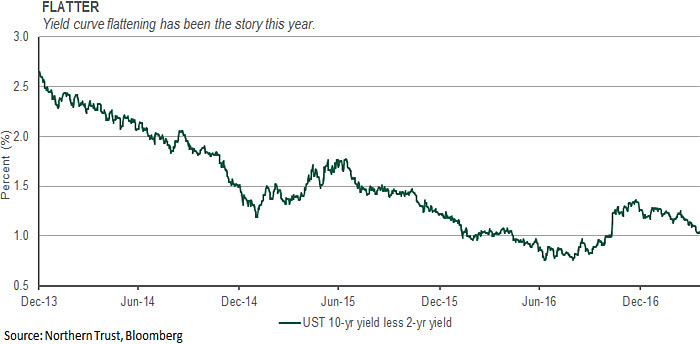 ---
CREDIT MARKETS
High yield spreads have settled into a new channel at just under 4% over the past month.
Flows are sporadic but coupon payments often go right back into the asset class, providing support.
We continue to look for opportunities to reduce our overweight in this fully valued asset class.
Despite the recent U.S. equity market sell off, U.S. credit markets – both investment grade and high yield – have remained fairly well behaved. After some back up in early March, investment grade and high yield spreads have settled into a channel and overall yields have fallen alongside falling interest rates.

Investors pay close attention to mutual fund/exchange-traded fund (ETF) flows – particularly within high yield – because material movements of cash are typically one of the primary drivers of short-term changes in asset valuations. However, a less publicized "fund flow" is the amount of monthly coupon payments received, which often flow directly back into the fund in the form of reinvestments. As shown in the chart, coupon payments are substantial; in fact, they can be of similar magnitude to fund flows. The high yield market benefits from this consistent source of technical support, but sees elevated levels during April and October – in line with the typical semi-annual cycle.

This may help to explain why high yield has held its value in the recent equity market sell-off, wherein the S&P 500 has lost 2.5%. Additionally, strong fundamentals have left investors comfortable using high yield as a source of income, especially as the yield curve has flattened. At this point, we view the asset class as fully valued. While we remain tactically overweight, we have reduced that overweight position from 16% (13% overweight) a year ago to the current 8% (5% overweight) today.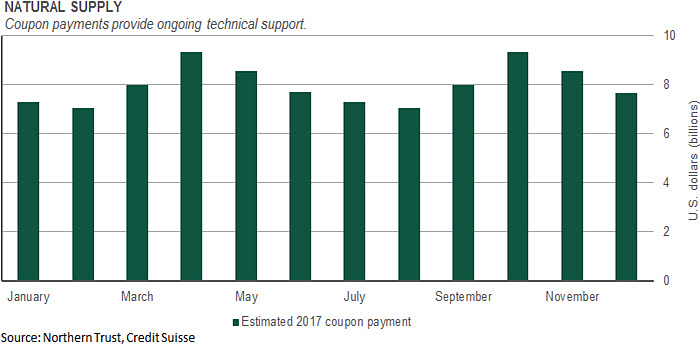 ---
EQUITIES
A strong global consumer is bolstering global luxury stocks – a sign of global growth momentum.
We moved to an overweight in developed ex-U.S. equities this month.
We are now overweight equities broadly – tactically overweight all major geographic regions.
Much has been made about "Trump trades" and their importance to the markets. Amid all the noise around the global economy and politics, however, one measure of stock market performance recently stood out. The S&P Global Luxury Index includes companies like Hermes, Wynn Macau and Sotheby's. The name "luxury" is a little misleading, as it also includes companies like Toll Brothers (the homebuilder) and Nike – hence our view of it as a read on broad discretionary spending. While some of the biggest "trades" on the U.S. election – such as infrastructure-sensitive companies – have given back their early outperformance, the Luxury Index has actually gained momentum since year-end. We think this measure helps corroborate the pace of the current global expansion.

We are just starting first quarter earnings season, and we expect the best earnings growth since 2013 – significantly helped by energy and financials earnings. With our move to overweight on developed ex-U.S. stocks this month, we are now overweight all three major regions. We became more positive on the growth outlook for developed Europe and Asia earlier this year, and the current valuations are also supportive. We funded the increase to developed ex-U.S. through a reduction in our U.S. equities overweight, as those stocks have materially outperformed.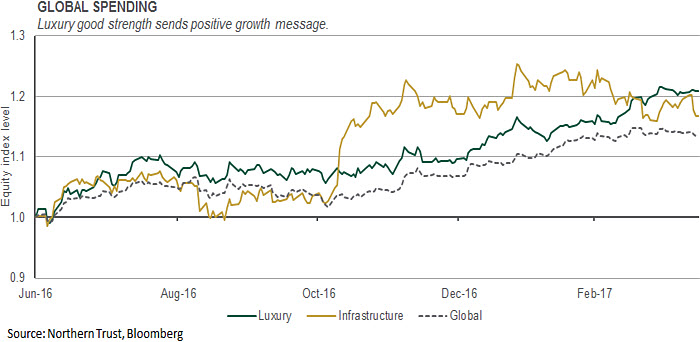 ---
REAL ASSETS
GLI has had a stellar start to the year as interest rates have gone lower.
Our expectation for higher rates will put a lid on GLI returns, but the yield remains attractive.
We are equal-weight global listed infrastructure and real estate and overweight natural resources.
While President Trump's infrastructure ambitions are facing headwinds, global listed infrastructure (GLI) – the asset class – has been growing unabated throughout 2017. GLI has returned 9.0% so far this year (vs. a global equity return of 5.4%). More than half of these gains have occurred over the past month – a 5.1% return in amid a 0.3% fall in global equities during the same period. So why, in the face of lost momentum for a U.S. infrastructure spending program, has GLI rallied?

First, GLI is predominately a collection of companies that maintain infrastructure, as opposed to build infrastructure. Some sectors of GLI benefit from infrastructure spending (e.g., rail transportation) but most don't. What most GLI companies do benefit from is lower interest rates – both because of their capital-intensive business models and the role their stocks serve as bond proxies. The chart shows the relationship between the "term premium" – the return above and beyond the cash return generated by holding fixed income – and the GLI return relative to global equities. Falling interest rates generally mean a higher term premium, which has historically translated into better GLI returns (on display the past month). Our expectation for rates to eventually move higher will put a cap on future gains, but the attractive dividend yield – in both GLI and real estate – keeps us strategically weighted. Meanwhile, we retain our overweight to natural resources given continued global growth momentum.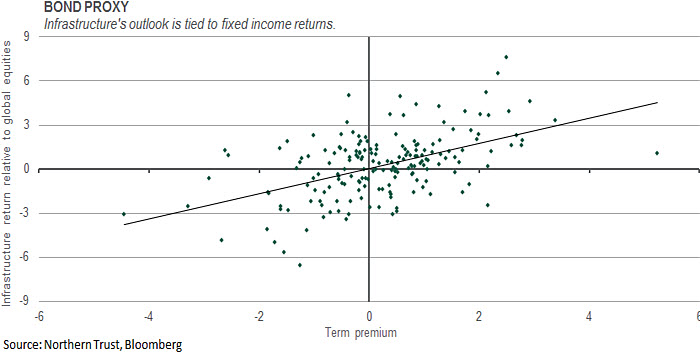 ---
CONCLUSION
This month, we made another change in our tactical asset allocation recommendations, reflecting our continued positive view toward global growth. Specifically, we increased our recommended allocations to developed ex-U.S. equities and cash by 2% each, funded by a 4% reduction in our significant overweight to U.S. equities. The move to developed ex-U.S. equities is supported by our constructive growth outlook and attractive relative valuations. The movement to cash is to reflect that, for the first time in years, we expect cash to outperform investment grade bonds. We chose to fund these moves from U.S. equities, to manage overall portfolio risk and also in consideration of the relative value as compared to developed ex-U.S. equities. These portfolio shifts still leave us overweight risk assets, as we remain constructive on the outlook for risk taking over the next 12 months.

Most of the focus on "what could go wrong" turns to the political environment, despite the market's sanguine approach to political risk of late. The upcoming French elections on April 23 and May 7 are of great interest, as the election of either the Far Right or Left candidates would be a negative surprise to the markets. The Dutch election in mid-March actually saw the Populist candidate underperform polling data, but this may not be a great read into the French electorate. Still, we don't think either of the more extreme candidates is likely to win the second round, and markets could get a bounce with the election of a more centrist candidate. U.S. legislative progress remains a concern, and the failure of the AHCA legislation to even get to a vote is a disappointment.

We have also been highlighting the potential of a cyclical upturn in inflation as a risk case, but the most recent data looks to reduce this risk. U.S. consumer price inflation in March was weak, with drops in prices in goods ranging from shelter to autos and wireless services. One month does not make a trend, but it does suggest that the odds of a near-term jump in inflation have fallen. The U.S. yield curve has flattened in recent months, supported by a decline in inflation expectations and potentially some moderation of the growth outlook. We do expect a reversal of this trend over the next six months, as we expect the global economic expansion to continue apace. If we are wrong about this, a further flattening of the yield curve will complicate the Fed's plans to normalize interest rates and also likely temper investor risk appetite.


-Jim McDonald, Chief Investment Strategist
---
INVESTMENT PROCESS

Northern Trust's asset allocation process develops both long-term (strategic) and shorter-term (tactical) recommendations. The strategic returns are developed using five-year risk, return and correlation projections to generate the highest expected return for a given level of risk. The objective of the tactical recommendations is to highlight investment opportunities during the next 12 months where our Investment Policy Committee sees either increased opportunity or risk.

Our asset allocation recommendations are developed through our Tactical Asset Allocation, Capital Markets Assumptions and Investment Policy Committees. Committee membership includes Northern Trust's Chief Investment Officer, Chief Investment Strategist and senior representatives from our fixed income, equities and alternative asset class areas.

Indexes used: Bloomberg Barclays (BBC) 1-3 Month UST (Cash); BBC Municipal (Muni); BBC Aggregate (Inv. Grade); BBC TIPS (TIPS); BBC High Yield 2% Capped (High Yield); JP Morgan GBI-EM Global Diversified (Em. Markets Fixed Income); MSCI U.S. Equities IMI (U.S. Equities); MSCI World ex-U.S. IMI (Dev. ex-U.S. Equities); MSCI Emerging Market Equities (Em. Markets Equities); Morningstar Upstream Natural Resources (Natural Res.); FTSE EPRA/NAREIT Global (Global Real Estate); S&P Global Infrastructure (Global Listed Infra.)

If you have any questions about Northern Trust's investment process, please contact your relationship manager.
---
© 2017 Northern Trust Corporation.

IMPORTANT INFORMATION. This material is provided for informational purposes only. Information is not intended to be and should not be construed as an offer, solicitation or recommendation with respect to any transaction and should not be treated as legal advice, investment advice or tax advice. Current or prospective clients should under no circumstances rely upon this information as a substitute for obtaining specific legal or tax advice from their own professional legal or tax advisors. Information may not be duplicated in any form or disseminated without the prior consent of Northern Trust. Northern Trust and its affiliates may have positions in, and may effect transactions in, the markets, contracts and related investments described herein, which positions and transactions may be in addition to, or different from, those taken in connection with the investments described herein. All material has been obtained from sources believed to be reliable, but the accuracy, completeness and interpretation cannot be guaranteed. The opinions expressed herein are those of the author and do not necessarily represent the views of Northern Trust. Information contained herein is current as of the date appearing in this material only and is subject to change without notice. Indices and trademarks are the property of their respective owners. All rights reserved.

There are risks involved in investing including possible loss of principal. There is no guarantee that the investment objectives of any fund or strategy will be met. Risk controls and models do not promise any level of performance or guarantee against loss of principal.