---
OUTLOOK
The investment landscape may seem especially uncertain as we start 2017, with concerns over political transitions, increasing geopolitical tensions and stale monetary policy. Consider, however, how the global economy and financial markets handled the challenges of 2016. From first-quarter fears about a Chinese hard landing, to the second quarter Brexit vote, and then the unexpected November election of Donald Trump as U.S. President, the markets dealt with considerable uncertainties in 2016 – and risk assets ended the year broadly higher. Underlying this strong performance has been a slow and steady improvement in the global economy since May 2016 –improvement which has continued into the new year.

Currency markets have been a major transmission mechanism for the changing global outlook, with the U.S. dollar being a standout performer. In contrast to the roughly 17% decline in the British pound since the Brexit vote, the U.S. dollar has been appreciating as the U.S. economy has strengthened, and has rallied a further 3% since the November election. As shown in the chart below, there has been a coincident increase in manufacturing activity levels in Europe and Asia – partially because the rising dollar has made their exports more competitive.

European business activity has benefitted from resilient domestic demand. The yen's further decline has likely been well-received by the Abe administration because it boosts foreign profits and increases competitiveness. Emerging market growth and financial markets also have held up well in the face of the strong dollar, which has proven to be a strong headwind in the past.

Investors are increasingly turning their gaze from central banks to political engagement as they assess the outlook for market-affecting policy changes. With the Federal Reserve likely to raise rates twice in 2017, the market will be more sensitive to actual policy progress from the new administration and Congress. Similarly, actions from the European Central Bank (ECB) are likely to be less consequential than the numerous national elections and political response to the rise of populism. Central bankers have been asking for help from the political class, and the timing may prove to be propitious in the United States. Momentum in the global economy is reaching new highs and consumer and business sentiment has jumped in recent months. This month we also upgraded our outlook for growth in Europe and Asia, giving us increased confidence in the global outlook.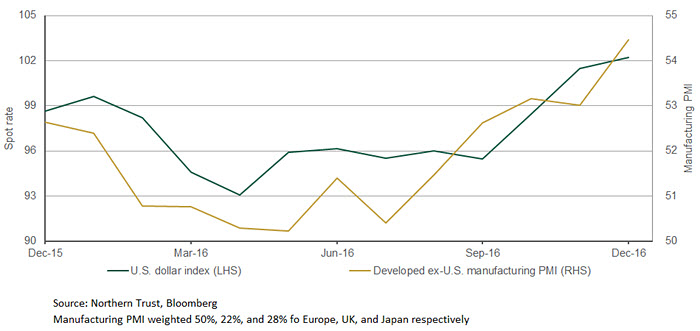 ---
INTEREST RATES
Investors are starting to price in the possibility of increasing inflation, along with growth.
We expect rising growth and inflation expectations to nudge interest rates higher.
We are carefully managing duration risk in this new interest-rate environment.
The Republican sweep of the November U.S. election has moved us out of the "lower for longer" camp and has accelerated the rise in U.S. interest rates. Led by the sell-off in the U.S. Treasury market, and also helped by rising inflation expectations, yields across Europe and the United Kingdom have rebounded after the year-end rally, more so at the longer end of the yield curve. This is coinciding with the change in direction from the Bank of England and the ECB, which appear less willing to expand monetary stimulus. The near term risk is that longer-dated yields could edge higher in Europe and the United Kingdom as they have lagged the move in U.S. Treasuries. Expectations of a sooner than expected tapering of quantitative easing (QE) would add to this concern.

We think the ECB and the Bank of England will be sidelined in the first half of the year, while we expect the Fed to raise rates twice in 2017. The Bank of Japan appears to be focused on QE policy rather than interest-rate adjustment; as such, short-dated Japanese bond yields are expected to remain range-bound with the continuation of ultra-low or negative interest rate policy.

With our interest-rate outlook now envisioning higher rates, we have shifted toward positioning portfolios neutral-to-short duration relative to their respective benchmarks.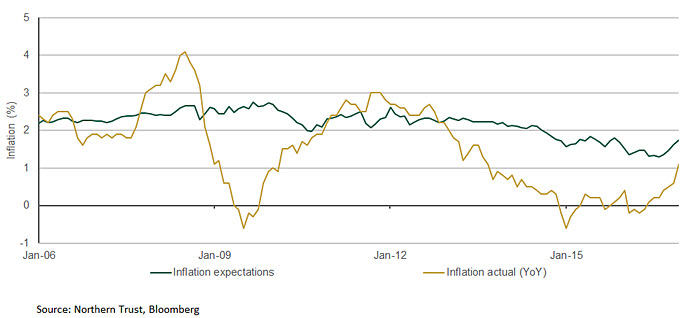 ---
CREDIT MARKETS
Credit spreads continue to tighten as investors look for improved fundamentals and technicals.
Credit-spread tightening should offset interest-rate increases – particularly in high yield.
We favor high yield bonds over investment grade fixed income and emerging market debt.
Tighter credit spreads may be a result of a brighter economic outlook, but technicals (supply/demand) are playing a part as well. Within high yield, new issuance has declined materially the past three years after reaching a peak in 2013. Modest new issuance is expected to remain a positive technical factor in 2017.

The increase in underlying interest rates has changed the economics of issuer refinancing. Many issuers have already refinanced at low coupons and higher interest rates have reduced the opportunity for further coupon reductions. Although we may see an increase in merger and acquisition (M&A) activity, a regulatory cap on new issue leverage will remain a hindrance to certain types of private equity deals. Even if M&A increases, the market is unlikely to see the type of issuance that occurred prior to 2008. Given the continued demand for high yield from both traditional and nontraditional investors, modest new issuance will continue to support valuations.

In this environment, we favor high yield over investment grade fixed income – high yield can better withstand higher interest rates. Meanwhile, the emerging market debt outlook remains challenged by the strong dollar. Reports are that Mexico has spent $2 billion in an attempt to defend the peso against a strengthening dollar. We don't find the current yields available in emerging market debt sufficient to offset the risk of further currency weakness.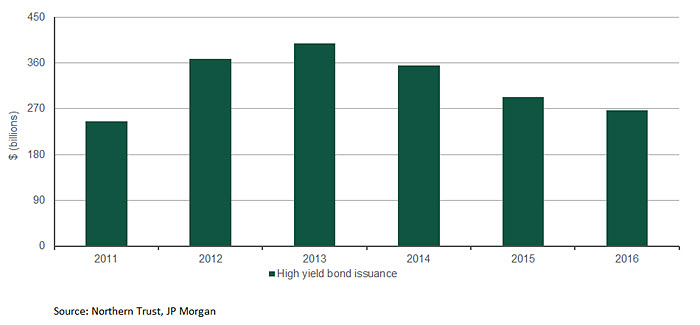 ---
EQUITIES
Investors have embraced value stocks as a way to play improving economic growth.
We expect a resumption of earnings growth in 2017 to support further stock gains.
We favor U.S. equities, and recently increased developed ex-U.S. exposure.
After materially underperforming in 2015, value shares in the United States recovered nearly all of their underperformance in 2016. Changes in expectations for earnings growth across several sectors, including energy and financials, led to a recovery in value during 2016, which only accelerated following the election. With improved earnings per share and economic growth expected in 2017 and 2018, the preference for value could persist.

We expect a turn in the global earnings picture in 2017, led by U.S. earnings growth of 9%, growth of 7% in the developed market ex-U.S., and 4% in emerging markets (hurt by share dilution). All earnings should benefit from the rebound in commodities prices, while U.S. earnings growth should receive an extra help from tax reform. We expect some valuation compression in the developed markets as interest rates rise, but expect emerging market equity valuations to hold relatively steady due to relative attractiveness.

We remain significantly overweight U.S. equities due to improving economic growth, the prospects for regulatory and tax reform, and the completion of the election cycle. Europe faces key elections in 2017. However, we don't expect a renewal of EU-breakup fears and recently upgraded our growth outlook – which led to increasing our recommended weighting for developed ex-U.S. to strategic weights.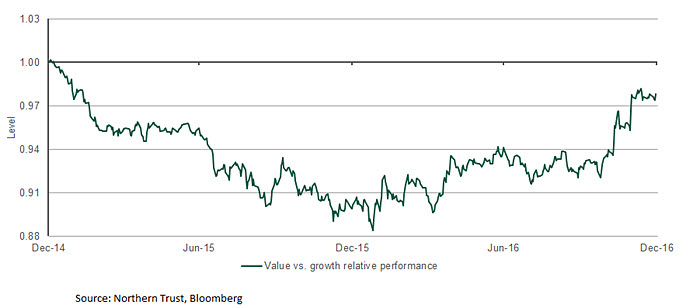 ---
REAL ASSETS
Post-election, natural resources have significantly outpaced global real estate and listed infrastructure.
Better growth will support real assets, with most of the benefits accruing to natural resources.
We are tactically overweight natural resources, but remain fully invested in the other real assets.
For most of 2016, real assets uniformly outperformed global equities. But the fourth quarter presented a fork in the road. As interest rates began to rise, cash flow assets (global real estate and listed infrastructure) began to weaken, given their interest-rate sensitivity, while natural resources marched further higher.

Both global real estate and listed infrastructure continue to face rising interest-rate headwinds, but their dividend yields (4.2% and 3.8% respectively) remain attractive. The recent interest-rate spike has brought down relative yields between global real estate and the 10-year U.S. Treasury, but current levels remain elevated vs. recent history (see chart). We maintain our tactical positioning in line with strategic levels. While we recognize the headwinds from higher U.S. interest rates, we also value the diversified exposures – including the exposure to global equities and benefits from global growth.

The biggest beneficiary of global growth momentum, however, is natural resources. The combination of steady oil demand and OPEC supply cuts has driven a quicker pace of supply-demand rebalancing than investors expected. The result has been a 50% year-over-year return in natural resource equities. We remain overweight, and would remind investors of the years of underperformance prior to the current run, leaving the asset class still attractive in our view. Natural resources also serve as an excellent hedge a jump in inflation, our top risk case.
---
CONCLUSION
In accord with the theme of Political Engagement, our asset allocation discussions have increasingly focused on the political calendar and agenda – alongside a reduced focus on central bank policy as a key market mover. Risk assets have rallied over the last quarter based on both tangible evidence of economic momentum and the hope for tax reform and deregulation. The markets will want some evidence of political stability and progress – from the new Republican leadership in the United States to the many European elections in 2017. We now judge political leadership in all regions to be strong – which is likely constructive for individual country governance but could lead to more contentious diplomatic engagement over territory and trade issues.

Our major change from this month's asset allocation meeting was an upgrade in our growth outlook for the developed markets ex-United States. Europe, in particular, has continued to outpace analyst estimates for growth as domestic consumption has been durable and export growth has been a better contributor. This led to our one policy recommendation change this month: an increase of 2% in developed ex-U.S. equities funded by an equal reduction in investment grade bonds. With this move, we are now overweight U.S. equities and equal weight both developed ex-U.S. and emerging markets. We see the United States benefitting from improving growth, and while Europe faces a challenging election calendar, we don't see a return of serious EU-breakup fears in 2017. We can't make a strong bull or bear case for emerging market equities at this point, which we think argues for its current strategic weighting. China has continued to defy its skeptics at least short-term, but has turned to fiscal deficits to stabilize growth. Longer-term, China will need to demonstrate a greater reliance on organic growth to sustain investor confidence.

We only fine-tuned our risk cases this month, and an unexpected upturn in inflation still leads the list. Our second risk case, related to the Fed, has been updated to reflect pending transitions – in interest rates, philosophy and personnel. Our final risk case concerns the potential for policy letdown – signs of U.S. political stenosis or serious tensions within the EU could lead to increased risk aversion. Of course, these are currently just risk cases. We continue to judge them as manageable risks, and are positioned for 2017 to be a year that favors risk taking.

-Jim McDonald, Chief Investment Strategist
---
INVESTMENT PROCESS

Northern Trust's asset allocation process develops both long-term (strategic) and shorter-term (tactical) recommendations. The strategic returns are developed using five-year risk, return and correlation projections to generate the highest expected return for a given level of risk. The objective of the tactical recommendations is to highlight investment opportunities during the next 12 months where our Investment Policy Committee sees either increased opportunity or risk.

Our asset allocation recommendations are developed through our Tactical Asset Allocation, Capital Markets Assumptions and Investment Policy Committees. Committee membership includes Northern Trust's Chief Investment Officer, Chief Investment Strategist and senior representatives from our fixed income, equities and alternative asset class areas.M

If you have any questions about Northern Trust's investment process, please contact your relationship manager.
---
© 2017 Northern Trust Corporation.

Past performance is no guarantee of future results. Returns of the indexes also do not typically reflect the deduction of investment management fees, trading costs or other expenses. It is not possible to invest directly in an index. Indexes are the property of their respective owners, all rights reserved. This newsletter is provided for informational purposes only and does not constitute an offer or solicitation to purchase or sell any security or commodity. Any opinions expressed herein are subject to change at any time without notice. Information has been obtained from sources believed to be reliable, but its accuracy and interpretation are not guaranteed. Northern Trust Asset Management comprises Northern Trust Investments, Inc., Northern Trust Global Investments Limited, Northern Trust Global Investments Japan, K.K., NT Global Advisors, Inc. and investment personnel of The Northern Trust Company of Hong Kong Limited and The Northern Trust Company.