---
OUTLOOK
We remain overweight equities as we enter 2018. The global economy is showing broad momentum and inflation is putting little pressure on monetary policy. In response to strong 2017 market returns, we've been reallocating toward less-expensive asset classes. We believe the two biggest potential threats to the economy and markets "staying in motion" are a central bank mistake and a China slowdown. We entered 2017 overweight risk assets because we believed the global economy was gaining momentum and the U.S. government was set to take some load off of the Federal Reserve. Economic fundamentals have positively surprised in 2017, with the contribution from the U.S. government being more regulatory than legislative in nature. As investors bid up risk assets in 2017, fixed income continues to provide middling return potential. To paraphrase Newton's First Law, an object will remain in motion unless it is compelled to change by an external force. We think that describes the general state of the global economy, which we expect should produce another year of solid growth in 2018.
Bull markets are always vulnerable to central bankers "taking away the punch bowl" by raising rates, but we think continued subdued global inflation moderates this risk. In addition, the low level of long-term interest rates globally and the fear of inverting the yield curve should cap how far the Fed raises short-term rates.
Accelerating growth in China has supported the global economic and financial market rebound since early 2016. This growth may have been engineered ahead of the Party Congress this past October. While a material slowdown of Chinese growth is a risk, our base case of modest growth deceleration may help to offset global inflation risks and support risk taking.
Our themes of Entrenched Growth, Stuckflation and Waiting for Monetary Godot remain front and center as we look into 2018. Global economic growth has shaken off concerns about the recovery's age, and has actually been gaining momentum toward year-end. The inflation outlook remains "stuck" at low levels, as technology adds supply to the economy and restrains pricing power. This is leading to Monetary Godot, as central bankers debate the cyclical vs. secular nature of inflation and whether they might make a mistake by tightening policy too soon. We see the intersection of these three themes continuing to support risk taking in 2018.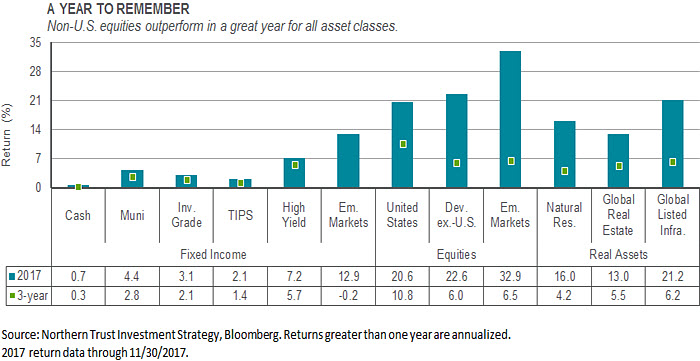 ---
INTEREST RATES
Interest rates are likely to remain low, supported by continued quantitative easing in Europe and Japan.
The Fed will find it difficult to hit its target of three rate hikes in 2018 given the flattening yield curve.
Meager cash yields should persist; longer-duration fixed income returns should also be low (but positive).
The Treasury yield curve has continued to flatten throughout 2017, driven by Fed rate hikes and long rates anchored by low inflation. The impact of low rates outside of the United States has also contributed to the flattening, as international investors have been buying U.S. Treasuries in their continuing search for yield. The favorable technical backdrop for U.S. municipal bonds should continue, and appetite for them has moved beyond the typical taxable U.S. investor. Demand from major participants remains high, supply is moderate and the potential for an increase in taxable muni debt reduces the tax-free stock. Pension issues will get closer scrutiny by investors as a divergence between the funded statuses of programs increases.
We expect two more Fed rate hikes over the next year (including this December), a slower pace than the Fed has been indicating, because we believe the Fed will be hesitant to risk inverting the yield curve. As shown in the accompanying chart, forward markets are still expecting low long-term rates in one year. The European Central Bank and Bank of Japan have continued expanding their balance sheets as inflation readings undershoot targeted levels. Short-dated maturities look least attractive globally, due to the low rates in many countries and because they are more vulnerable to changes in central bank policy.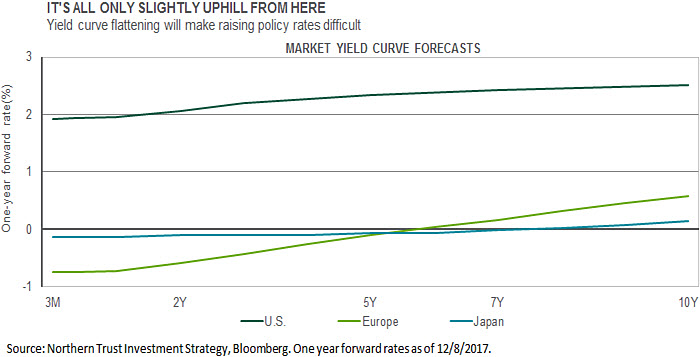 ---
CREDIT MARKETS
Tighter credit spreads and steady interest rates led to decent fixed income asset class returns in 2017.
Amid steady economic growth, interest rate and credit exposure should continue to pay off in 2018.
Our 2018 forecasts are largely in line with starting point yields because interest rates remain range bound.
In 2017, fixed income investors benefited from taking on both interest rate and credit exposure – gained through allocating to longer duration and lower credit quality securities, respectively. Investment grade total returns of ~3% slightly outpaced beginning of year yield-to-maturities as interest rates moved slightly lower during the year and credit spreads tightened. High yield also benefited from tightening credit spreads, returning ~7% as default rates fell amid strengthening fundamentals. Finally, emerging market debt benefited from the weakening dollar, which both boosts non-U.S. dollar denominated returns and makes it easier to pay U.S. dollar denominated debts; total returns came in at ~13%.
We believe major fixed income indexes will return in line with their yield-to-maturity starting points in 2018. Interest rates are expected to move only modestly higher (which is already priced in). Meanwhile, we expect credit spreads – both investment grade and high yield – to remain range-bound. Current spreads sit at post-global financial crisis lows, but constructive fundamentals and low interest rates likely will keep them there. Within the high yield market, technicals are also keeping credit spreads tight – supply (market issuance) is simply not keeping up with demand. Lower issuance is expected to continue given the amount of refinancing achieved over the past few years. We remain slightly overweight credit in the overall portfolio, still preferring high yield over emerging market debt.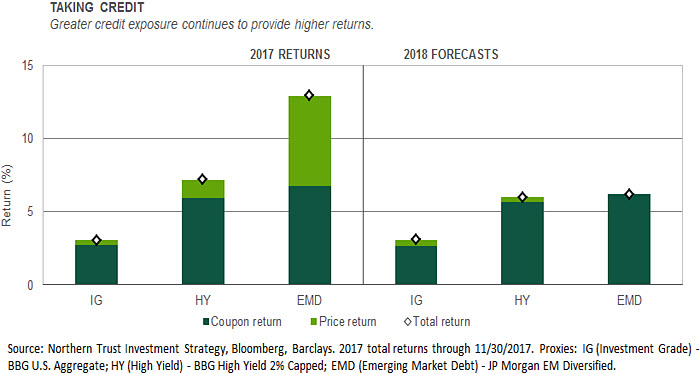 ---
EQUITIES
In a great year for global equities, all major regions have recorded well over double-digit gains.
Gains should continue in 2018 as tax reform boosts U.S. stocks and non-U.S. valuations go higher.
We expect another year of double-digit gains in all regions, with the best returns in Europe and Japan.
Global equities are closing out 2017 with very strong performance, led by better than expected earnings. Leading the way are developed ex-U.S. and emerging markets, where earnings growth of 21% and 18% blew past beginning of year expectations. U.S.-dollar-based investors also have benefitted from currency appreciation of 9% and 5%, respectively, in these markets. In the United States, earnings growth of 12% has bested expectations of around 8%, and returns have also been boosted by 6% from valuation expansion. U.S. earnings should get another boost in 2018 from tax reform, with the proposed reduction in the corporate tax rate likely to contribute an 8% boost in S&P 500 earnings per share.
Our return expectations for 2018 are more modest, but still show a healthy return outlook. We expect earnings to remain the primary driver of returns, led by U.S. earnings growth of nearly 14%. With U.S. markets being the most expensive of the major markets, we have penciled in some valuation contraction during 2018. In contrast, we have forecast some valuation expansion in the developed ex-U.S. and emerging markets, which have lagged since the global financial crisis and carry lower valuations than U.S. equities. We have been reallocating from U.S. equities to these markets over the last year because we felt the multi-year run of U.S. dominance was near its end.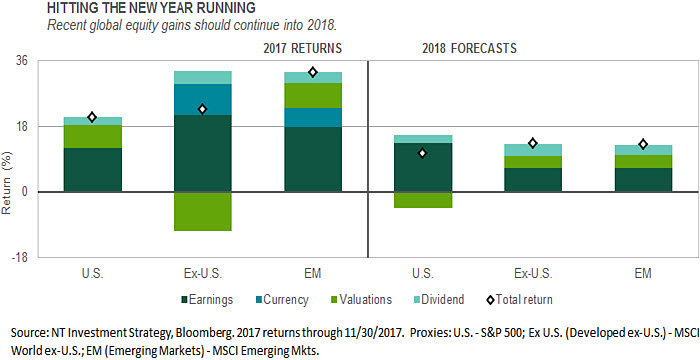 ---
REAL ASSETS
Real assets recorded double-digit gains in 2017; global listed infrastructure ran away from the pack.
The strong global equity outlook and low interest rates bode well for global real estate and global listed infrastructure in 2018.
Better calibrated supply and steady global demand support natural resources, though China is a risk.
Real assets performed admirably in 2017 (all with double-digit returns), but most failed to match the impressive performance of pure global equities. The exception was global listed infrastructure, which gained more than 20% by exploiting 2017's mix of steady interest rates, higher equity markets and somewhat jittery investors (with global listed infrastructure serving as a lower-risk alternative to listed real estate). Global real estate, returning 13%, received some of the same benefits from low rates but faced offsetting headwinds in the form of poor investor sentiment, with increased concerns over the technology-induced effects on retail (Amazon/Alibaba), commercial (shrinking offices) and other rents. Natural resources overcame first-half commodity supply worries to return 16%.
Despite our expectations for Stuckflation, we remain strategically allocated across all real assets. This allows us to take advantage of the diversification they provide the portfolio as well as the benefits they provide the investor – including income (primarily global real estate and listed infrastructure) and protection against unanticipated inflation (primarily natural resources). Continued economic momentum and low interest rates creates the potential for upside in both global listed infrastructure and global real estate. Natural resources will also benefit from continued global economic demand as well as the ongoing recalibration in commodity supplies. However, Chinese economic weakness – or a greater shift to the consumer – is a risk.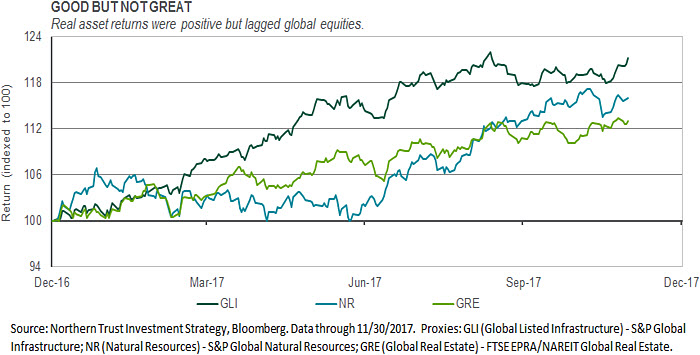 ---
CONCLUSION
Asset markets were boosted in 2017 by a combination of conservative positioning, upside earnings growth and predictable monetary policy. Investors ended 2016 having withdrawn $15 billion* from equities, compared with a net investment of $254 billion into fixed income. Investor sentiment improved steadily during 2017, leading to flows into equities of $200 billion in the first nine months of the year – which was still outpaced by $293 billion into fixed income. These investment levels don't compare with the overweighting of equities that occurred at the end of the last two bull markets. In 2007, $212 billion went into equities as compared with $121 billion into fixed income; in 1999 there were flows of $137 billion into equities and just $2 billion into fixed income. The 2017 investment flow data presents a picture of improving optimism, but not one of euphoria.
While the earnings picture in 2018 is highly unlikely to match the robust growth of 2017, the outlook still looks promising. U.S. earnings look to get a one-time boost from pending tax reform, leading to our growth forecast of 14% – as compared with 7% for developed ex-U.S. and emerging markets. U.S. share prices may face some headwind from valuations, while we expect valuation expansion outside the United States. Our work on valuation shows that selling out of the market just because it is expensive hasn't added value in the past, and our approach has been to reallocate within equities to those areas with lesser valuations (i.e., markets outside the United States).
Monetary policy will be in focus in 2018, as balance sheet management along with policy rate adjustments raise the risk of a Monetary Misstep. Too much tightening, without higher inflation, risks inverting the yield curve and bringing consequent negative repercussions. We are also monitoring the risk of China Weakness, because the strong market environment over the last 18 months has been supported by a strong rebound in China. Politics likely will remain center stage, but haven't proven to be much of a risk to markets in recent times, and we actually removed this from our risk cases this month. At the end of the day, we expect again to get paid to take risk in 2018 – and should things change during the year we will be positioned to make the appropriate adjustments.
-Jim McDonald, Chief Investment Strategist
* Based on investment flow data from JPMorgan.
(Note: This month's Perspective is a summarization of our report 2018 Outlook: An Object in Motion Stays in Motion).
---
IN EMEA AND APAC, THIS PUBLICATION IS NOT INTENDED FOR RETAIL CLIENTS
© 2017 Northern Trust Corporation.
The information contained herein is intended for use with current or prospective clients of Northern Trust Investments, Inc. The information is not intended for distribution or use by any person in any jurisdiction where such distribution would be contrary to local law or regulation. This information is obtained from sources believed to be reliable, and its accuracy and completeness are not guaranteed. Information does not constitute a recommendation of any investment strategy, is not intended as investment advice and does not take into account all the circumstances of each investor. Forward-looking statements and assumptions are Northern Trust's current estimates or expectations of future events or future results based upon proprietary research and should not be construed as an estimate or promise of results that a portfolio may achieve. Actual results could differ materially from the results indicated by this information. Investments can go down as well as up.
Northern Trust Asset Management is composed of Northern Trust Investments, Inc. Northern Trust Global Investments Limited, Northern Trust Global Investments Japan, K.K, NT Global Advisors Inc., 50 South Capital Advisors, LLC and investment personnel of The Northern Trust Company of Hong Kong Limited and The Northern Trust Company.
Issued in the United Kingdom by Northern Trust Global Investments Limited.