Click on the links to access the printable versions
OUTLOOK
Our investment strategy meetings last month led to an upgrade to our growth and interest rate outlook in the wake of the U.S. election, and our recently concluded December strategy meetings focused on validating those views. Even though the new administration won't take office until late January and meaningful legislation isn't close to passage, financial markets are discounting mechanisms and investors who wait for the full formation of new economic conditions will likely be behind the curve. Recognizing this, we're dependent on assessing market reaction and anecdotal evidence, along with our own projections of the potential impact of changing policy on growth, inflation and monetary policy.

While it's been only a little over a month since the election, we think the developing evidence supports our view that the outlook for U.S. growth is likely to improve — which underpins our recommended increase in risk positioning last month. Rising financial markets directly boost consumer confidence and can also lead to increased business confidence. We're starting to hear of increased business spending plans after the election, and the potential for repatriation of overseas profits could further boost corporate spending and share repurchases. We also think our view that the U.S. interest-rate picture has shifted to an upward trajectory is being substantiated, and the rise in market rates eases the Federal Reserve's job in normalizing monetary policy.

We'll further explore the outlook for the financial markets and themes in our 2017 Outlook report, which will be published mid-December. Two themes of particular importance are the rise of populist politics and the transition from monetary policy to fiscal/government policy. We assess the potential economic impact of populist politics, which we think will be negative for British growth (due to the European Union exit) but positive for U.S. growth (due to some breaking of the legislative logjam in Washington). The transition from monetary to fiscal/government policy is currently focused in the United States, while its development in Europe will be slower. This leads us to tactically favor U.S. assets because economic momentum is improving and the populist political outcome may actually lead to an improving economic outlook for the country.



---
U.S. EQUITY

Small cap stocks have led the post-election stock market rally.
Financial stocks have benefited from higher rates and lower regulation.
The S&P 500 is up more than 6% since the election, reflecting expectations of increased fiscal stimulus and better economic growth. Pro-cyclical sectors, including financials, energy and industrials, have seen the largest increases. Financials are up more than 18% since the election on sharply higher interest rates and expectation of a rollback of burdensome regulatory requirements. Given the move in interest rates, "bond proxy" sectors such as utilities and consumer staples are lower. With potential changes in tax policy and the incoming administration's U.S.-centric goals, those companies with higher tax rates and less non-U.S. revenue have also tended to outperform. With the market focused on fiscal stimulus and other pro-growth policies improving the economic outlook in the United States and increasing earnings growth, we remain constructive on U.S. equities.
---
EUROPEAN EQUITY

Italians continue the populist movement by voting "No."
Because the "No" vote was expected, markets haven't been too shaken.
In what's being taken as a continuation of the populist election results across the globe, Italian citizens voted resoundingly (59-41) against a constitutional reform that would have concentrated even more power in its political system. Supporters felt the reform would have enhanced Parliament's ability to pass new legislation, while opponents felt it increased government power too much. The vote has several implications for European equity investors. First, it reduces the likelihood of legislation needed to reform the fiscal situation. Second, the weaker economic outlook hurts the outlook for the euro. Finally, Italian banks in particular may find it marginally more difficult to access global capital. While the European economy continues to generate reasonably stable growth, the Italian referendum highlights the political headwinds the EU will face in 2017 with important elections in France, Germany and the Netherlands.
---
ASIA-PACIFIC EQUITY

The BOJ is continuing to purchase both equities and fixed income in large sums.
Rate volatility around the U.S. election results is causing increased intervention.
The Bank of Japan's (BOJ's) September decision to target a 0% cap on 10-year government bond yields by purchasing securities was put under pressure in the last few weeks as interest rates ticked up globally. Equity investors should keep a close eye on the BOJ's record-setting involvement in capital markets. Its balance sheet has tripled during the last four years as the BOJ gobbles up both equities and fixed income. Having a buyer of this size in the market could cause dislocations from fair value and impede the proper functioning of price discovery — including creating days where the Japanese 10-year bond doesn't even trade. Equity investors should remain selective, focusing on companies that will thrive even with a less involved central bank.
---
EMERGING-MARKET EQUITY

U.S. election results hurt emerging market equities.
Subsequent post-election stability highlights a balanced outlook.
Emerging-market equities have been relative outperformers this year, following the overall improvement in global industrial activity since midyear. The stocks have also benefited from the broad rally in the commodity complex, which has followed the upward movement in oil prices this year. Chinese growth, while always hard to pinpoint, has shown acceleration throughout the year in activity measures like bank lending, rail freight and electricity usage. The U.S. election has thrown a new factor into the mix, as President-elect Trump espoused an anti-trade platform on the campaign trail. We believe the incoming administration will prioritize economic growth, which will affect how far it'll push the discussion on new tariffs and trade wars. Because we currently don't see either as a compelling bull or bear case for emerging-market equities, we recommend a neutral tactical position.
---
REAL ASSETS

OPEC delivered on its September promise to cut oil production.
U.S. energy producers have much to be thankful for this holiday season.
Oil prices have jumped 20% since the U.S. election, benefitting somewhat from the Republican pro-growth agenda but mostly due to recent OPEC actions. Following on its September promise to curtail oil production, OPEC officially announced cuts on November 30. Twelve other non-OPEC countries, including Russia, signed on to production cuts on December 10. Perhaps benefitting most from all this are U.S. energy producers. Heading into 2017, they'll enjoy less competition abroad, the promise of regulatory rollbacks and the chance to put recent efficiency gains to work in a potentially higher-demand environment. Producers were quick to lock in higher oil prices through the futures market (see accompanying chart), but we expect gains to continue to accrue to energy — and other natural-resource-producer — stocks throughout 2017.
---
U.S. HIGH YIELD

Interest rates have materially increased since November 8.
High yield generally performs well when interest rates rise.
The 10-year U.S. Treasury yield has increased more than 50 basis points since November 8. Rising interest rates generate concern about fixed income assets. However, the high yield market typically has performed well in rising rate environments. The accompanying chart shows that the 140 basis point increase in interest rates in 2013 was followed by high yield returns of 6% to 12% in the following two years. In 2016, high yield has continued to post strong returns as interest rates have risen. The credit component of high yield valuations is greater than the interest-rate component. Because rising rates typically occur in an improving economy, tightening credit spreads provide returns in excess of the negative impact of interest rates. High yield is expected to continue to perform well in this environment.
---
U.S. FIXED INCOME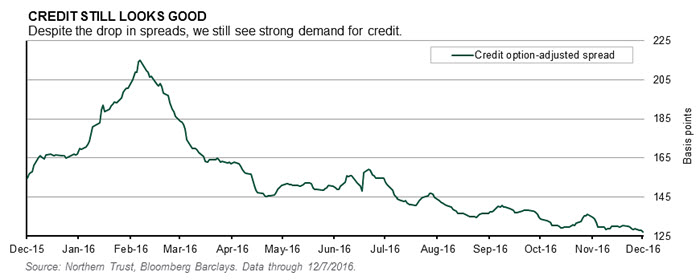 Investment-grade credit spreads have tightened significantly this year.
We believe longer-dated maturities offer the best opportunity for investors.
Investment-grade corporate debt has been in high demand this year. Despite record new issuance, we've seen credit spreads tighten significantly. Demand has come from a variety of investors, as central banks around the globe have kept benchmark interest rates low and purchased billions of dollars of longer maturity sovereign debt. We believe demand for corporate debt will remain high into 2017. Our post-election view is that tax cuts, deregulation and infrastructure plans proposed by Republicans have a chance to increase growth and inflation in the United States. Corporate cash flows are likely to benefit from these plans, improving debt metrics and corporate credit worthiness and leading to further compression in credit spreads. Against this backdrop, our preference is to own longer-dated maturities where credit spreads are near historically wide levels.
---
EUROPEAN FIXED INCOME

The path to Brexit will be long and winding.
The ECB softened the blow from tapering with a timeline extension.
The U.K.'s Autumn Budget Statement delivered little additional fiscal stimulus ahead of Brexit, with the event itself moving seemingly into the distance. While members of Parliament voted resoundingly in support of an EU exit, plan details remain sparse, which has helped the pound recover. Markets appear content following the European Central Bank's (ECB's) decision to taper monthly bond purchases from April while extending the program by nine months to the end of 2017. Although arguably the first step of an exit strategy, the ECB's indicated willingness to reverse course if required has helped shorter-dated bonds to rally, and longer-dated bond yields are only modestly higher. With a swath of significant upcoming political events across Europe and the recent vote upset in Italy, it's difficult to imagine the ECB shifting away from loose monetary policy.
---
ASIA-PACIFIC FIXED INCOME

Chinese authorities are considering further capital controls.
A crackdown on corruption in India disrupts economic momentum.
China, like other emerging markets, is weathering weaker sentiment following the U.S. election. Against a backdrop of currency depreciation and rising bond yields, Chinese authorities' recent statements about managing capital flight aren't surprising. Indian Prime Minister Narendra Modi announced a surprise crackdown on corruption in November by de-monetizing the highest rupee notes. However, without suitable replacement for 80% of the country's currency in circulation, widespread disruption to activity is expected to affect near-term growth prospects. While the Reserve Bank of India held rates steady at its December meeting against expectations of a cut, the bank's bias to ease is apparent as it removed its cash reserve ratio to boost liquidity and encourage banks to lower lending rates.
---
CONCLUSION
We believe that investing is both an art and a science — and understanding human behavior is part of the art of investing. The rally in equity markets and other risk assets after the U.S. election is tied to investor belief that the Republican sweep is going to lead to some breaking of the legislative logjam in Congress, leading to tax reform and regulatory relief for business. Some legislative change can happen with just 51 votes through the reconciliation process (the Republicans now control 52 seats), while legislation outside of the reconciliation process will still require 60 votes. While it is still the early days, we're seeing some signs of a positive spillover into corporate and consumer confidence that we think increases the growth outlook for the U.S. economy in 2017.
This month we reaffirmed our outlook from just after the election, so we didn't make changes to our recommended tactical asset allocation. While we don't expect the U.S. economy to reach the incoming administration's more optimistic targets, the change in direction is probably more important than the magnitude. Not only has the pace of growth likely improved in the United States, we've gone from worrying about downside risk to considering upside potential. This transition hasn't occurred in any of the other major developed economies yet, which is what leads to our substantial overweight to U.S. equities. We also expect U.S. high yield bonds to benefit from improved corporate earnings and some spread compression. Finally, we're also overweight natural resources, which will benefit from improving growth and their role as an inflation hedge. We "fund" these overweight positions through an underweight to investment-grade bonds. Even though we expect the pace of further rate increases to be moderate, leading to a small positive expected return from investment-grade bonds, the return potential isn't compelling in an improving economic environment.
The risk of inflation again tops our list of risk cases that could upset our constructive view on risk taking. We think the risk is more cyclical than secular in nature, as global supply and technological trends should still limit corporate pricing power. The pace of the Fed's exit strategy is another risk case, because we think the Fed is in the process of moving away from its strong dovish bias. Finally, we note the uncertainty surrounding the unconventional nature of the incoming Trump administration. They were given a mandate for change — and we expect much change to conventional U.S. government protocol. While we don't think the resulting economic risk will be great, the geopolitical risk is higher and will be front and center during the next year.
A new look for 2017: We're updating Perspective
Starting in January, your monthly Perspective newsletter will feature an updated look and revamped structure – but we'll still deliver the same insights and analysis.