Editor's note: You can now follow our musings on

Twitter @NT_CTannenbaum.
U.S. political issues have dominated the economic headlines for the past month. The failure of the Republican-led House of Representatives to repeal and replace the Affordable Care Act delays consideration of tax reform and infrastructure spending. Following this legislative battle, there is more uncertainty now about when and if Congress can deliver changes to fiscal policy this year.

Consumer and business sentiment surveys present an upbeat assessment of the economy. Actual "hard" economic data present a less sanguine picture. The recent step-back in consumer spending should be reversed soon. A pickup in real gross domestic product (GDP) growth is predicted for the second quarter after a slow performance in the first quarter.

Key Economic Indicators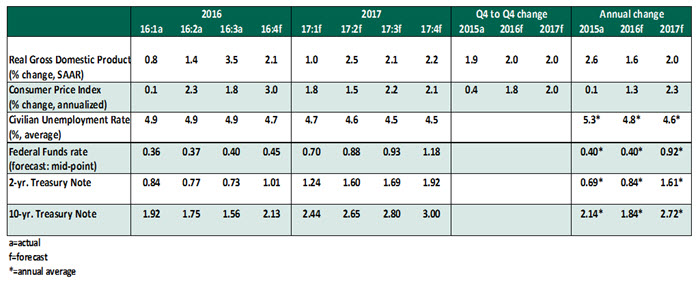 Key Elements of the Forecast
Consumer spending fell 0.1% and 0.2% in February and January, respectively. One-off factors influenced these numbers. Auto sales shot up in December (18.4 million units) to their highest level in more than a decade, and a partial payback occurred in the first quarter. Warm weather in the first two months of the year reduced spending on utilities. Looking ahead, the factors that underpin consumer spending remain supportive of a recovery.


The current U.S unemployment rate (4.5% in March and 4.7% on average in the first quarter) points to full employment conditions. Monthly gains in payrolls slowed in March (+98,000) following solid increases in the prior two months. Bad weather in some parts of the country explains a part of the weakness. Hourly earnings increased 2.7% in March, representing a small deceleration from the prior month. Employment compensation should match hiring strength in the months ahead, which should boost consumer spending.


Developments in the housing sector are largely positive. Single-family housing starts advanced in January and February, while the volatile multi-family starts component fell. Sales of new single-family homes have risen since December, while purchases of existing single-family homes have been flat. Actual residential construction spending in the first two months of the year implies strong growth in residential investment expenditures during the first quarter.


The Institute for Supply Management's (ISM) factory survey in the first quarter recorded the highest reading in six years. Quarter-to-date, shipments of non-defense capital goods (an input for the business equipment spending in the GDP report) suggest a stronger gain compared with the fourth quarter. In other words, hard data are pointing to continued growth in business equipment spending that is more muted than the more upbeat message from soft survey data.


The personal consumption expenditure price index rose 2.1% from a year ago in February and the core price measure, which excludes food and energy, increased 1.8% in the same period. Overall inflation exceeds the Federal Reserve's 2.0% inflation target, but should recede somewhat now that energy prices have tapered off. The bottom line is that inflation numbers are firming as the economic expansion ages.


The latest employment and inflation numbers indicate the Fed's dual mandate of full employment and price stability is satisfied. In light of this, the Fed has room to raise the policy rate gradually and normalize its balance sheet. We continue to expect two rounds of policy tightening in September and December of this year.


Stress within Congress, and between Congress and the White House, does not bode positively for fiscal expansion this year. Our forecast does not anticipate significant changes to the tax code or much in the way of incremental infrastructure spending.


The 10-year Treasury note yield, at 2.62% in mid-March, was the highest in the past year. It is trading about 30 basis points lower now. The bond market has lowered growth expectations anticipated after the presidential elections. Bullish economic data, including a pickup in consumer spending, should reverse most of the recent reduction in interest rates.


The geopolitical situation has been shaken somewhat following the Syrian conflict, but our view is that it is unlikely to escalate into a broader challenge and shake financial markets. Market response to the outcome of the first round of French elections later in the month is uncertain.
northerntrust.com
Information is not intended to be and should not be construed as an offer, solicitation or recommendation with respect to any transaction and should not be treated as legal advice, investment advice or tax advice. Under no circumstances should you rely upon this information as a substitute for obtaining specific legal or tax advice from your own professional legal or tax advisors. Information is subject to change based on market or other conditions and is not intended to influence your investment decisions.
© 2017 Northern Trust Corporation. Head Office: 50 South La Salle Street, Chicago, Illinois 60603 U.S.A. Incorporated with limited liability in the U.S. Products and services provided by subsidiaries of Northern Trust Corporation may vary in different markets and are offered in accordance with local regulation. For legal and regulatory information about individual market offices, visit
northerntrust.com/disclosures
.
GDP growth, unemployment rate, inflation, Federal Reserve, policy rate