Northern Trust Study Highlights Market Trends
for $5 Million and Above
Northern Trust's landmark 2012 study surveyed 1,700 U.S. high-net-worth households. This survey of wealthy individuals seeks to understand and highlight important wealth management issues.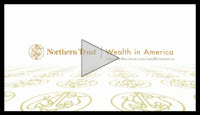 ---
Read More: Business Owners' Financial Confidence Rebounds

---
Read More: Key Findings Among Black Americans
Read More: More Wealthy Americans Turn to Alternative Investments to Reach Financial Goals

---
Read More: Northern Trust Develops Goals Driven Investing Approach for Achieving Objectives
Wealth Management Chief Investment Officer Katie Nixon responds to findings from the Wealth in America Survey.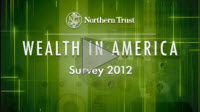 ---
Read more: High-Net-Worth Investors Worried About Direction of U.S. Economy
Read more: Wealthy Americans Identify Top National Priorities in Northern Trust Survey
Business Owners' Financial Confidence Rebounds