Municipal Bonds: 2022 U.S. States Outlook
How U.S. states' finances survived the pandemic, their outlooks and what it means for investors.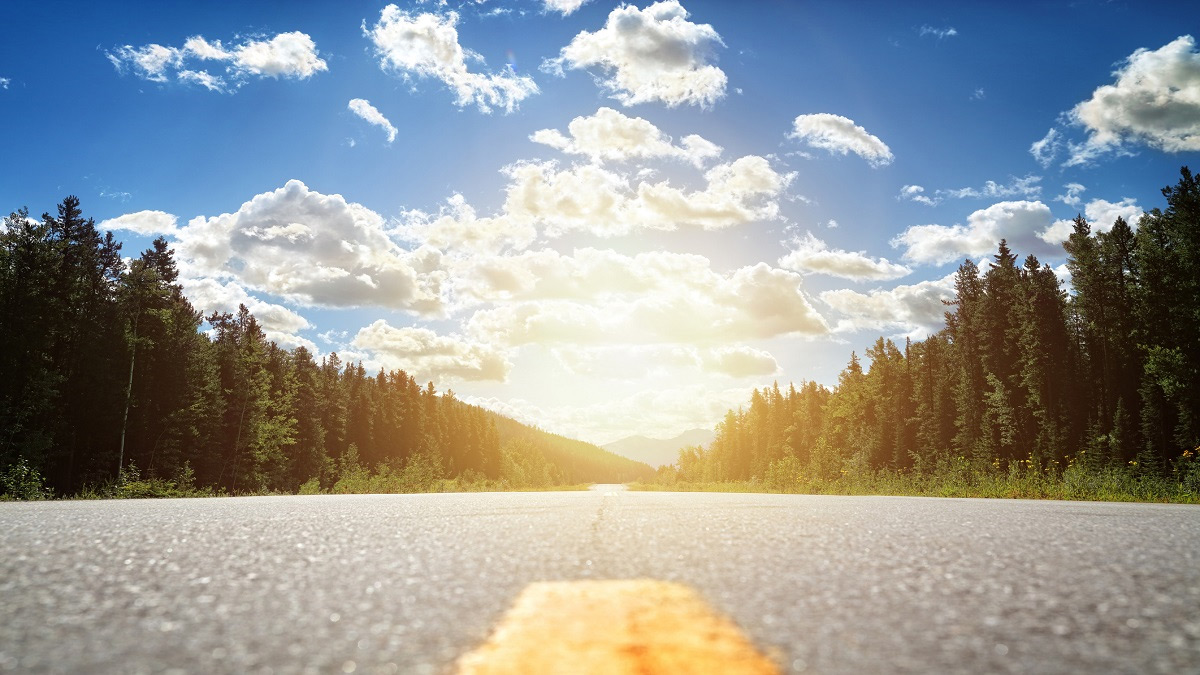 The financial outlook for states contrasts starkly with a year ago, when the economic shutdown triggered dire revenue projections that made it almost impossible to project balanced state budgets. As we anticipated in last year's state outlook, states generally managed their finances well to meet their spending and debt obligations, supporting a stable credit environment for state municipal bonds.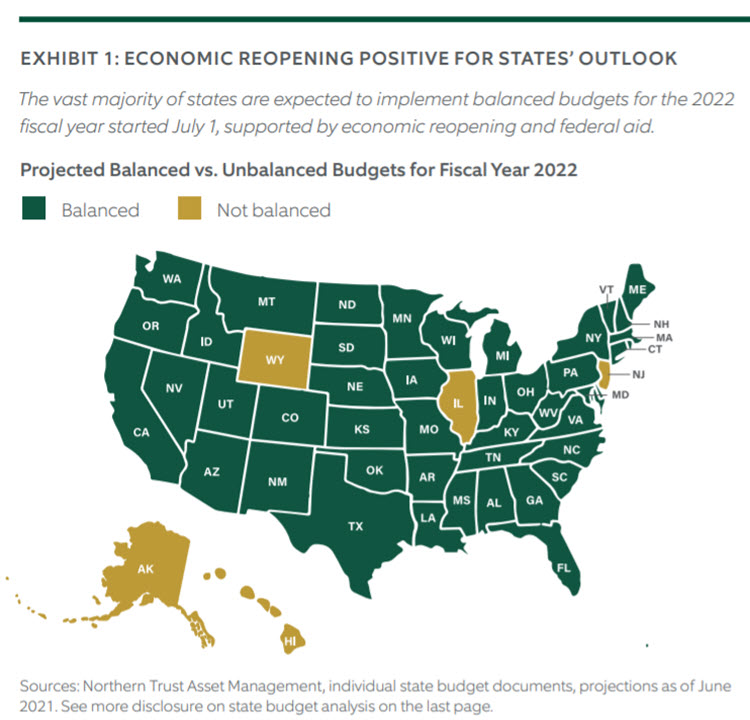 We expect the vast majority of states to maintain balanced budgets in the coming fiscal year started July 1. Economic reopening should support moderate revenue growth. The $350 billion of federal American Rescue Plan Act stimulus passed earlier this year will fill most narrow budget gaps and support efforts toward addressing lingering pandemic impacts. States are holding reserves at a median of 10% of annual spending, about the same level as before the pandemic. As a result, we see most states' finances as resilient against an economic downturn.
Among the outliers with unbalanced budgets for fiscal year 2022, Illinois and New Jersey continue to rely on long-term deficit financing and are the only two states that will carry significant balance sheet liabilities as a result of borrowing during the pandemic. Illinois continues to underfund annual contributions to its pension system in excess of 2% of the annual budget. Also, Alaska and Wyoming both have imbalances exceeding 25% of annual spending because of their dependence on energy-related revenue. Hawaii's unbalanced budget also stems from underfunding annual contributions to its pension system.
YEAR IN REVIEW: REVENUE OUTPERFORMANCE DURING A PANDEMIC
States entered the 2021 fiscal year planning for significant budget cuts and use of reserves to absorb lost revenue from the economic shutdown. Ultimately, tax revenues outperformed states' projections across the board in the fiscal year ended June 30. Stability in higher paying jobs, federally backed loans that kept small businesses afloat and taxes on unemployment income in many states helped maintain solid income-tax revenue. Most states also collected sales taxes from online sales, supported by resilient consumer spending. Funds from the federal Coronavirus Aid, Relief, and Economic Security (CARES) Act early in the fiscal year allowed states to better digest pandemic-related costs.
As for states that underperformed their peers in revenue, tourism-dependent Hawaii and Nevada experienced elevated unemployment and a slower economic rebound. Sales-tax-dependent Texas and Florida lacked diversity in other revenue sources to offset sharp declines in sales taxes from the shutdowns early in the pandemic, though revenue has since rebounded.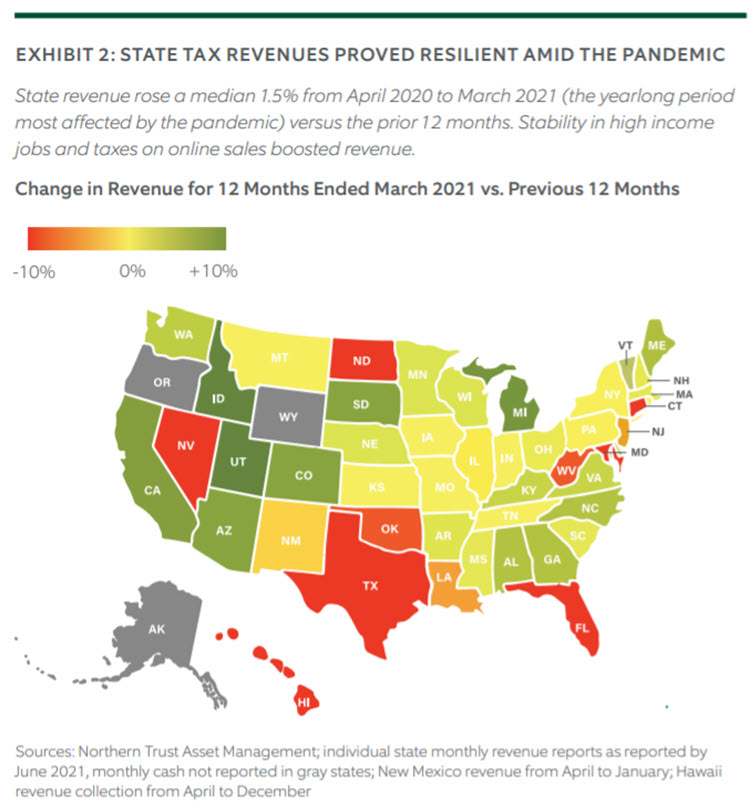 POSITIVE 2022 OUTLOOK BACKED BY REOPENING AND STIMULUS
We have a positive outlook for state budgets in the coming fiscal year, as states expect revenue growth in the 2% to 5% range for 2022 over 2021. Economic reopening, personal income, consumer spending and corporate profits should drive tax revenue growth. As a result, tax increases are rare for the 2022 year with a handful of states implementing some form of tax relief. Only New York will enact material income tax increases, notably on high income earners in support of new spending proposals.
Overall, budgets reflect a return to a more normal economic environment, though a few outliers exist. Dependent on tourism, Nevada and Hawaii expect revenues to grow in 2022 over 2021. However, they expect revenues to lag 2019 by 2% (Nevada) and 7% (Hawaii), given the anticipated slow rebound of tourism. California has budgeted a modest decline in tax revenue for the coming year, but that's compared with record- high revenue in the last fiscal year generated from high income earners and capital gains taxes as well as a temporary tax increase on corporations.
Federal aid supports the balancing of budgets. In fact, the stimulus will greatly exceed budget deficits in most states. States are dedicating the excess to public health, education, infrastructure and direct support for the hardest-hit businesses and residents, through direct grants and tax relief. States received about half the American Rescue Plan Act federal aid in May 2021, with the remainder slated for delivery in May 2022.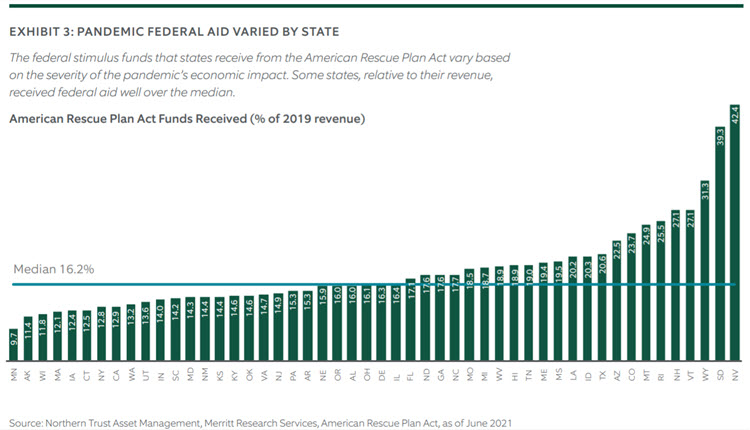 RISK ASSESSMENT: STATES ARE RESILIENT, WITH EXCEPTIONS
Resilience represents a state's capacity to absorb a moderate economic downturn in the next 12 to 18 months without extraordinary measures. We consider the state's historical financial management practices, revenue volatility, fixed cost burden, pension funding and reserve levels. We think the recent revenue outperformance, states' generally prudent financial management and federal aid gives the states adequate resilience, with some exceptions.
Illinois and New Jersey, the least resilient states over the past few years, continue their shaky standing as they rely on debt to fund their budget gaps, though New Jersey did increase reserves through borrowing and is planning a full pension contribution this coming year. Challenged or very weak states face a combination of low reserves, high volatility, elevated fixed costs and anticipated soft economic recovery in the near term.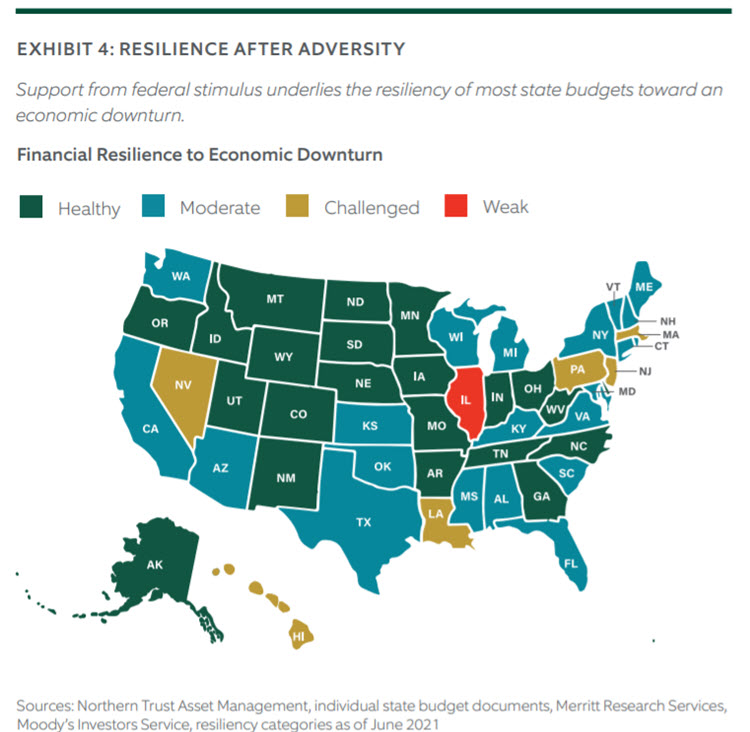 WHAT IT MEANS FOR THE MUNICIPAL BOND MARKET
The vast majority of the states, with the help of federal aid, will carry limited to no financial hangover from the pandemic. They are well-positioned to meet their debt obligations, building a positive foundation for state-issued municipal bonds.
---
IMPORTANT INFORMATION
States vary in how they report use of federal aid. Some build it into the budget, while others project structural deficits absent aid. We consider budgets balanced if projected revenues (absent federal aid) are within 5% of expenses and pension contributions are near tread water (underfunding does not exceed 2% of annual budget). We considered the material use of deficit financing or reserves as an unbalanced budget. Michigan's fiscal year does not end until September 30, 2021, but we anticipate the budget will be balanced.
For Asia-Pacific markets, this information is directed to institutional, professional and wholesale clients or investors only and should not be relied upon by retail clients or investors. The information is not intended for distribution or use by any person in any jurisdiction where such distribution would be contrary to local law or regulation. Northern Trust and its affiliates may have positions in and may effect transactions in the markets, contracts and related investments different than described in this information. This information is obtained from sources believed to be reliable, and its accuracy and completeness are not guaranteed. Information does not constitute a recommendation of any investment strategy, is not intended as investment advice and does not take into account all the circumstances of each investor. Opinions and forecasts discussed are those of the author, do not necessarily reflect the views of Northern Trust and are subject to change without notice.
This report is provided for informational purposes only and is not intended to be, and should not be construed as, an offer, solicitation or recommendation with respect to any transaction and should not be treated as legal advice, investment advice or tax advice. Recipients should not rely upon this information as a substitute for obtaining specific legal or tax advice from their own professional legal or tax advisors. Information is subject to change based on market or other conditions.
Forward-looking statements and assumptions are Northern Trust's current estimates or expectations of future events or future results based upon proprietary research and should not be construed as an estimate or promise of results that a portfolio may achieve. Actual results could differ materially from the results indicated by this information.
Past performance is no guarantee of future results. Performance returns and the principal value of an investment will fluctuate. Performance returns contained herein are subject to revision by Northern Trust. Comparative indices shown are provided as an indication of the performance of a particular segment of the capital markets and/or alternative strategies in general. Index performance returns do not reflect any management fees, transaction costs or expenses. It is not possible to invest directly in any index. Net performance returns are reduced by investment management fees and other expenses relating to the management of the account. Gross performance returns contained herein include reinvestment of dividends and other earnings, transaction costs, and all fees and expenses other than investment management fees, unless indicated otherwise. For additional information on fees, please refer to Part 2a of the Form ADV or consult a Northern Trust representative.
Northern Trust Asset Management is composed of Northern Trust Investments, Inc. Northern Trust Global Investments Limited, Northern Trust Fund Managers (Ireland) Limited, Northern Trust Global Investments Japan, K.K, NT Global Advisors, Inc., 50 South Capital Advisors, LLC, Belvedere Advisors LLC and investment personnel of The Northern Trust Company of Hong Kong Limited and The Northern Trust Company.
© 2021 Northern Trust Corporation. Head Office: 50 South La Salle Street, Chicago, Illinois 60603 U.S.A.