Who We Serve

What We Do

About Us

Insights & Research
Who We Serve

What We Do

About Us

Insights & Research
Subscribe to Economic Trends & Insights
Discover our latest insights on all economic news, from breaking headlines to long-term trends.
Gasoline: Premium Prices
Fuel prices keep consumers focused on inflation.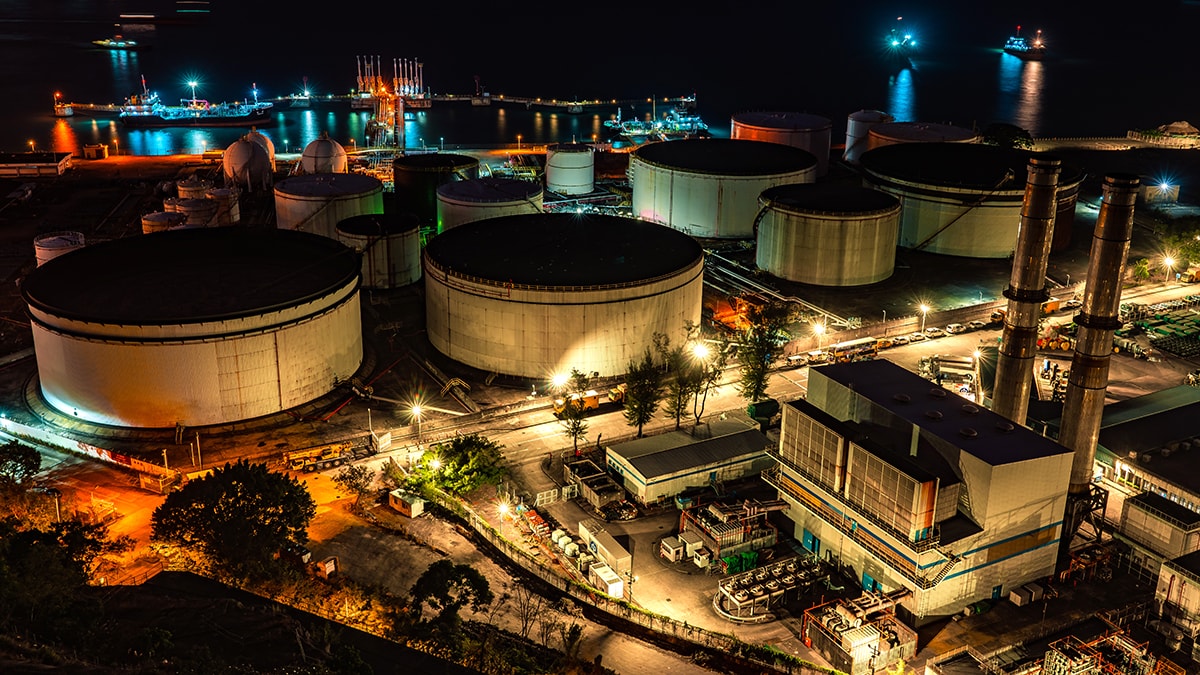 Energy prices were the first and most tangible way that consumers around the world felt the cost of Russia's invasion of Ukraine. In just 18 days, the global price of oil gained 39%. Gasoline prices jumped in tandem. In the U.S., gas prices went up by 80 cents per gallon, with some regions experiencing larger increases. This added to the increase in fuel costs that had been ongoing since the nadir of lockdowns and collapse in demand for mobility in April 2020.
This development comes at a difficult time for inflation, which is no longer a transitory phenomenon. The Consumer Price Index (CPI) is showing broad-based inflation across most categories, especially food and energy—the categories that are most visible to consumers on a daily basis. In February, the gasoline component of the CPI increased by 38% from a year before. The most recent runup in prices will not be reflected until the March report, when it will make an even greater mark.
CPI is calculated using a "basket" of prices that is meant to reflect how typical Americans spend their money. Gasoline currently carries a weight of 3.9% of the CPI basket, yet it accounted for almost a third of February's overall price increase. 
While gasoline may not be households' greatest single expenditure, a rapid price rise will squeeze budgets. In 2019 (before the pandemic changed travel patterns), a typical U.S. driver consumed 624 gallons of gasoline each year. Every dollar of higher prices translates to more than a $50 increase to households' monthly expenses, and not everyone can easily absorb that cost. Remote working and cancelled travel plans reduced fuel consumption during the depths of the pandemic. But as the economy returns to its old norms, with total vehicle miles traveled returning to pre-pandemic levels in 2021, fuel demand is poised to keep increasing. 
Expensive fuel flows through to many other prices. The higher cost of transportation gets passed on as surcharges or higher final prices. Workers who commute by car will expect wage increases, and the demand mix for vehicles will shift toward those that are more efficient.
And fuel prices have a large impact on how consumers view the economy generally. Most U.S. households are car-dependent, and lifestyles do not change easily. Electric vehicles have limited inventories and higher prices; smaller vehicles may be impractical for families and tradespeople; relocating to live closer to work is easier said than done. Drivers are price-takers for gasoline.
Gasoline prices will elevate inflation as well as drivers' tempers.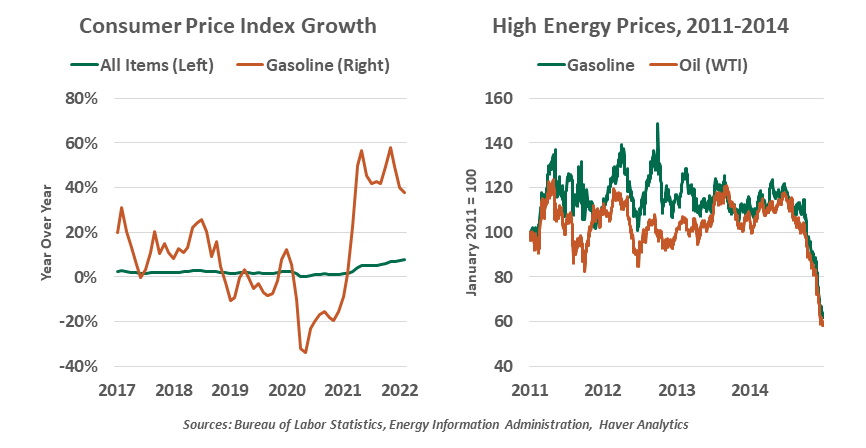 Russia supplies about 8% of the world's crude oil, and there is capacity in other regions to make up this shortfall. A price increase amid the uncertainty was reasonable, but the initial leap up was an overreaction. While crude prices have moderated, prices at the pumps have held steady. This divergence may persist. In the last interval of $100 oil, the link between oil and gasoline prices became less reliable; the two prices did not move in lockstep. When prices are unpredictable, wholesale fuel buyers set final prices that ensure they can purchase their next order of fuel. 
At their March meeting, the Federal Open Market Committee released a Summary of Economic Projections that previewed an aggressive series of rate increases to help bring inflation under control. Meeting their price stability objective was never going to be easy; elevated energy prices may fall outside the scope of core inflation, but they cannot be ignored. 
Automobile advertisements often use images of drivers and their passengers enjoying their ride, showing that the journey can be more fun than the destination. But with gasoline prices high and likely to stay elevated, smiles in the passenger compartment will be limited.
---
Information is not intended to be and should not be construed as an offer, solicitation or recommendation with respect to any transaction and should not be treated as legal advice, investment advice or tax advice. Under no circumstances should you rely upon this information as a substitute for obtaining specific legal or tax advice from your own professional legal or tax advisors. Information is subject to change based on market or other conditions and is not intended to influence your investment decisions.
© 2022 Northern Trust Corporation. Head Office: 50 South La Salle Street, Chicago, Illinois 60603 U.S.A. Incorporated with limited liability in the U.S. Products and services provided by subsidiaries of Northern Trust Corporation may vary in different markets and are offered in accordance with local regulation. For legal and regulatory information about individual market offices, visit northerntrust.com/terms-and-conditions.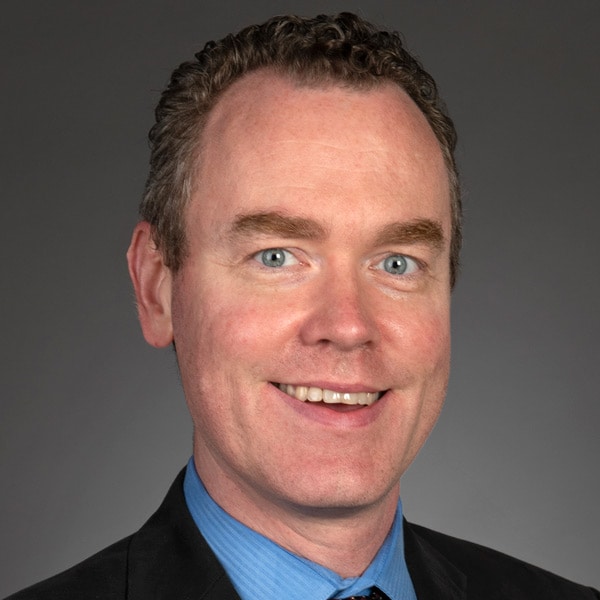 Ryan James Boyle
Senior Vice President, Senior Economist
Ryan James Boyle is a Senior Vice President and Senior Economist within the Global Risk Management division of Northern Trust. In this role, Ryan is responsible for briefing clients and partners on the economy and business conditions, supporting internal stress testing and capital allocation processes, and publishing economic commentaries.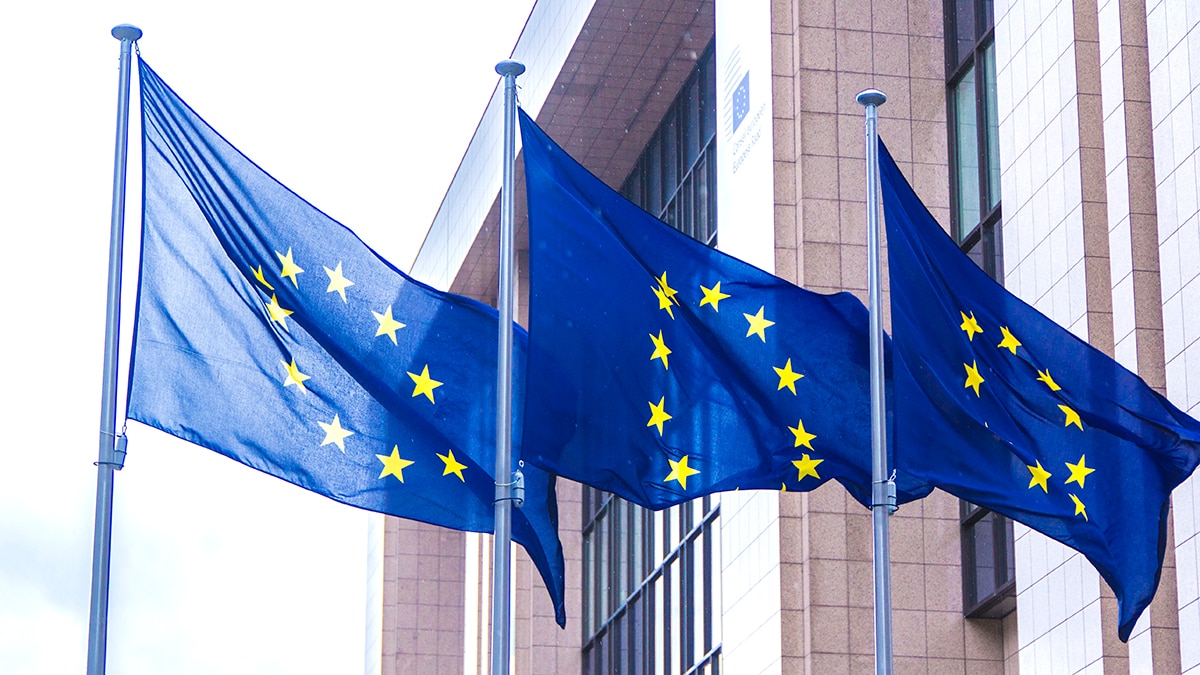 The war in Ukraine will weigh on the rest of Europe.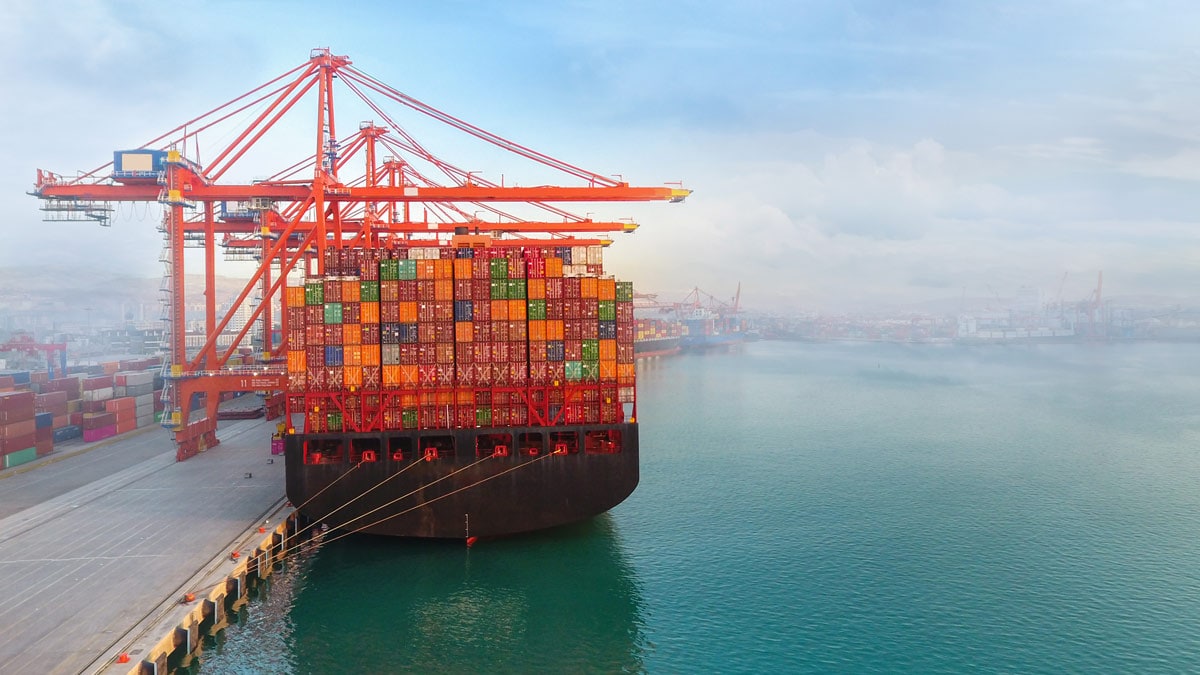 Renewed lockdowns in China will complicate the supply chain recovery.