Who We Serve

What We Do

About Us

Insights & Research
Who We Serve

What We Do

About Us

Insights & Research
Northern Trust is merging digitally forward thinking and bold ideas to reinvent the client experience. To achieve this goal, Wealth Management challenged the Digital Services team to bring together product, technology, data and design teams in order to operationalize best-in-class digital capabilities. Rooted in Northern Trust's guiding principles of service, integrity and expertise, Digital Services is harnessing emerging technology to reengineer processes and strengthen our advice model. As a result, we are able to eliminate time consuming tasks, improve product quality and produce hyper-personalized insights, customized around our clients' unique circumstances. The goal is to put the choice in the client's hand as to when and how they would like to interact with us, and augmenting—not replacing—the human touch. We draw inspiration from leaders and inventors in the past who unlocked unconventional ideas, coupling innovation with cherished traditions.
Smarter processes, enabled by technology, yields convenience, expanded choice and frictionless client experiences. Assembling high-performing, cross-functional teams is essential to our success. The Digital Services arm of Wealth Management is recognized for its enterprising, collaborative culture, united by a shared passion to pioneer breakthrough technology solutions aligned with client preferences.
At Northern Trust, the work is meaningful and the effort is valued. We invite you to make your mark as we shape our tomorrow.
There are six ingredients integral to our success.
End-to-end experience
We implement improvements through the lens of end-to-end client interactions with a goal of establishing simpler and more responsive touchpoints. Rather than focusing on a particular product or system, our teams examine entire experiences, from inception through completion, methodically inspecting intermediary steps and hand-offs. Guided by a multi-dimensional understanding of the client's perspective, we can reimagine and enrich pivotal moments, benefitting both our clients and employees (whom we call partners).
Empowered Teams
We assemble cross-functional teams consisting of technologists, data scientists, designers, researchers, product experts and end-users for each mission. This collaboration allows us to engage diverse viewpoints, develop a holistic picture and spearhead creative options to improve processes. After developing OKRs (Objectives and Key Results) aligned to business strategy, team members work together to uncover next-generation methods to serve clients, leveraging feedback loops and stakeholder involvement.
AGILITY
Traditional development methodologies relied on long requirements gathering and discovery phases. However, the pace of change is too fast to impose large-scale project timelines which render technology obsolete quickly. Instead we mobilize small, nimble teams that deliver discrete, high-impact pieces of work incrementally. This iterative approach shrinks the delivery schedule from years to weeks, accelerating speed to market.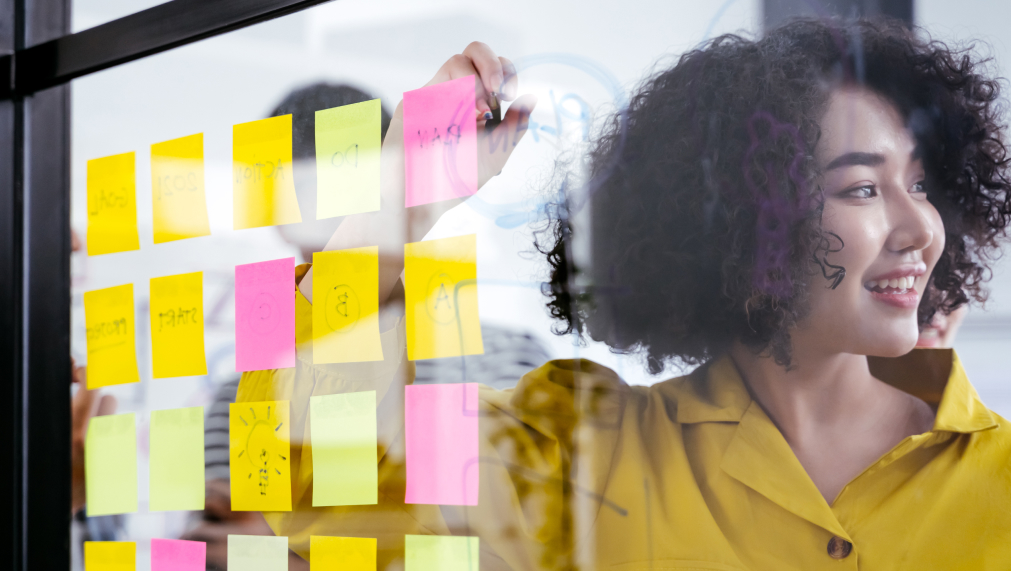 Customer journey mapping helps us gain insight into common pain points.
DIGITAL TECHNOLOGIES
Collaboration and seamless integration tools allow teams to be responsive and innovative across Digital Services and the broader organization. Our engineering teams leverage modern JavaScript frameworks and the latest technologies, supported by training and resources to keep their skills up to date.
Data & Analytics
Our long history of expertise in the financial services industry is backed up by evidence-based approaches. Intelligent data management and analytics capabilities provide tailored recommendations for our clients based on their unique priorities and goals. In addition, we utilize metrics and state-of-the-art dashboards to make informed decisions and prioritize our work, creating transparency to ensure we are investing our resources wisely.
Collaboration & COMMUNICATION
Innovation is produced when teams collaborate, explore new ideas, and validate solutions with real users. Digital Services has a dedicated team driving the adoption of new technology, making enhancements essential to our employee's day-to-day work. Striking the right balance between training and communication, ensures our employees can practice improved skills and embrace new capabilities seamlessly. We celebrate milestones and share progress with employees and key stakeholders around the globe.
Meet Our Team
We have ambitious goals and rely on talented people to achieve them.