Subscribe to Weekly Market Update and Investment Perspective
Keep up with how the latest headlines moved markets, and what's up next.
Tariff Tussle
Economic releases this year have supported renewed risk taking. Our Chief Investment Strategist, Jim McDonald, analyzes recent developments and how they might impact your portfolio.
summary
We continue to monitor impacts from the ongoing U.S. China trade war.
Despite labor markets that are tight by historical standards, inflation remains static.
The steady but unspectacular earnings environment can be supportive to risk-taking.
---
Faced with increased tariffs from both sides over the last week, the attention of global markets has turned to tensions caused by U.S./China trade dispute. We have long felt this issue would not be resolved in a comprehensive manner, and that frictions are likely to persist for years to come.  Both sides have shown sensitivity to the impact of the tariffs on their respective markets and economies.  U.S. officials have been quick to offer supportive comments after periods of market volatility, seeking to pacify market concerns.  Chinese policy makers have also been attentive, increasing fiscal stimulus and directly engaging its central bank in supporting growth.  While it is important to acknowledge this risk to global growth, we must also assess other key drivers of the global economy and risk taking. 
The global economy rebounded at the start of the year, after a slowdown in the second half of 2018. Growth out of the U.S., Europe and China all improved in the first quarter, and growth is expected to stay solid before moderating in the fourth quarter.  U.S. labor markets continue to show considerable resiliency, underpinning consumer spending.  European growth has positively surprised, and improving credit creation is a constructive development.  Chinese policy makers have succeeded in supporting growth and will likely continue to do so in the wake of trade-related risks.  A clear risk to the pace of the global expansion is ebbing business confidence due to the trade dispute.  Another result could be a relocation of manufacturing capacity out of China into countries such as Vietnam (where labor expenses can be one-third the costs of China).
Increased trade tensions have also lowered interest rates, with U.S. 10-year yields below 2.5% and German 10-year yields in negative territory.  Along with continued global disinflationary trends, this should keep central bankers in accommodative mode, and futures markets are currently pricing in a 72% probability of a Federal Reserve rate cut by year's end.  Falling interest rates due to a negative outlook on global growth would not be supportive of equity valuations and risk-taking, while lower interest rates that effectively reverse the hikes of late last year would not hinder stocks.  The latter scenario is more likely, in our view, and should support risk assets.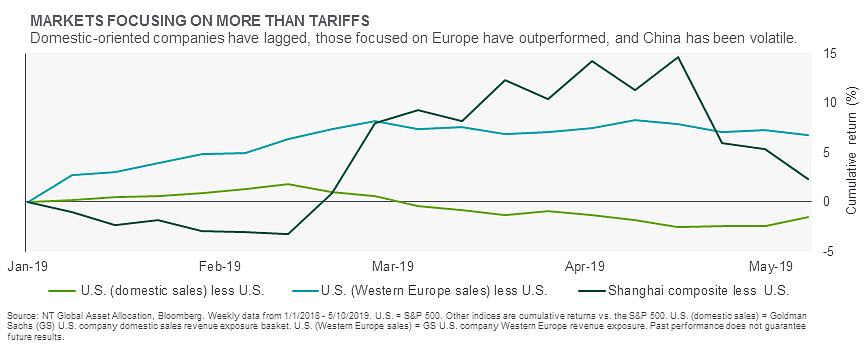 ---
Interest rates have remained low driven by stuckflation headwinds.
We believe the Fed will be forced to cut rates in the next year.
We retain our neutral-to-long duration positioning.
With central banks in Europe and Japan solidly in easy money mode for the foreseeable future, global bond investor interest is firmly concentrated on the Fed – specifically whether its pivot to no rate hikes in 2019 was sufficient or if "insurance" rate cuts will prove necessary. The argument for rate cuts is not predicated on economic growth concerns. The U.S. economy seems to be rolling right along, with a 3.2% growth print in the first quarter and a healthy labor market (including the lowest unemployment rate in 50 years).
Instead, the focus is on inflation. Despite labor markets that are tight by historical standards, inflation remains stuck, with the Fed's preferred measure of inflation currently at 1.55% and going the wrong way (see the Real Assets section for further inflation analysis). If the Fed wants its 2% inflation target to be credible, we believe it will need to cut rates at least once and possibly twice over the next six to 12 months. This puts us slightly ahead of the market, where there is currently a 72% expectation of at least one rate cut by the Fed's December meeting. In this environment of stuckflation and with a strong expectation of a more accommodative Fed, we believe client portfolios will be compensated for duration risk.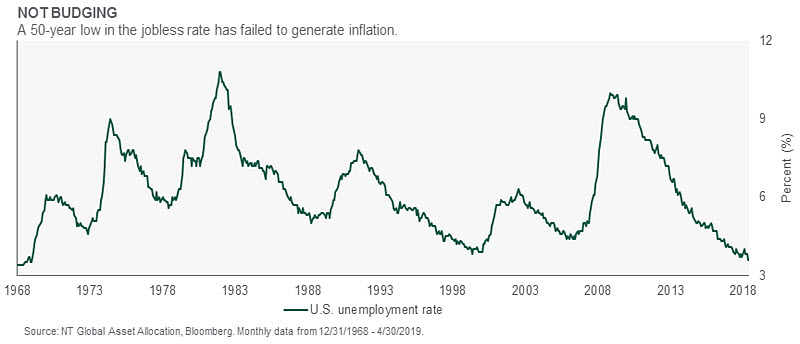 ---
High yield has attractive portfolio construction characteristics.
High yield fundamentals and technicals are constructive.
We remain materially overweight high yield.
We continue to recommend a material overweight to high yield in the global policy model. This overweight is predicated on three different dynamics. First, from an overall portfolio construction perspective, high yield is an attractive asset class when the outlook for risk taking is positive but the risks associated with that outlook are higher than normal. Historically, high yield has provided 55% of the upside of global equities and only 31% of the downside. Second, asset class fundamentals continue to be favorable. Economic growth data has come in better than feared, lending further support to default rates, which remain at a low level (near 2%).
Finally, the technical (supply/demand) picture is constructive. High-yield issuance continues to underwhelm, with each month's primary issuance below expectations. In aggregate, 2019 gross supply is down 6% on a year-over-year basis, while net issuance is negative by nearly the widest margin in the past six years. On a year-to-date basis, 2019 is running below three of the last four years' cumulative new issuance total, while only slightly above the 2016 amount. The limited supply has been driven by a light maturity schedule and a merger and acquisition pipeline that continues to dwindle. Looking at the demand side, the rotation out of equities into fixed income products in 2019 has benefitted high yield as roughly $15 billion has come into the asset class searching for yield and downside protection.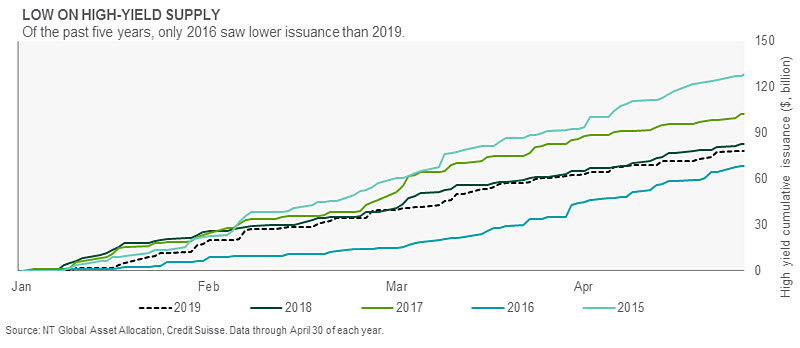 ---
2019 equity returns remain strong despite trade war setback.
Valuations look fair amid the low interest rate environment.
We remain strategically allocated with a bias towards the U.S.
Global equities took a breather over the past month after a strong start to the year, as a renewal of trade concerns offset better-than-expected corporate profit growth. The U.S. widened its year-to-date advantage as non-U.S. stocks traded somewhat lower against flattish U.S. equity markets. Much has been said about the contribution from the "FAAMNG" stocks – Facebook, Amazon, Apple, Netflix, Microsoft and Google (Alphabet) – recently. Those six stocks currently account for 17% of the S&P 500, and 13% of its profits. Over the past five years, the S&P 500 has experienced a total return of 70%. Only a quarter of that gain came from FAANMG – less than commonly thought.
The S&P 500 currently trades at 16.6x one-year forward estimates, in line with its five-year average. (Backing out FAANMG puts valuations at half a multiple point below its five-year average.) These valuations are attractive, as subdued inflation is expected to leave central banks easy and interest rates low. That, combined with our view that growth will prove better than a skeptical investor community anticipates, will support equities – especially U.S. equities.
---
Inflation readings have been persistently "transitory."
Waiting for Fed to fully wage war on stuckflation.
Global real estate's diversified risk exposures remain attractive.
Another month, another set of disappointing inflation reports. While the stuckflation theme is global, investors are most-focused on the United States, where a Fed decision to fully embrace the war on stuckflation could have the biggest impact on global markets – particularly real assets. The most recent reading of the Fed's preferred inflation metric, core personal consumption expenditures (PCE), turned down materially – now at 1.55% year-over-year (y/y). However, in his post-meeting press conference, Fed Chair Jerome Powell downplayed the recent inflation shortfall as having been influenced by one-time items (notably clothing, owing to new pricing methodology) that he believed were transitory. He pointed to an alternative measure of inflation (trimmed-mean PCE, which removes outliers) as showing y/y core inflation closer to the Fed's 2% target.
We (and the broader financial markets) aren't buying this. Statisticians are taught to remove outliers only if truly warranted. It's not obvious that recent outliers should be removed, as they seem to have been causing "transitory" impacts for years now. While we think the war on stuckflation is coming, until the Fed sends clearer signals, we are retaining our material underweight to inflation-linked bonds and neutral positioning in natural resources. Meanwhile, global real estate remains attractive vs. other risk assets; and our overweight is supported by the continued decline in global interest rates.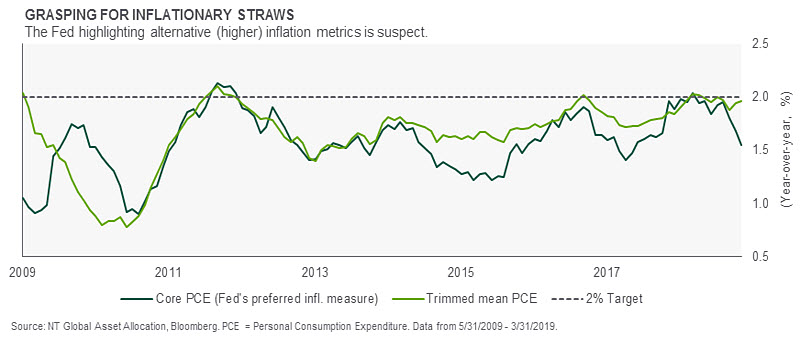 ---
Our investment strategy meetings this month focused on the outlook for growth, including the potential impact of rising tariffs.  The tariff and trade issue is tricky to analyze, as the impacts can be indirect and the outlook can change immediately based on a tweet.  As always, we seek to assess the outlook for our key inputs (such as growth, inflation, monetary policy and regulatory) as compared with our assessment for investor expectations.  Changes in investor outlook can be quickly reflected in asset prices, but can sometimes take longer to appear.  Corporate earnings have come through the first quarter better than feared, with a U.S. decline avoided.  We are expecting earnings growth of about 5% across all major regions over the next year, a little more cautious than consensus (which tends to optimistically overshoot).
This steady but unspectacular earnings environment can be supportive to risk-taking.  Historically, strong earnings growth has not been great for stock market returns, while large declines in earnings have been associated with strong subsequent returns (likely in anticipation of monetary easing).  We do expect this middling environment to be favorable for U.S. high yield, where we expect strong fundamentals (high margins, moderate leverage) and good technicals (falling supply, high demand) to lead to strong risk-adjusted returns.  The outlook for monetary policy in the coming months will likely be heavily influenced by incoming inflation data, as Fed Chair Powell has described the recent decline in inflation as "transitory".  A continued moderation in core inflation would help cement the case for a rate cut, while a rebound would vindicate the Fed and argue for at least maintaining the current level of interest rates.  Monetary policy out of the European Central Bank, the Bank of Japan and the People's Bank of China should continue to lean toward easier policy due to disinflationary trends and national growth concerns. 
The risk of political miscalculation, especially as it relates to the trade talks, has been one of our two core risk cases for months.  While the odds of this risk case have risen over the last month, we haven't moved from our moderate overweight to risk positioning.  Investors have been incorporating this risk in their positioning for months now, and it is unclear when a deal may be reached.  Those contemplating a reduction in risk in the wake of last week's developments face the risk of needing to execute a U-turn in coming months should a compromise be reached.  Looking ahead, we will be keenly focused on validating the steadiness of the global economic cycle (including assessing progress on the trade negotiation front) while monitoring the risk of a cyclical upturn in inflation.
-Jim McDonald, Chief Investment Strategist
IN EMEA AND APAC, THIS PUBLICATION IS NOT INTENDED FOR RETAIL CLIENTS
© 2019 Northern Trust Corporation.
The information contained herein is intended for use with current or prospective clients of Northern Trust Investments, Inc. The information is not intended for distribution or use by any person in any jurisdiction where such distribution would be contrary to local law or regulation. This information is obtained from sources believed to be reliable, and its accuracy and completeness are not guaranteed. Information does not constitute a recommendation of any investment strategy, is not intended as investment advice and does not take into account all the circumstances of each investor. Forward-looking statements and assumptions are Northern Trust's current estimates or expectations of future events or future results based upon proprietary research and should not be construed as an estimate or promise of results that a portfolio may achieve. Actual results could differ materially from the results indicated by this information. Investments can go down as well as up.
Northern Trust Asset Management is composed of Northern Trust Investments, Inc. Northern Trust Global Investments Limited, Northern Trust Global Investments Japan, K.K, NT Global Advisors Inc., 50 South Capital Advisors, LLC and investment personnel of The Northern Trust Company of Hong Kong Limited and The Northern Trust Company.
Issued in the United Kingdom by Northern Trust Global Investments Limited.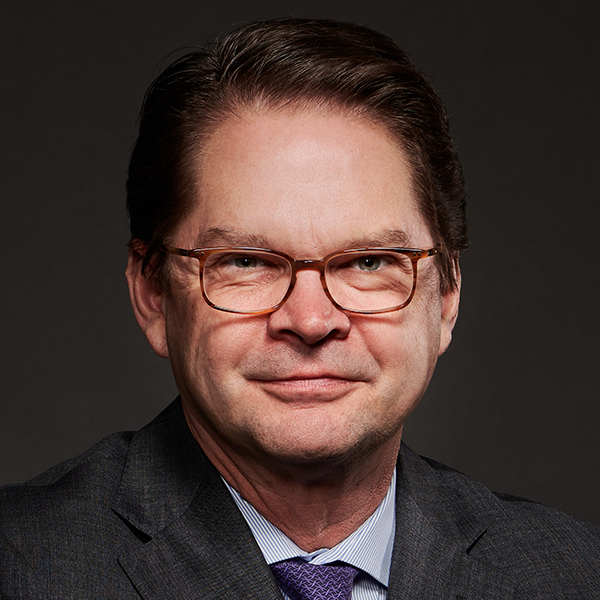 Jim McDonald
Chief Investment Strategist
Jim McDonald is an executive vice president and the chief investment strategist for Northern Trust. He is responsible for overseeing the strategic and tactical asset allocation policy for our institutional and wealth management clients globally.
RELATED ARTICLES
With the ever-evolving nature of international tax, non-U.S. residents or citizens and their advisors should become aware of fundamental tax principals to avoid the unintended application of U.S. tax.
Trade conflicts, slow growth and politics are among the most likely themes to rattle markets. Here's what they mean to investors.