Priyanka Choudhury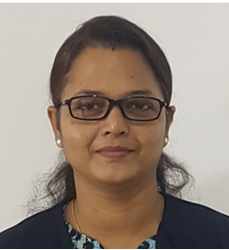 Title: Senior Vice President, Practice Lead – Shared Services Technology
Joined Northern Trust: 2019 
Primary Skills: Leadership
---
Give us a brief introduction to your background and what led you to your career at Northern Trust?

I have had a progressive career in technology, starting as a software developer with Satyam Computers Services Ltd., after graduating from NIT, Rourkela, with a degree in computer science. Over the years, I evolved from a developer to a tech lead to a project manager to a program manager – in the fields of software development as well as product development – in multiple domains, including healthcare, manufacturing, and BFSI. I eventually entered the domain of capital markets in 2009, and developed a deep interest in the subject. I explored, experimented with and developed this interest over the years to become a domain consultant. In 2016, I took the job of setting up a Corporate Technology unit for First Data in India. My current role was a natural next step revolving around setting up the APAC technology unit for Northern Trust – in the Capital Markets and Corporate Technology area. I am really excited to have been a part of the technology evolution journey in India, and instrumental in growing this organization to its current capacity. 
How has Northern Trust supported your career growth over the years?  

The two years at Northern Trust have been very enriching. I have learned new skills while setting up the Shared Services Technology unit in APAC, both technically and functionally. The pandemic provided the opportunity to take on new challenges and responsibilities in the virtual world. Proximity with operations in the region helped me understand the practical aspects and issues that the business faces. The focus on career mobility and career development processes is extensive here. Overall it has been a very fulfilling experience for me.
What have been your biggest accomplishments or most rewarding projects in your time here?

Building the Shared Services technology team from scratch, in APAC, in the middle of all adversities has been my biggest accomplishment. It is a very rewarding experience to see the growing accountability around delivery, engineering excellence and process excellence in the region. It is rewarding to see the increasing collaboration between the various teams, and to see them recognized for their outcome-based effort across the board. And this is just the beginning!
What is the most unique aspect of working here?

The most unique part about working at Northern Trust is the people and culture. Relationships, and trust are at the center of everything we do. It is also very interesting because we are on a very exciting journey where technology transformation, process transformation, and workforce transformation are all happening at the same time.
Tell us a little about yourself outside of work.

I am a small-town girl. I enjoy gardening in my spare time. I love knitting and stitching, read a lot of classics and I am also a great fan of Hindu mythology. I often watch cooking shows to learn new techniques and dishes, but I am not a great fan of cooking. When I am not working, I spend time with my two kids.   
If you had the describe the company in a few words, what would they be? 

Inclusive and collaborative.