Plan sponsors are finding that simple often is better when it comes to DC plan investment options. Best-in-class DC plans are easy to use, easy to understand and offer participants flexible, cost-effective choices.
The separation of alpha and beta underpins our investment approach. We believe investors will continue to separate beta and alpha returns. As a multi-capability asset manager, we build effective investment solutions across the risk spectrum.
Provide a fiduciary best-practice methodology in target retirement date funds built on a glidepath composed of globally diversified asset classes including inflation sensitive securities aimed at protecting purchasing power.
Offer plan participants a diversified menu of investment choices designed to minimize risk exposure and increase the chance of successful retirement outcomes.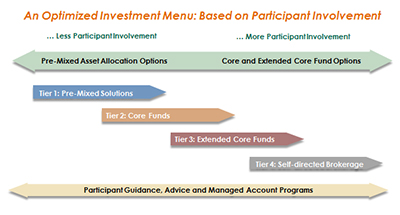 ---
The addition of inflation sensitive asset classes, such as U.S. TIPS, commodities, and global real estate can help DC participants as they invest for retirement.