Who We Serve

What We Do

About Us

Insights & Research
Who We Serve

What We Do

About Us

Insights & Research
Essentia Analytics
Unleash the power of behavioral analytics to understand and continuously improve your investment team's decision-making.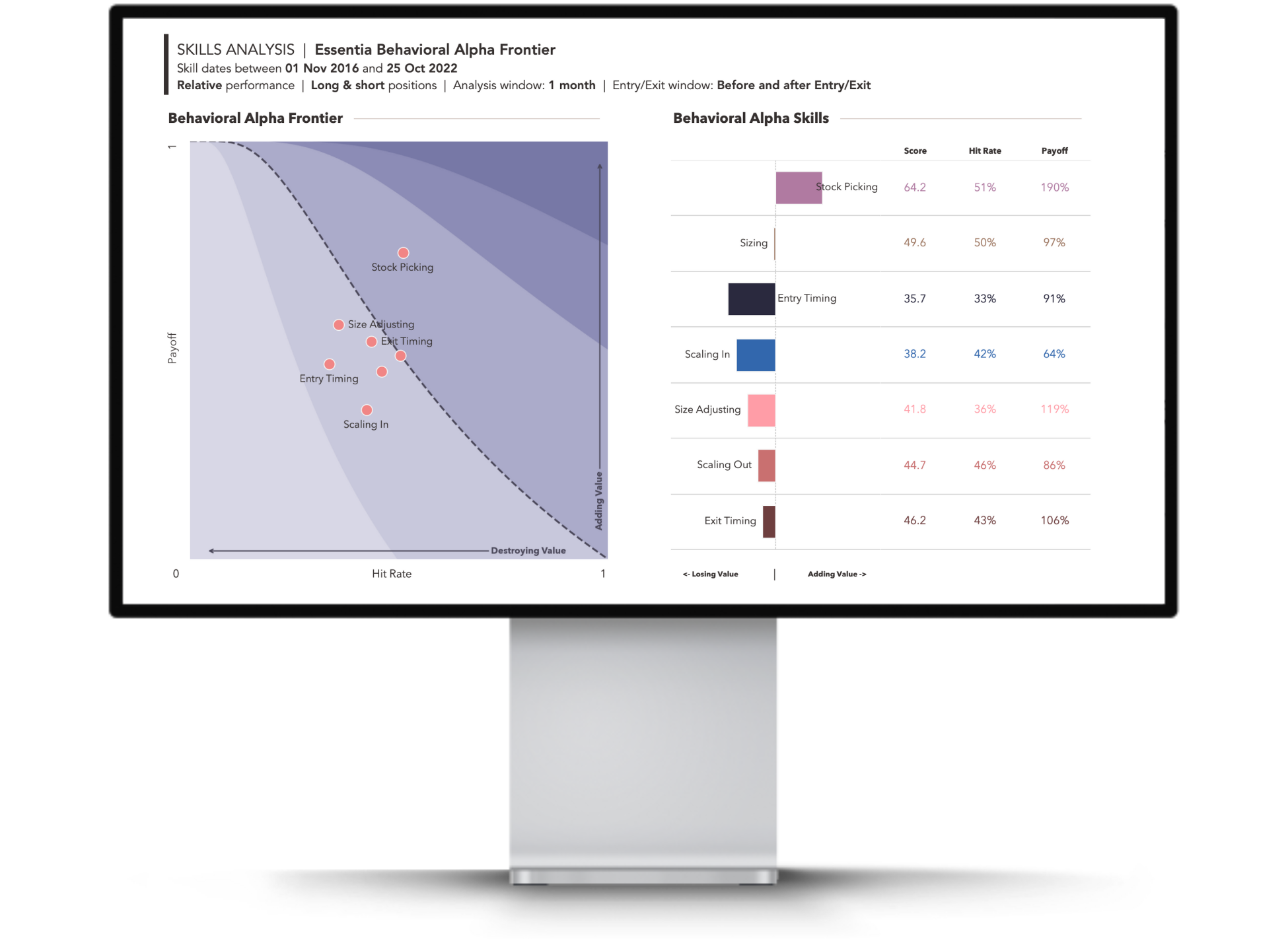 Historically, equity analytics have been able to tell you where performance has come from, but not why. Today, in partnership with award-winning Essentia Analytics, Northern Trust helps bring together data science and behavioral science to reveal how your team's thinking and trading behavior impacts investment performance and provides the tools to continuously improve it.
While process and technology play a role, the success or failure of any fundamental investment strategy boils down to human minds making human decisions – decisions which, like any other, are subject to subconscious behavior and hidden biases that can impact the generation (or destruction) of alpha.
Behavioral Analytics For Better Decisions
Essentia takes Northern Trust equity holdings, positions, and performance data and combines it with their proprietary analytical and coaching processes to help you uncover your firm's most skilled – and most destructive – decision-making patterns, so you can play to your strengths and prove your value-add to investors.
Essentia makes it possible to confidently and quantitatively answer impactful questions: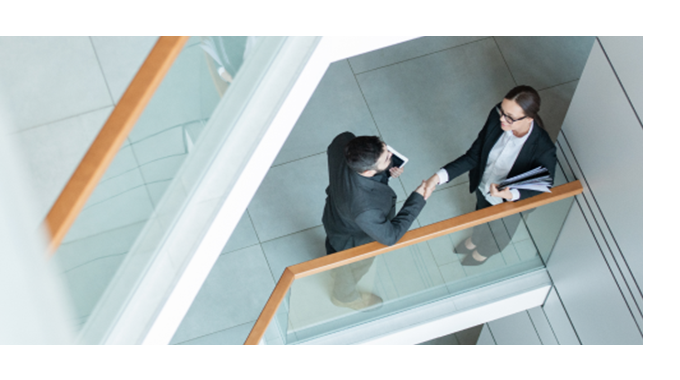 At what point in the life of our positions do they typically reach peak alpha generation?
In which sectors/countries are our portfolio managers most skilled?
Do we overtrade?
Are sizing decisions adding clear value?
Are the names we interact with most the names where we're making the best decisions?
Do we hold on to losers too long?
Do our biggest and/or longest-term positions consistently add value?
When we sell one position to buy another, does that decision typically add value?
Tools that help drive Behavioral Alpha®
Technology can take the value and application of investment data to new levels, but that's not the whole story. Essentia's proprietary process includes three distinct disciplines to help your firm drive "behavioral alpha":

Analytics
Traditional equity analytics work backward from performance outcomes to deduce causes. Essentia starts with trade data and pairs it with contextual information about the "why" behind each action, which makes it possible to pinpoint the behavioral patterns that drive (and hold back) performance, and monitor how these patterns change over time.

Coaching
Essentia couples its technology with human expertise, to cut straight to the insights that matter and design nudges that fit seamlessly into the individual's own investment process. Clients receive data-driven coaching from Essentia's team of experts - all of whom are former Fund Managers in their own right.

Nudges
So many of the decisions a fund manager makes each day are subconscious. Essentia's proprietary system of alerts is proven to help investment teams be more deliberate - and make measurable better decisions.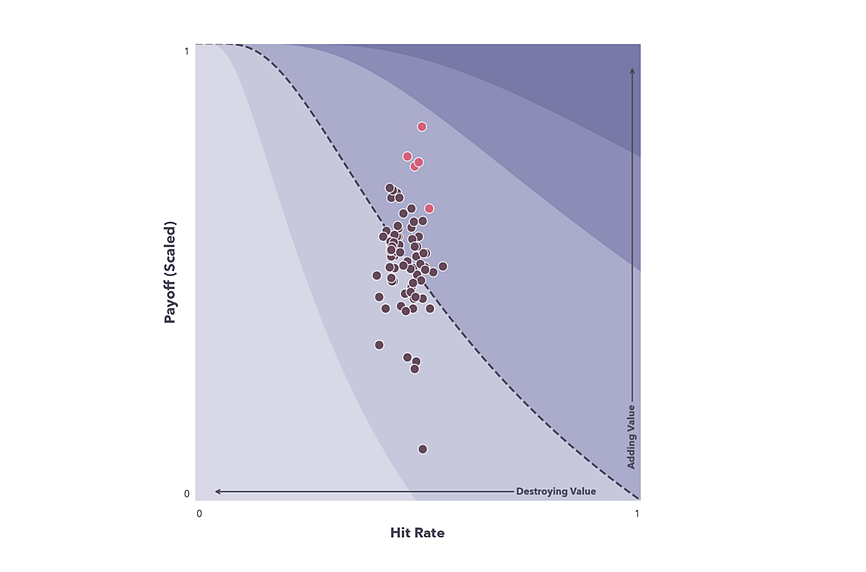 The Behavioral Alpha® Benchmark
Essentia's skill-based manager assessment methodology — the Behavioral Alpha Benchmark — applies their award-winning behavioral analysis to groups of portfolio managers. For the first time, you can assess, compare, and rank managers based on their demonstrated investment skill rather than historical returns.
The diagram to the right depicts the overall value added or destroyed across all investment skill areas for participating portfolio managers in a recent assessment. Magenta dots represent the five top-scoring managers.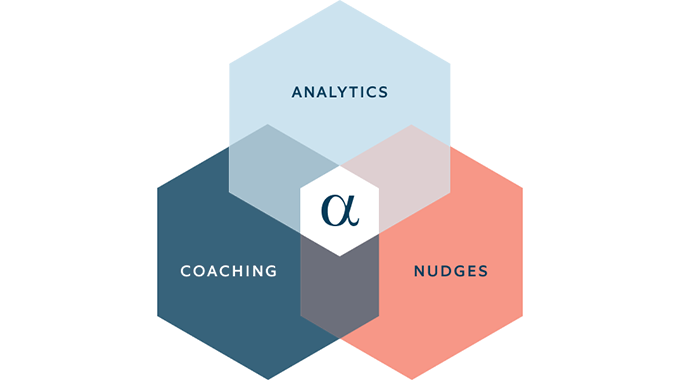 Essentia uses behavioral analytics to help equity investors make better decisions.
Play to their individual strengths
Avoid habits that destroy value
Focus on the right data
Optimize where they focus their time, attention, and energy
Most important, prove their value-add to your investors.
See it in action
Schedule a consultation and demo to learn how Essentia Analytics can help your firm formalize, digitize, and optimize manager evaluation, portfolio construction, and more.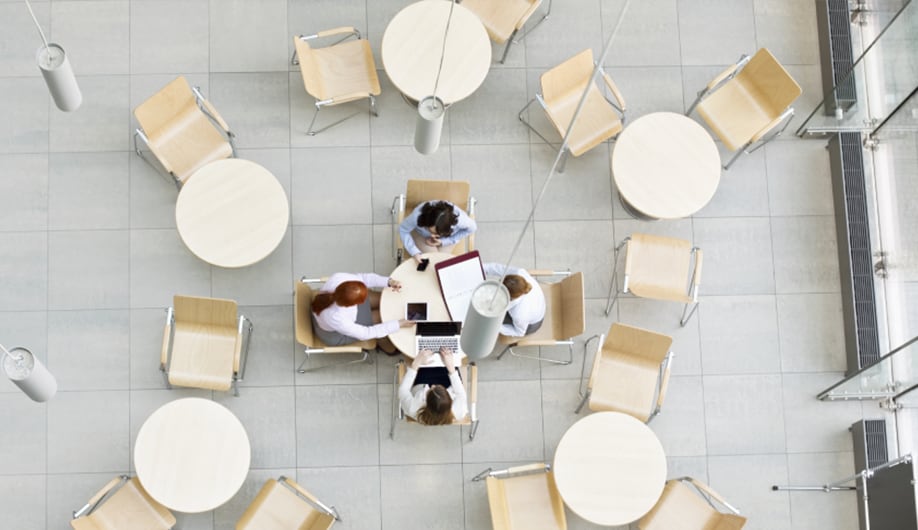 Integrated Support for Your Whole Office
Essentia Analytics is one piece of a continuum of solutions to support your entire business. Our ecosystem of proprietary, vended, and partnered solutions helps meet the strategic, operational, and technological needs of our clients' Whole Office.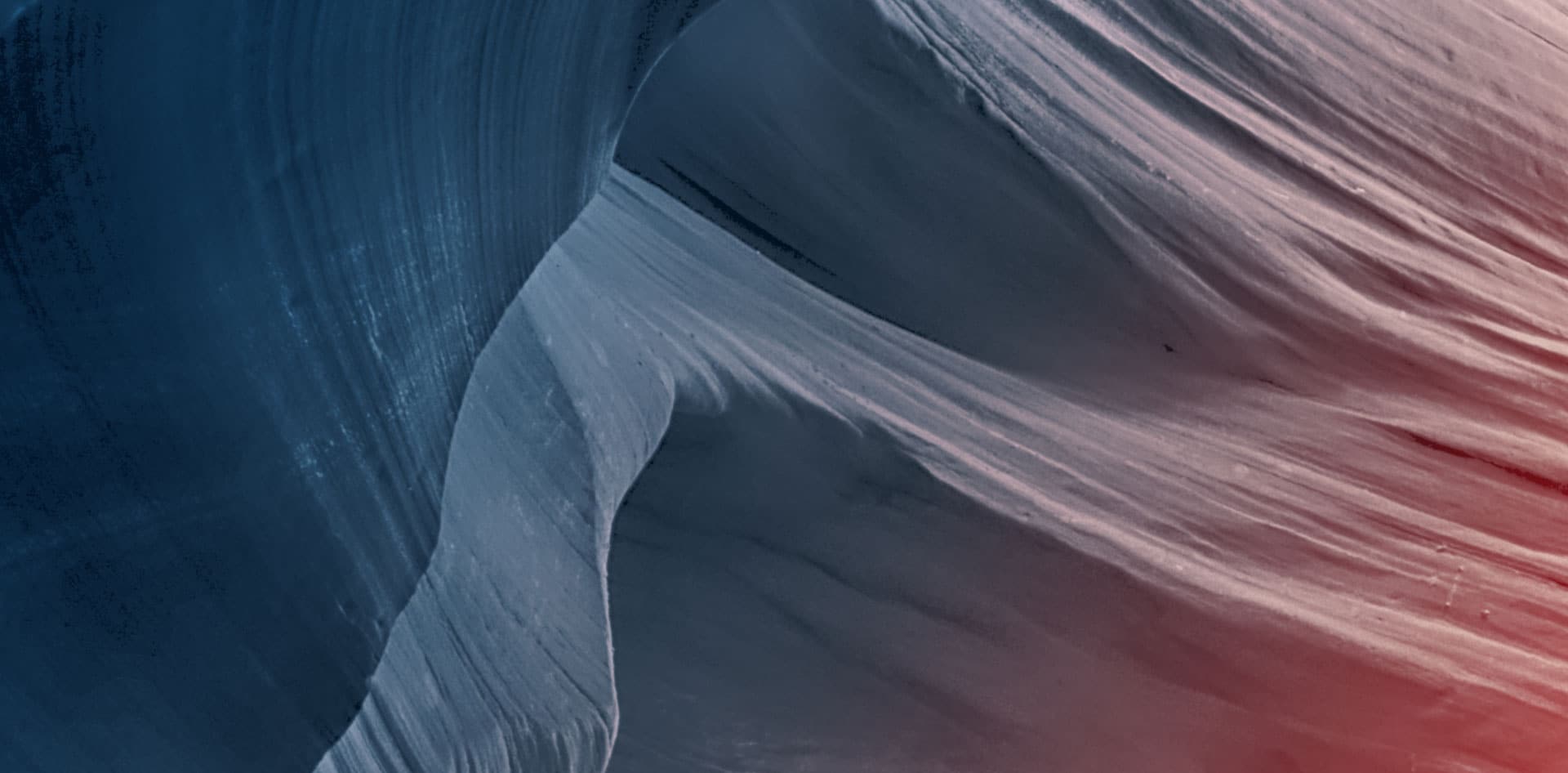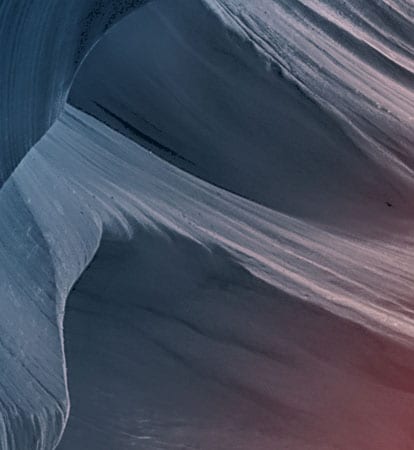 PRESS RELEASE
Northern Trust and Essentia Analytics
Northern Trust Strategic Investment in Essentia Analytics Adds Innovative New Dimension to Whole Office Strategy
The Latest Investment Data Science Insights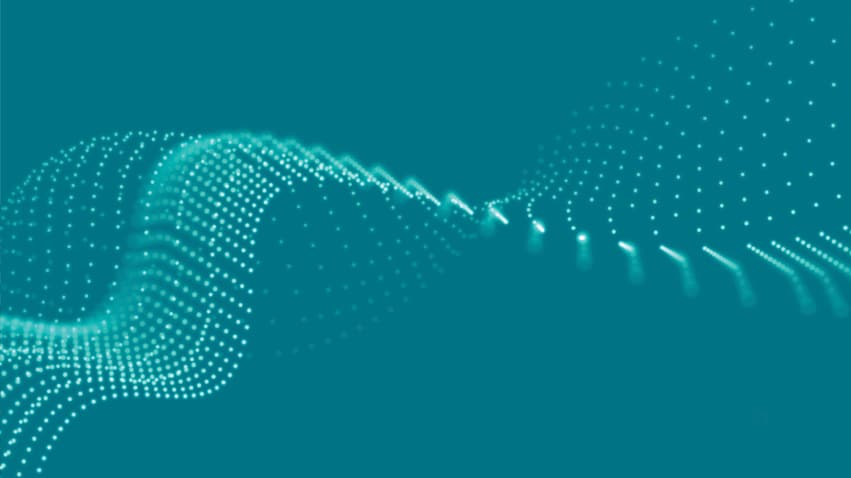 Data science and behavioral analytics can create more quantifiable, data-driven outcomes.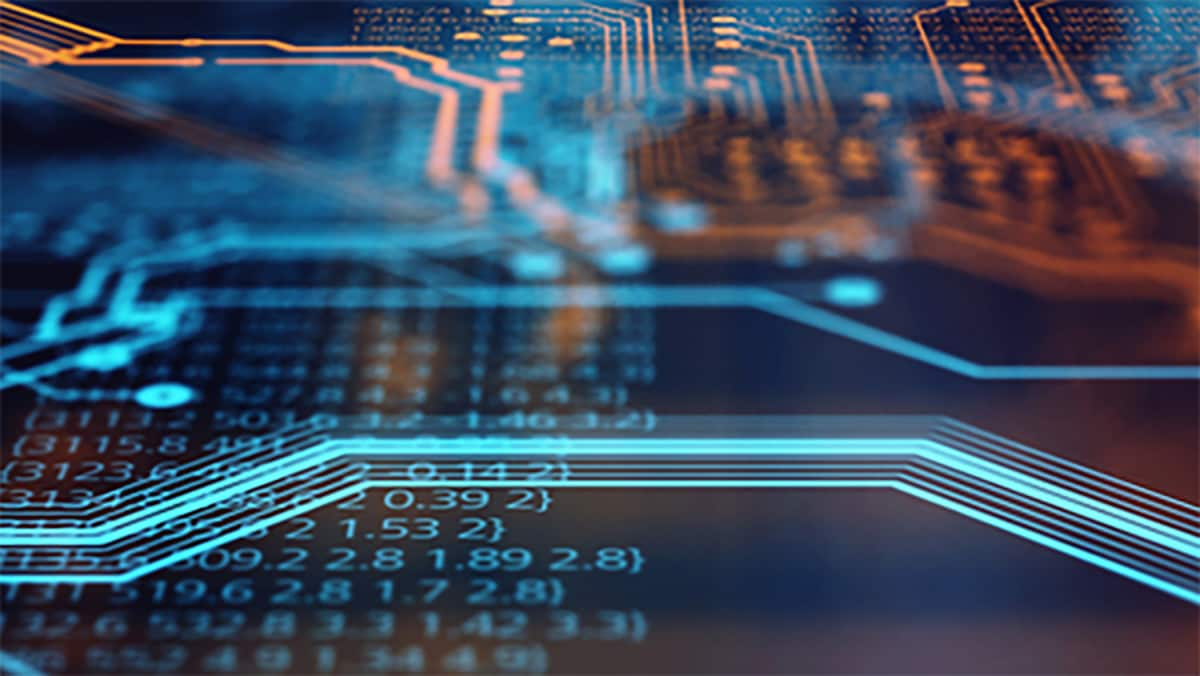 For institutional investors hoping to act on ESG goals, data is the name of the game. But investors will have to ensure they have access to the needed data, as well as the ability to draw insights from it.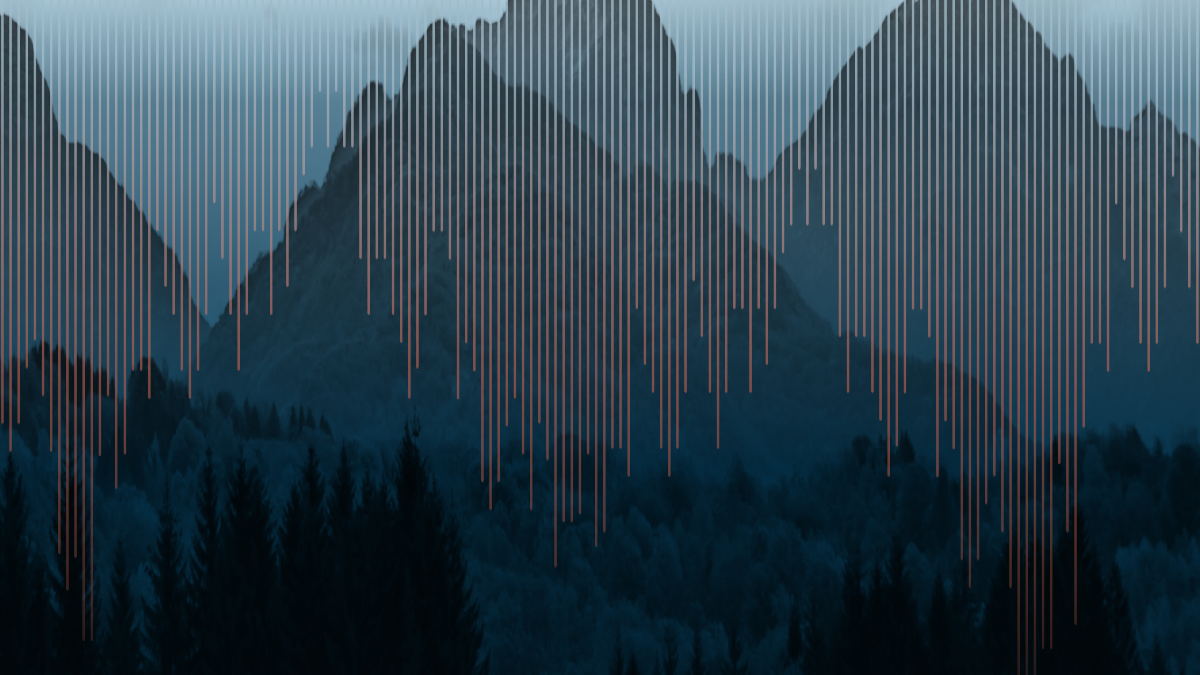 Achieving alpha is not only an art, it is a science.
Northern Trust Whole Office
Investment Data Science