Subscribe to Investment Strategy Commentary
Get an edge in your portfolio with some of our best research by our top investment experts, delivered periodically.
2018 Corporate Social Responsibility Report: Achieve Greater
Corporate Social Responsibility 2018 -Core Aspects
Governance
Connie L. Lindsey, Executive Vice President and Head of Corporate Social Responsibility and Global Diversity, Equity & Inclusion, is responsible for the design and execution of a comprehensive CSR strategy. Ms. Lindsey reports directly to Michael G. O'Grady, the Chairman, President and Chief Executive Officer of Northern Trust Corporation (the "Corporation"). Ms. Lindsey also chairs the Executive CSR Council, a group of senior employees that enables the implementation of Northern Trust's CSR strategy through the setting and tracking of goals related to material aspects of our CSR strategy, including sustainability initiatives.

The Corporation's Board of Directors provides general oversight of Northern Trust's corporate citizenship and social responsibility matters of significance to the Corporation and its subsidiaries. The Board's Corporate Governance Committee facilitates this oversight. Oversight of certain financial and operational risks associated with climate change and other environmental risk factors is also provided by the Board's Business Risk Committee through its oversight of the Corporation's global risk management framework and risk management policies.
Ethics
All employees are expected to uphold our core values, exercise the highest ethical judgment and comply with the laws and regulations that govern our business. We expect employees to treat all information appropriately based on its classification. Breaches of highly sensitive client or business information may result in disciplinary action.
All employees are required to take the following five courses annually: "Anti-Money Laundering (AML) & Economic Sanctions," "Anti-Bribery, Corruption and Fraud," "Global Privacy and Data Protection," "Information Security," and "Standards of Conduct." All employees are also required to certify their compliance with the Code of Business Conduct and Ethics.
All certifications and training courses were completed by 100 percent of employees in 2018. Additionally, we provided employees within the Asia-Pacific (APAC) and Europe, Middle East, and Africa (EMEA) regions with expanded AML, conduct, and privacy training in accordance with the regulatory characteristics within those respective regions.
Government Relations and Political Contributions
Northern Trust concentrates its public policy positions in areas most relevant to its businesses, including U.S. federal, state, municipal and European Union financial regulatory reform efforts. We work with the trade associations of which we are members, and meet directly with federal, state and municipal legislators, regulators and other government officials globally to discuss our positions and make recommendations for improved policy and regulation. At the U.S. federal level, we  focus on proposed regulatory and policy changes that will affect our businesses through enhancing the safety of client assets, the safety and soundness of the financial system and the strength of the global economy. At the state and municipal levels, we regularly meet with elected and appointed officials to discuss public policy positions that will affect our businesses. In appropriate circumstances, we file comment letters to proposed federal regulations, copies of which are publicly available. The Corporate Governance Committee of our Board of Directors provides oversight of the political, lobbying and other public advocacy activities of Northern Trust, including significant trade association memberships.
Political Contributions by Employees
Northern Trust expects employees to seek guidance and pre-clear certain individual political contributions in accordance with the guidelines set forth in federal, state and municipal "pay-to-play" policies and procedures.
Corporate and Political Action Committee Political Contributions
Northern Trust contributes corporate funds to industry trade organizations in support of the company's public policy objectives. Participation in these organizations is important to gaining industry insight, fostering relationships and developing professional opportunities within the industry. The principal trade associations to which we belong are the American Bankers Association, the Banking Policy Institute, the Investment Company Institute and the Securities Industry and Financial Markets Association. We also belong to the Illinois Bankers Association, the California Bankers Association and The Florida Bankers Association.
Northern Trust engages in the political process in order to advance and protect its long- term interests. Northern Trust does not contribute directly to candidates for public office. However, we sponsor both a federal-only political action committee (PAC) and a multi-candidate PAC, both of which are permitted to solicit a restricted class of Northern Trust's U.S. employees for contributions used to fund candidates who support legislation important to Northern Trust. All contributions to the PACs are voluntary; employees are neither favored nor disadvantaged based on their participation. The leadership of each PAC reviews proposed political contributions based on the public policy interests of Northern Trust.
Our PAC contributions in 2018 totaled $50,500. Federal lobbying reports may be found at: www.senate.gov/  legislative/Public _ Disclosure/ LDA_reports.htm, and our financial contributions can
be found at: www.fec.gov/ finance/disclosure/ candcmte_info.shtml.

Corporate Services Group and Environmental Policies
Northern Trust recognizes that the long- term viability of our business and our clients is tied to the health and well-being of our planet. We therefore commit to protecting the environment and mitigating any  negative environmental impacts from our operations. We align our business with the fundamental principle of sustainability— meeting the needs of the present generation without compromising the ability of future generations to meet their needs. We do this by integrating environmental considerations into our company-wide processes, committing to continually improving our business practices and delivering tangible, positive results related to the environment.
Northern Trust's Corporate Services Group manages our real estate portfolio, procurement and facilities services with the objective of reducing the negative environmental impacts of our supply chain.We use energy to power our data centers and facilities, the majority of which are located in North America. As a result, the bulk of our GHG emissions come from our North American operations. Since we began tracking our carbon footprint (comprised of the carbon dioxide equivalent of all GHGs produced from our operations) in 2006, we have improved our data collection processes and calculation methodologies to align with the GHG Protocol.
Working closely with our building managers, Northern Trust follows the environmentally friendly building strategies and practices outlined by the U.S. Green Building Council's Leadership in Energy and Environmental Design (LEED) program, which has awarded our offices in North America and APAC two LEED platinum certifications, seven gold certifications, one silver certification and one general certification. In addition, we usereliable and sophisticated tracking programs to monitor and manage our environmental performance and calculate our annual carbon footprint.
After completing a comprehensive emissions study in 2015 that formed our baseline, we set a goal to reduce our total Scope 1, Scope 2 (using the market-based approach) and Scope 3 carbon emissions by 3 percent per full-time employee (FTE) by 2020. By the end of 2016, we exceeded that goal, reducing our emissions by nearly 10 percent and setting a new goal to reduce our emissions by 25 percent from the 2015 baseline by the end of 2020.
As of December 31, 2018, we have reduced our carbon emissions  by approximately 29 percent since 2015 and achieved 100 percent renewable electricity usage in our Harlow and Bank Street locations in the UK. We are currently working with the Science Based Targets Initiative to develop a framework for the science-based targets for financial institutions and to set our own science-based target. In the meantime, we are committed to continuing our efforts to reduce our GHG emissions.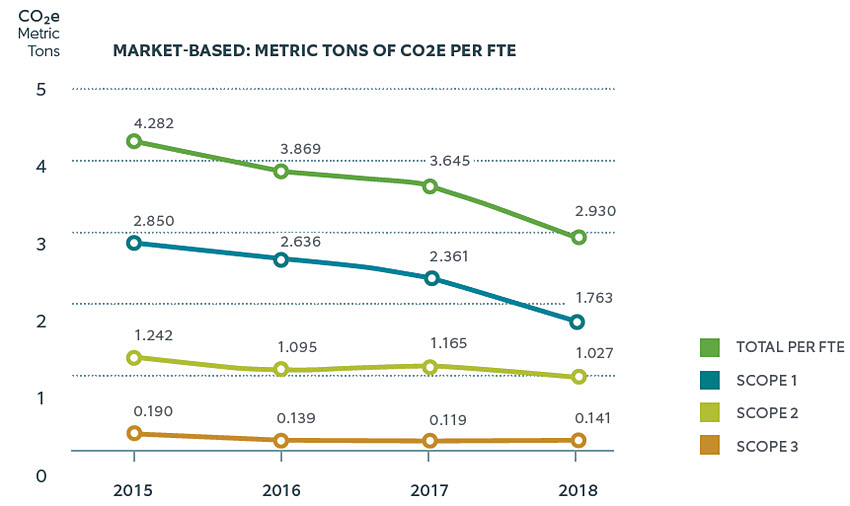 Non-Governmental  Organizations and Advocacy Groups
Collaborating with non-governmental organizations (NGOs) and advocacy groups allows us to maintain transparency and hold ourselves accountable to our environmental sustainability practices. Northern Trust and our surrounding communities benefit when we publicly report our environmental footprint—such as our GHG emissions and energy use and the risks and opportunities associated with climate change—under the supervision and guidelines of reputable third-party organizations.
By joining communities of investors who hold the health of our planet in high regard alongside the success of their businesses, Northern Trust strives to effect positive change in corporate social responsibility to our environment. The NGOs with which we collaborate include the U.S. Green Building Council, the Carbon Disclosure Project and the Institutional Investors Group on Climate Change.
The Sustainability Network
The Sustainability Network is Northern Trust's global employee environmental engagement program aimed at increasing awareness of sustainability issues, promoting best practices and unifying environmentally focused business operations.
This program enables close collaboration between our building managers and employee volunteer "sustainability champions" in delivering consistent environmental messages, gauging employee feedback and advocating for conservation and the protection of environmental resources. Through organizing Earth Day celebrations and environmentally focused volunteer opportunities, the Sustainability Network has been a key activator of behavioral change in Northern Trust's culture.
On November 15, 2018, America Recycles Day, the Sustainability Network launched Northern Trust's "Do Small, Think Big" campaign to promote the improvements that even small behaviors can have on sustainability in the workplace.
As part of the campaign, Northern Trust employees took the #BeRecycled pledge, committing to reduce and recycle cartons, shampoo bottles, unwanted mail, mobile devices and single-use plastic such as bags, wraps, bottles and caps. They also pledged to learn what materials are collected in their community and encourage a family member or friend to take the #BeRecycled pledge.
Local Communities
Northern Trust functions as a global citizen whose commitment to building a healthy, sustainable environment involves deep regard for our surrounding communities. We understand our footprint affects the larger ecological system and the lives of community members, and we believe in the power of community-based actions to effect positive change for the good of our planet. Northern Trust commits its resources, including capital support and employee volunteerism, to local initiatives and organizations focused on environmental awareness and protection.
We are a longstanding sponsor of the Chicago Botanic Garden as well as other land trust organizations and local youth programs that increase appreciation of biodiversity and motivate sustainable actions in everyday life.
Procurement
Northern Trust is committed to integrating ethical, social and environmental factors into our global procurement policy.
Aspects of our global procurement program include:
Completing due diligence requiring any supplier providing goods and/or services outside of the United States to complete an anti-bribery questionnaire
Requiring suppliers to obey the laws of the country of manufacture, sale and distribution
Coordinating a supplier management program that assesses risk, monitors performance and promotes continuous improvement activities
Our approach to supplier relationship management (SRM) ensures we establish an appropriate level of oversight and structure with each of Northern Trust's suppliers. This process maximizes relationships with suppliers, resulting in ongoing risk mitigation and value delivery that meets or exceeds contracted value. We continue to invest in and review new SRM techniques and processes that will increase coverage to additional supply categories.
The goals of Northern Trust's vendor management program are to:
Provide and implement the framework to monitor and manage vendors
Ensure consistency and compliance with regulatory guidance
Instill a continuous improvement philosophy into the supplier relationship
Ensure compliance with contractual terms and conditions
The vendor management process includes:
Using vendor segmentation
Applying a governance model appropriate for the vendor's designated segment
Administering jointly developed key performance indicators
Developing and implementing a vendor management plan
Assigning vendor managers the responsibility for specific activities required by the segmentation
Monitoring and reporting on the status of open vendor issues
Establishing performance improvement goals for ongoing vendor relationships as needed
Conducting regular vendor business review meetings
Our procurement policy promotes a fair and objective bidding process by neither requiring the use of local suppliers nor measuring our spending with local or regional suppliers.
Supplier Diversity
Supplier diversity is an essential component of a world-class, global procurement organization. How and with whom we do business reflects our commitment to developing and supporting diverse business owners.
Diverse suppliers contribute to our success, foster increased competition and innovation and enhance our ability to provide clients with excellence in service. Northern Trust's supplier diversity program is led by a senior-level manager, the director of supplier diversity.
In 2018, we spent more than $155 million with minority, women, veteran, LGBT, disabled and small business enterprises. Northern Trust continues to bring diverse suppliers into our supply chain.
We collaborate with various organizations to focus on economic development, growth and learning, including: the Chicago Minority Supplier Development Council, the Women's Business Development Center, Chicago United and the Chicago Area Gay and Lesbian Chamber of Commerce. Northern Trust is an active member of the Financial Services Roundtable of Supplier Diversity for the National Minority Supplier Development Council, which aims to providea direct link between large corporations and minority- owned businesses.