Subscribe to Investment Strategy Commentary
Get an edge in your portfolio with some of our best research by our top investment experts, delivered periodically.
2018 Corporate Social Responsibility Report: Achieve Greater
Corporate Social Responsibility 2018 -Sustainable Products
Northern Trust offers investment capabilities with sustainable objectives in equity, fixed income and real assets. The approach and objective of a sustainable investing strategy is multi-dimensional, and may apply differently to different asset classes. While sustainability factors may be broad in nature, we focus on certain key issues and approaches in our investment framework.
Our comprehensive Sustainable Investing Philosophy encompasses responsible investing factors such as our bespoke ESG pooled fund policies, our engagement policy for our European index funds, corporate governance and internal engagement principles and our custom proxy voting policy with ESG guidelines.
By serving as an active owner representing shareholders' ESG interests, we believe we will help portfolio companies produce sustainable value. Sustainable investing is based on the philosophy that ESG analytics can complement quantitative or fundamental investment techniques to mitigate risks or capture new opportunities. Our definition of sustainable investing is built on the acknowledgement that the long-term financial success of our clients and shareholders is dependent upon a healthy global environment, a stable society and well- functioning/well-governed companies. We view the integration of ESG factors as a long-term aspect of our fiduciary heritage.
Northern Trust ESG Funds
Northern Trust funds integrate or screen for a variety of different ESG factors including  the United Nations Global Compact principles, tobacco, weapons, firearms, gambling and nuclear weapons. As an asset manager, we also have the capability to:
Manage assets to a socially responsible index. We have partnerships with all the leading index providers and can design additional ESG indices on behalf of c
Manage assets to a traditional index while excluding a client-directed list of comp We currently manage restricted accounts to most major index series across asset classes.Accounts can be managed to replicate the risk and return characteristics of the broad index or the restricted index.
Manage assets to a traditional index while interpreting a client's socially responsible investing (SRI)/ESG guid We currently manage a group of accounts for which we interpret client guidelines and create a restricted list to synchronize with the investment management process.
At the end of 2018, Northern Trust Asset Management managed over $80 billion of assets globally that incorporated ESG criteria, including two new ESG equity funds launched in 2018: the North American ESG Fund and the Europe Value ESG Fund.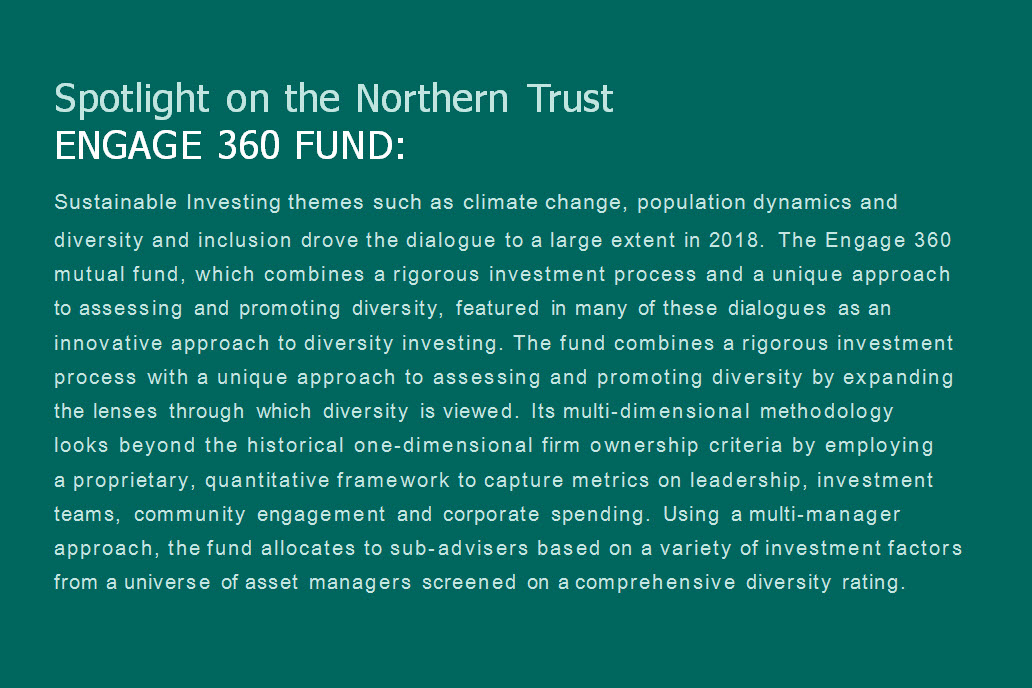 Stewardship

Engagement with management is a core part of the equity research process. Northern Trust's equity research analysts engage with hundreds of companies annually. Our focus is to accumulate and interpret facts to reach sound investment conclusions with the aim of delivering positive long-term investment outcomes for clients. We employ both quantitative and qualitative approaches in this process. In addition to strategy, risk and sustainability of financials, analysts also monitor corporate governance, environmental and social factors that are of material concern to the long-term sustainability of the investment. The proxy analyst team supplements the analysis performed by Northern Trust's equity analyst team with additional research on corporate governance, environmental and social matters that contribute to the long-term value of the investment and reflects Northern Trust's commitment to ESG issues.
During the first quarter of 2019, we published an Annual Report on ESG Engagements and Proxy Voting. This document outlines Northern Trust's engagement approach and priorities on topics such as board structure, executive compensation, risk oversight and environmental and social risks and opportunities. It aims to protect our clients' financial well-being throughout their investment horizon. In our role as an active owner, we help portfolio companies produce sustainable value and long-term financial returns.
Global Sustainable Investing Team
Northern Trust has developed including thematic or active quantitative strategies. The team works closely with a variety of groups within Northern Trust audiences such as CSR, product development and management, equity, fixed income research, portfolio management, business in-house, specialized Asset Management, including our development, proxy voting and expertise through our long-term commitment to social, environmental and financial integrity. Our sustainable investing team is responsible for ESG research, innovation, product development and product management across our array of asset class capabilities. It proactively develops new ideas to ensure the centrality of sustainable investing thinking to our business development.
This team works closely with our clients and our portfolio management team to develop and implement sustainable investing strategies ranging from simple negative screens to more complex mandates, quantitative research team and specialized portfolio managers. In addition, Northern Trust Asset Management has established a Sustainable Investing Council responsible with affirming strategies to address sustainable investment issues and implementing the initiative at a corporate level.
Chaired by Northern Trust's director of product development and sustainable investing, the Sustainable Investing Council includes a diverse group of members representing different parts of our business. All members promote sustainable investing and represent various engagement. We believe this structure contributes to a further enhancement of ESG within and throughout our company.
We also strongly believe in the importance of our leadership role and collaborative effort in the industry. Members of the sustainable investing team have active roles in industry associations and networks such as the Principles for Responsible Investment (PRI),the investor advisory committee of the Sustainable Accounting Standards Board (SASB), the Institutional Investor Group On Climate Change and the Harvard Institutional Investor Forum.