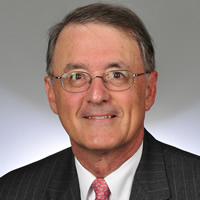 Before joining Northern Trust in 1999, he spent the majority of his career in Rochester, New York as Managing Director of Fleet Financial Group. Relocating in 1987 to Naples, he served as the President of Fleet Trust Company of Florida, N.A. More recently he served as President of the Bonita Springs office, where he was responsible for the daily operations of the bank and oversaw lending, trust and deposit services.
He obtained an undergraduate degree from Princeton University.
He enjoys traveling overseas and domestic, and reading. He also likes to spend time at his home in Cape Cod with family and friends.
As President of the Vero Beach/Indian River County, he is responsible for the private banking and investment operations, leading a team of almost 30 partners. He has over 40 year of trust and investment experience.
He is a proven community leader with current affiliations serving as Board Chair for Indian River Community Foundation and a Board Member for Gifford Youth Achievement Center. He previously served on the board for Riverside Theatre, Indian Riverside Medical Center Foundation, and United Way of Indian River County. He also served as past Chair for Vero Beach Museum of Art.
Learn how we help families make decisions