Thomas R. Oliveri
Senior Market Executive of Broward County
Call: 954-768-4060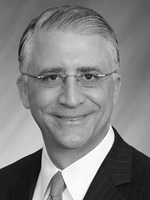 Tom joined Northern Trust in 1999 as Vice President and Managing Director of the Delray Beach office. In January 2004, he was named Vice President and Managing Director of the Aventura office. Subsequently, in April 2005, he was also named Managing Director of the Miami-Dade County Wealth Strategies Group. Prior to his current role, he served as Managing Director of Wealth Advisory Services based in Miami, with responsibilities for Northern Trust's South Florida market.
Prior to joining Northern, he spent his first 12 years in the financial services industry with Wells Fargo (formerly First Union National Bank). While at Wells Fargo, he assumed senior management positions within the bank including human resources.
He earned a Bachelor of Science degree in finance from the University of South Florida in 1986 where he graduated Cum Laude.
He is Senior Vice President at Northern Trust. In 1996, Tom completed the Executive Management Program at Florida State University. In addition, Tom is a registered representative (Series 7) with the NASD.
Tom and his wife Sandra have two children and loves to spend as much time as he can with his family, including extended family get-togethers.
As Senior Market Executive, he is responsible for a team of professionals who serve high net worth clients and families with comprehensive wealth management services incorporating investment management, trust, and banking.
He has been very active in the civic and not-for-profit organizations. He currently serves on the following Boards and Committees: Anti-Defamation League as Honorary Regional Board Member; Florida Community Health Network as a Board Member; Memorial Foundation and Joe DiMaggio and Children's Hospital Foundation as a Second Vice Chair; South Broward Hospital District as a Finance Committee Member; Broward Performing Arts Center as a Board Member; and Broward Workshop as a Board Member.
I'm concerned about my children's and grandchildren's ability to handle financial matters. What's the best way to protect them, but at the same time encourage them to get an education and be productive individuals?
What makes Northern Trust different than your competition?
What should I expect my portfolio to earn over the next year or the next few years?
Learn how we help families make decisions