Daniel J. Pienta
Managing Director - President Eastern Michigan
Call: 248-593-9300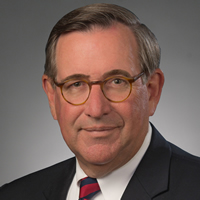 Before joining Northern Trust in 1999, he was a Vice President at NBD Bank where he worked for almost twenty years. He had assignments in a number of disciplines providing financial services to corporations, corporate executives, private business owners, entrepreneurs and families.
He graduated from University of Michigan with a bachelor's degree in Economics.
He has participated in a number of various developmental programs across the spectrum of financial services. Currently a member of the Metropolitan Detroit Financial and Estate Planning Council and previously held a variety of Securities Licenses.
He's married with two grown sons and loves to spend as much time as possible on the water boating with family and friends.
As Market President for the East Michigan business unit he leads a team of multi-disciplined professionals who deliver a range of wealth management services to high-net-worth individuals, families and organizations.
He serves on the boards of Oakland Family Services and New Horizons Rehabilitation Services. He has previously served as Board Chair for both organizations. He also volunteers his time with a number of other organizations.
Learn how we help families make decisions