Ariani Rustam
Chief Representative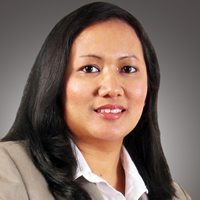 Ariani Rustam is the Chief Representative of Northern Trust's Malaysia Representative Office.
Based in Kuala Lumpur, Ariani is responsible for building and managing client relationships in the Malaysian market as well business planning and build- up of the newly-established Representative office.
Ariani began her career in 2001 with the Central Bank of Malaysia- Bank Negara Malaysia, where she held various responsibilities in the Risk Management, Investment Operations and Financial Markets departments. Her most recent role at Bank Negara Malaysia was Manager - External Fund Management division.
Ariani holds a Bachelor of Science degree in Government and Economics from the London School of Economics (LSE) and a Master in Public Administration degree in Economic Policy Management from Columbia University, New York.