Who We Serve

What We Do

About Us

Insights & Research
Who We Serve

What We Do

About Us

Insights & Research
What can you do to protect yourself from scams?
Have you received a pop-up notification that your information was breached in a compromise? Do not click! This is a scam.
Northern Trust is aware of and would like to warn consumers of a new scam that is using the names of commercial banks, including Northern Trust, in an attempt to swindle consumers.
---
WHAT CAN YOU DO?
Always check the veracity of claims before sharing personal or credit card information. Scams can occur via email, postal mail, websites and even texts on your phone. Never click on offers that are unexpected – if you are not actively looking for it, avoid it completely.
---
WHAT IS HAPPENING?
Nature of the Scam: Recipients report seeing a "pop-up" window claiming that information has been breached in a "FISERVE" data compromise when attempting to login to Wealth Passport. This pop-up window offers a free credit report and score. This is a scam – the offer is not legitimate and is not associated with Northern Trust.
Red Flags: The pop-up window asks for users to access a website for a free credit report and score, but requires a credit card number to "validate identity". In addition, the offer implies that there is a tight time restriction and the "free" portion of the proposal is for a limited time only. An example of the pop-up is below.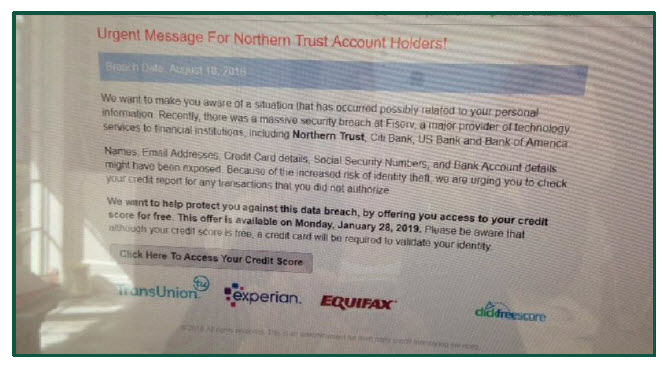 Action: If you see this pop-up widow when accessing Northern Trust or any other financial website, it is strongly recommended that you run a virus scan of your computer to remove any potential malicious software. If you would like to view your credit report, please visit www.annualcreditreport.com.