Retirement Planning for Every Life Stage
Common concerns and next steps to help you make decisions based on your goals.
summary
Retirement planning is the cornerstone of a successful wealth plan, yet most individuals fail to adequately prepare for this important life stage. With planning and preparation, you can help alleviate any fear and uncertainty you might have about your financial future.
From understanding investment basics and building good financial habits to planning for wealth transfer as a late-stage retiree, there are myriad steps that can be taken over the course of a career to help make retirement as successful and stress-free as possible.
Starting conversations with your advisors early on, evaluating your assets and future inflows, and aligning those with your goals can help you achieve the lifestyle you envision for yourself and loved ones.
Envision yourself in retirement. Are you enjoying the lifestyle you thought you would have? Have you achieved the financial goals you laid out for yourself? If you are unsure how you would answer these questions, you are not alone. Retirement planning is the cornerstone of a successful wealth plan. Yet most people fail to adequately prepare for this important life stage, which can leave them feeling fearful and uncertain about their financial future.
Take a look at some recent data. The average life expectancy has significantly increased over the past century. And recent trends suggest that of couples in their mid-50s, 1 out of 3 males and 1 out of 2 females will live to be 90 years-old. [1] However these projections play out, the maxim holds true, the longer you live, the more money you will need to last throughout your lifetime.
While there is no one-size-fits-all retirement planning strategy, there are some practical things you can do at every life stage to better prepare yourself for a successful financial future.
In the following discussion we address some common concerns and questions about retirement planning to help you understand your options and make decisions based on your goals. Each individual's set of circumstances is unique, however, and you should evaluate your plan with the help of your trusted team of legal, tax and financial advisors.
EARLY CAREER: BUILD GOOD HABITS
If you are just starting out in your career, you are likely excited about your new job. But you also may be feeling overwhelmed by the unfamiliar world of employee benefit options — 401(k) and other retirement plans, health insurance, group life and disability insurance, and more. At this stage, one of the most valuable assets you have is time. This is in part due to the principle of compounding — the increased value of an asset as a result of re-investing interest and dividends earned over time. Compounding is one of the most important keys to successful saving for future goals, such as retirement. You also have the opportunity to take early advantage of tax-advantaged savings strategies — 401(k)s and Individual Retirement Accounts (IRAs).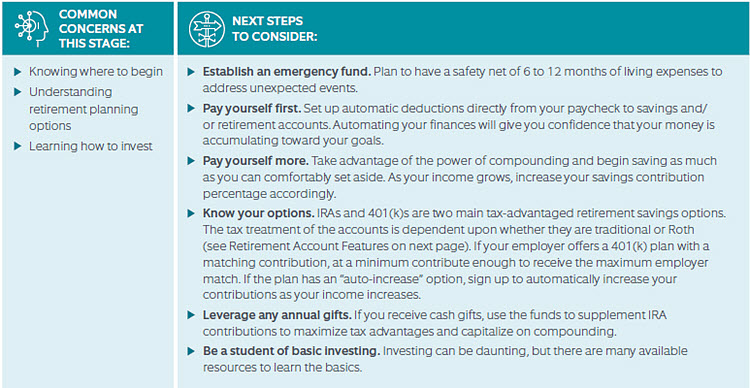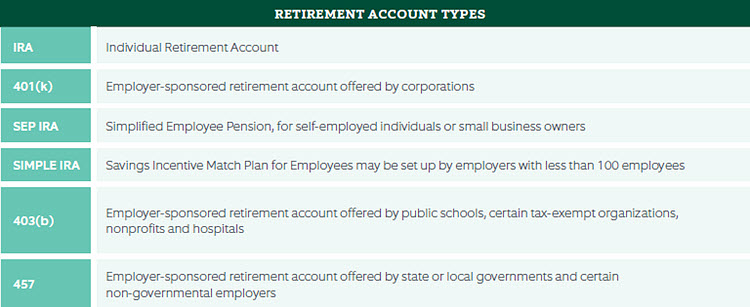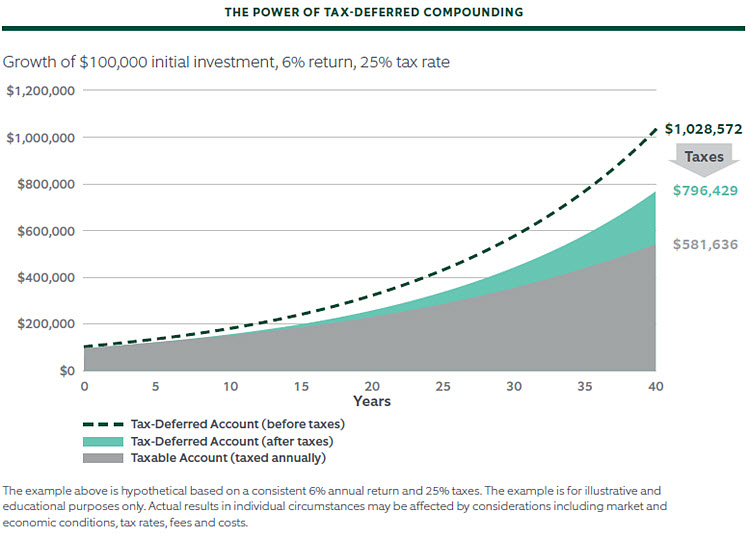 MID-CAREER: STRATEGIC PLANNING
If you are mid-career, you are likely more established and are generating substantially more income. You also may find yourself struggling to manage competing financial priorities in addition to saving for retirement. These can include marital and family needs, buying a home or vacation home, or child care and tuition costs. Once you have a clear picture of the type of retirement you want, however, you can begin to identify how to fund it by clarifying all aspects of your spending, saving and investing.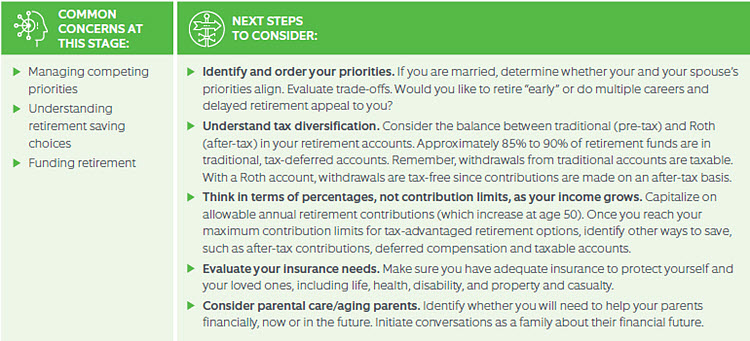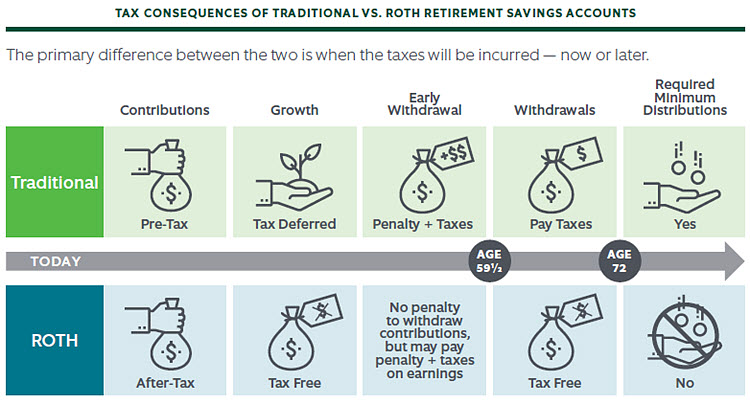 LATE CAREER: THE DEEP DIVE
In your late career, retirement is on the horizon. If you have not already, you should take time now to meet with your team of wealth planning and other advisors for a closer examination of your overall financial health. Among other things, an advisor can help you: picture what a life in retirement may look like for you and your family; determine how much you will need to maintain your lifestyle in retirement; and evaluate how much longer you may need to work.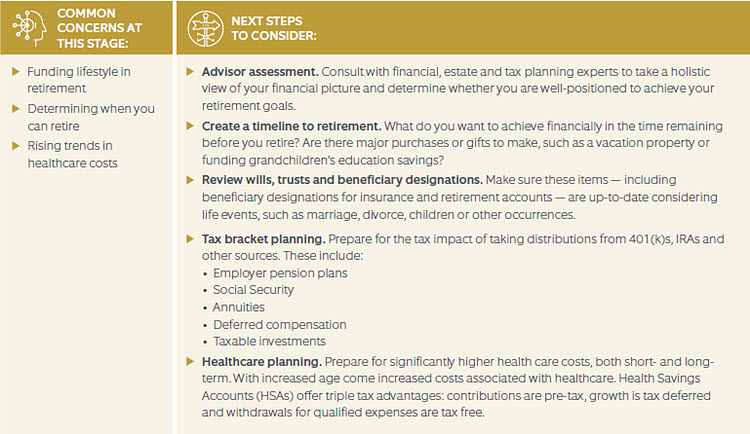 EARLY STAGE RETIREMENT: THE NEW NORMAL 
If you are newly retired, you might initially find it difficult to transition out of the workforce. And even though you have been preparing for this stage for quite some time, there is likely still a period of adjustment as you mentally transition from saving mode to distribution mode.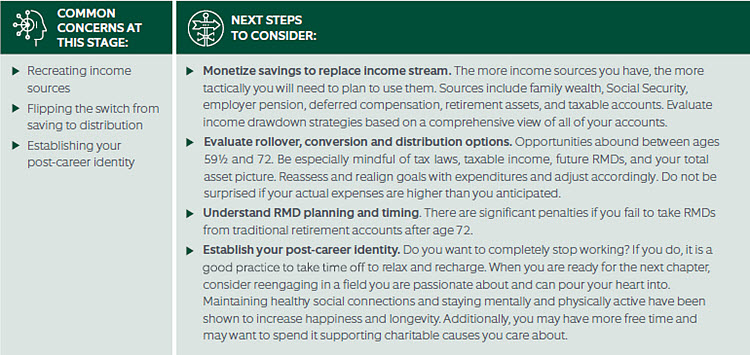 LATE STAGE RETIREMENT: ESTABLISHING LEGACY
In the late stages of retirement you may find yourself involved in fewer activities and spending less of your savings than in earlier stages. This makes it an ideal time to consider legacy and wealth transfer planning for retirement assets. Also, if you have not already done so, you may want to consider contributing to your favorite charitable causes.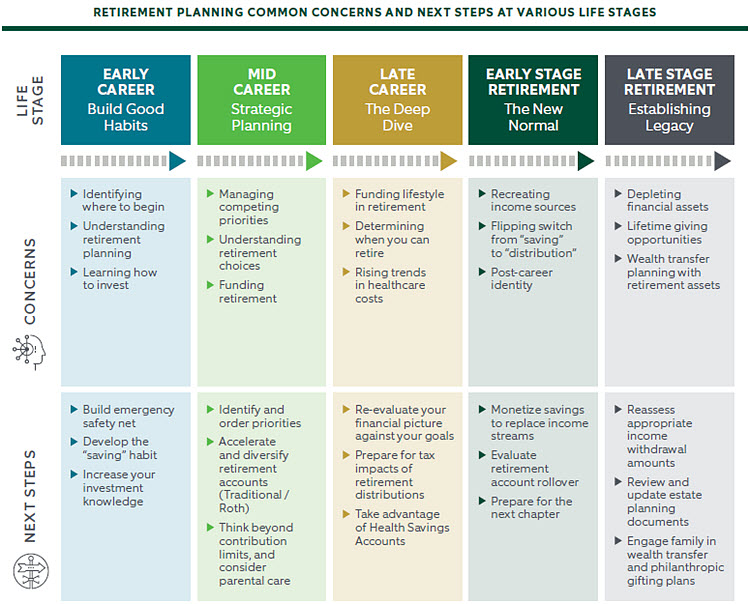 Depending on your unique circumstances, concerns and next steps may start earlier or later than depicted in the graphic.
CONCLUSION
Retirement planning is not a one-time event, but rather a career and lifelong journey that, when done well, can lead to a successful and bountiful future. Start the conversations with your advisors early on, take stock of your assets and future inflows, and align those carefully with your goals. The more prepared you are, the better your chances are of having the retirement you envisioned for yourself and your loved ones.
---
1 Society of Actuaries, "Age Wise Longevity Infographic Series," 2019.