Interest Rate Relief Valve
Trade tensions are contributing to a slowdown in economic growth, but the likely scenario of a reduction in interest rates is contributing to a positive outlook for U.S. equities and real assets.
summary
The potential for three rate cuts by year's end is buoying a weaker global growth outlook.
Global-listed infrastructure and real estate are poised to outperform.
The potential for a return of inflation could be disruptive.
---
Global growth obstacles are rising as trade tensions build, but we expect lower U.S. interest rates to help soften the blow. Leading economic indicators have weakened as the U.S. has started aggressively using tariffs as both an economic and a political tool. We have seen a marked deterioration over the last month in the negotiations between the U.S. and China, which further increases the headwinds to growth. At the beginning of the year, we felt investors had become too pessimistic about growth and markets were positioned to surprise to the upside. The recent increase in trade tensions, along with the rally in markets this year, has shifted the outlook to a more balanced one. We think the weaker growth outlook over the next year will be cushioned by three cuts in the fed funds rate by year-end.
The bond market has been well ahead of the Fed in anticipating the need for lower interest rates. Interest-rate-sensitive sectors were hurt by rising rates in 2018, and have rallied this year as a result of lower rates. In the housing sector, mortgage applications and refinancings have spiked and homebuilding stocks have rallied more than 25% this year. Moderate inflation also supports the case for lower interest rates, as core inflation in the major economies is barely above 1.5% and is trending lower.
Financial markets, in the meantime, have lowered the ten-year inflation outlook from nearly 2.2% last fall to 1.7% today. We think this softening inflation outlook will provide the necessary cover for the Fed to reverse course and cut rates meaningfully this year.
We expect lower interest rates to offset the softer growth environment, allowing risk assets to remain attractive. We have made some changes in our global tactical asset allocation model this month, reducing our recommended exposure to high-yield bonds and emerging market equities, and reinvesting the proceeds in global listed infrastructure and investment grade bonds. While we still think high yield is attractive, we have reduced the size of our overweight to manage risk. Our reduction in emerging market equities reflects the increased trade risk that has developed over the last month. Global infrastructure is expected to benefit from low interest rates while presenting less downside risk than other equities. Our risk cases continue to highlight the disruptive potential of a return of inflation, along with the upside risk case of a trade armistice being reached between the U.S. and China. This upside risk case could actually improve the outlook for global growth and investor risk appetite.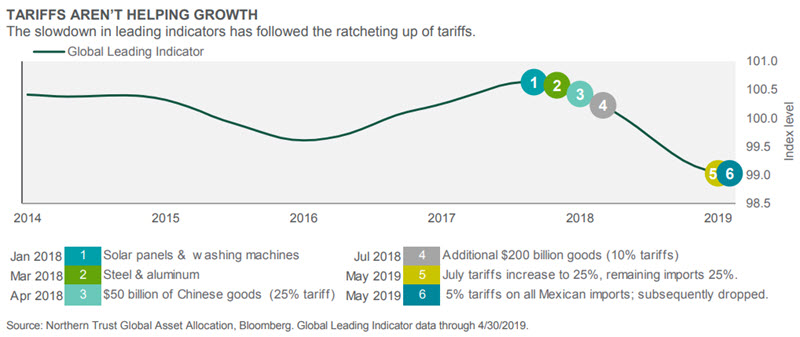 ---
Interest rates are falling in response to lower growth/inflation.
We expect the Fed to ease and long rates to remain low.
Portfolios are positioned neutral to long duration.
The first half of 2019 has brought lower interest rates around the globe. The 10-year sovereign yields have fallen in every major developed market (see chart) with Europe (as proxied by Germany) now firmly in negative territory. The message from the bond market is clear: Central bankers, even with highly accommodative policy by historical standards, have not been accommodative enough in an environment of stuckflation, fragile global growth and renewed geopolitical concerns ranging from ongoing U.S./China tensions to an unresolved Brexit.
All of this has prompted investors to quickly re-price the timing and size of the Fed pivot to lower policy rates. Investors view at least one rate cut this year as a near certainty and are assigning a 35% chance of three rate cuts in 2019. We assign an even higher probability of three rate cuts in 2019, which is our base-case view. With the Fed likely to begin lowering policy rates soon (likely in its July meeting, with potential telegraphing in June) and stuckflation keeping the back end of the yield curve low, we are maintaining a neutral-to-long duration profile (vs. benchmark) in client portfolios.

---
High yield is a downside protection risk asset.
Investors benefit from lower volatility assets in times of uncertainty.
High yield remains our largest tactical overweight.
High yield offers an attractive risk-reward profile relative to equities due to a unique return distribution. As seen in the chart, high yield's returns vs. equities are asymmetric – 55% of the upside but only 31% of the downside. This makes high yield an important piece of the strategic portfolio and especially attractive during periods of increased market volatility. To wit, we saw high yield's asymmetric qualities on full display during the recent financial market turbulence. In the fourth quarter of 2018, high yield suffered only 36% of the global equity market drawdown (-4.5% vs. -12.6%); thus far in 2019, high yield has enjoyed 62% of the upside (8.9% vs. 14.3%). As a result, over the cumulative period, high yield outperformed by 4.1%.
While providing downside protection vs. equity markets, high yield is still a risk asset – and not a substitute for investment-grade bonds, especially not U.S. Treasurys. In fact, high-yield bonds show little sensitivity to interest rates, as lower interest rates are generally offset by higher credit spreads and vice versa. Instead, high yield acts as a "lower risk" risk asset and is attractive in the current environment of modest economic growth at risk from heightened geopolitical tensions. We modestly reduced our high yield allocation this month to manage risk (our previous overweight was very significant) and better position the portfolio for continued low interest rates. We are still overweight, however, as we value the asymmetric return profile of high yield in the current environment.

---
Trade war risks pushed equities down in May.
Fed accommodation pushed equities right back up in June.
We are neutral equities globally with a tilt toward the U.S.
U.S. equities showed heightened volatility over the past six weeks. After dropping ~7% in May as talks with China broke down and a new tariff threat against Mexico emerged, U.S. equities have bounced back sharply so far in June. Tariffs on imports from Mexico appear to have been averted for now, but disputes with China appear unlikely to be resolved quickly (if ever). Estimates place the aggregate impact of a China trade war (25% on all goods – including those not yet announced – at ~0.5% of U.S. gross domestic product, and likely double that for China. Translating it to U.S. equity earnings, the negative impact is likely 2-3%, but could double as companies incur costs to shift supply chains.
The market recovery this month to near all-time highs appears largely tied to a view that the Fed – already dealing with low inflation – will respond to any tariff-driven economic weakness with increased monetary accommodation, which would support equity valuations. We are neutral equities on a global basis, but that neutral positioning includes a tilt away from emerging markets and toward U.S. equities. Despite year-to-date outperformance, we believe U.S. equities provide more durable growth than the rest of the world can currently offer.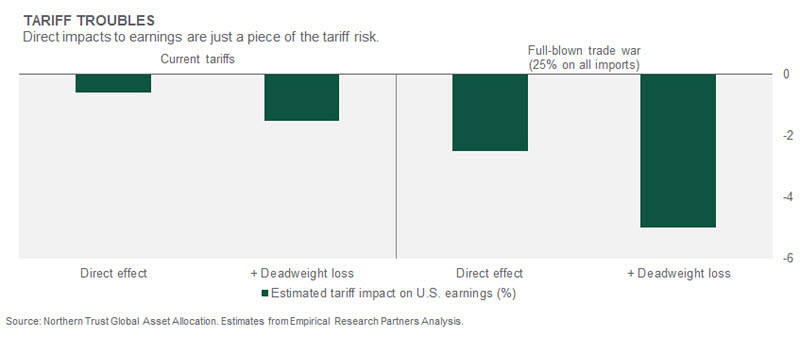 ---
All real assets benefit from easier monetary policy.
Global real estate and infrastructure benefit more quickly.
We are now overweight both global real estate and infrastructure.
It is important to gauge how our expectation of three Fed rate cuts in 2019 would impact our suite of real assets – global real estate, global listed infrastructure and natural resources. All three asset classes can benefit from lower rates, though the timeline for each varies. Natural resources are certainly a beneficiary of easier Fed policy. A lower Fed funds rate is designed to stimulate the economy, increasing economic demand and the demand of natural resources along with it. But all this occurs with a lag. This is especially true when the Fed is slow to catch up to what investors view as appropriate policy (often referred to the Fed being "behind the curve"). This is the environment we find ourselves in today – as we believe the Fed will cut rates, but perhaps not as quickly as investors would like. For now, we are maintaining natural resources at strategic levels.
The benefit to global real estate and listed infrastructure comes more quickly. Both asset classes are sensitive to interest rate movements, and falling interest rates driven by low inflation and a Fed struggling to catch up bodes well for each. In January, our expectations for lower interest rates led us to increase our allocation to global real estate. Now, we are adding to that exposure with a newly initiated overweight to global listed infrastructure – an asset class with more downside protection (see chart), which is attractive in a lower-return, higher-volatility world.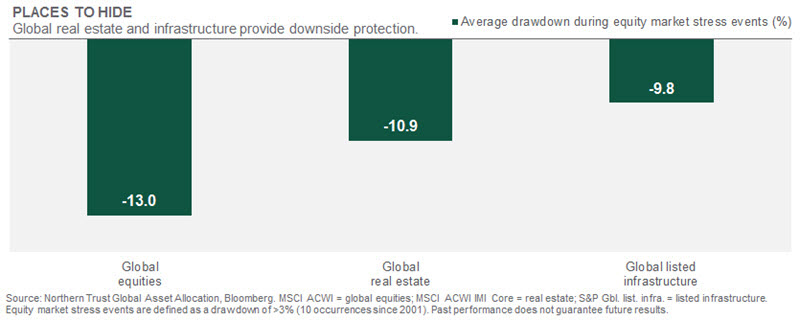 ---

-Jim McDonald, Chief Investment Strategist
IN EMEA AND APAC, THIS PUBLICATION IS NOT INTENDED FOR RETAIL CLIENTS
© 2019 Northern Trust Corporation.
The information contained herein is intended for use with current or prospective clients of Northern Trust Investments, Inc. The information is not intended for distribution or use by any person in any jurisdiction where such distribution would be contrary to local law or regulation. This information is obtained from sources believed to be reliable, and its accuracy and completeness are not guaranteed. Information does not constitute a recommendation of any investment strategy, is not intended as investment advice and does not take into account all the circumstances of each investor. Forward-looking statements and assumptions are Northern Trust's current estimates or expectations of future events or future results based upon proprietary research and should not be construed as an estimate or promise of results that a portfolio may achieve. Actual results could differ materially from the results indicated by this information. Investments can go down as well as up.
Northern Trust Asset Management is composed of Northern Trust Investments, Inc. Northern Trust Global Investments Limited, Northern Trust Global Investments Japan, K.K, NT Global Advisors Inc., 50 South Capital Advisors, LLC and investment personnel of The Northern Trust Company of Hong Kong Limited and The Northern Trust Company.
Issued in the United Kingdom by Northern Trust Global Investments Limited.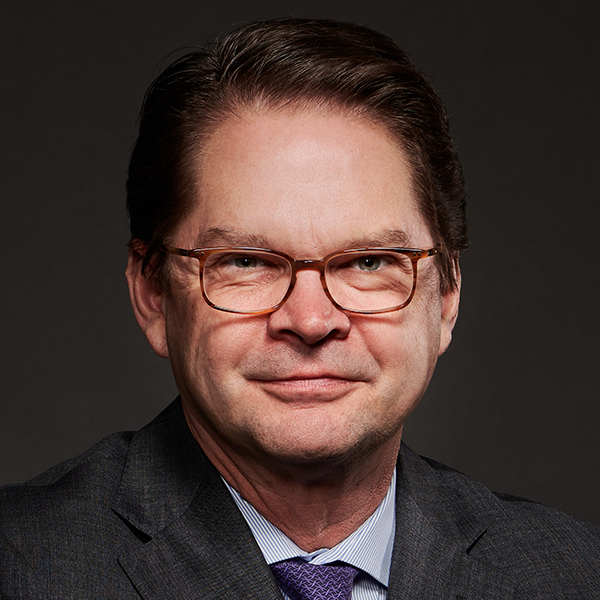 Jim McDonald
Chief Investment Strategist
Jim McDonald is an executive vice president and the chief investment strategist for Northern Trust. He is responsible for overseeing the strategic and tactical asset allocation policy for our institutional and wealth management clients globally.