Global Planning For Wealth Straddling the U.S.-Canada Border
The close proximity between Canada and the United States allows for cross-border opportunities in career, investing and our personal lives. The corresponding tax issues, however, can be complex – even with the U.S.-Canada Tax Treaty. Below, we discuss methods for preparing for some of the most common concerns associated with inbound wealth, outbound wealth and cross-border marriages.
By Suzanne L. Shier and Susan J. Merritt
In today's global economy and mobile society, it is increasingly Common for individuals to own assets internationally, for executives to have international assignments and for families to have members who live abroad or who are citizens of various countries.1  As advisors, we see the impact of these cross-border relationships in a variety of circumstances — investment of capital in the respective countries, acquisitions of vacation homes and international marriages. Each of these instances has the potential to impact one's tax and estate plan, not only in their home country, but in the foreign country with which they have developed a nexus.
One country that generates immense cross-border activity is our neighbor to  the north, Canada. In addition to sharing one of the longest and most accessible borders in the world, Canada and the U.S. also share one of the world's largest and most comprehensive trading relationships.2 This close proximity creates many cross-border opportunities for work, for investment and for personal or retirement purposes. Although there is no "one size fits all" approach, this article will highlight some of the Canada and U.S. tax and estate planning considerations that arise in the context of three general scenarios:

This article will also provide a broad overview of the very basics of the Canadian tax system, as it applies to individuals and an overview of the key components of the U.S. foreign reporting system. Understanding the key differences that exist between Canada and the U.S. from a tax perspective, and understanding the importance of the U.S. foreign reporting rules, will help to highlight some of the traps for the unwary, whether one is involved with a U.S. inbound situation or a Canadian outbound issue. 
CAUTIONARY TALE
When addressing any cross-border issue involving the U.S. and another country, including Canada, it is imperative that legal and tax advice be sought on each side of the border. This is an incredibly complex area of the law, irrespective of which countries are involved and the multi-country lens must be worn at all times. 
Despite the vast similarities between Canada and the U.S., each is based on a fundamentally different tax regime. As noted above, failing to identify the critical differences between the Canadian and the U.S. tax systems, and failing to plan accordingly, can lead to unanticipated and unnecessary taxation and reporting requirements in each jurisdiction.
Exhibit 1 on page 4 highlights some of the key differences between the Canadian and U.S. individual taxation systems and these issues are summarized below.
Note that this list is by no means intended to be exhaustive or conclusive — it merely highlights some of the commonly discussed attributes:
Basis of Taxation: Unlike the S. system of income taxation which is based on citizenship and residency, the Canadian system of income taxation for individuals is based primarily on the concept of residency; citizenship is irrelevant. Note that nonresidents of Canada are subject to tax in Canada on any income generated in Canada and on the disposition of certain types of property in Canada. 
Determination of Residency: Canadian residents are subject to Canadian income tax on their worldwide income, but residence for Canadian purposes is not defined in the Canadian Income Tax Act (the "Canadian Tax Act"). Rather, Canadian residence is deemed to be a question of f Generally, an individual who spends more than 183 days in any year in Canada is considered to be a resident, as is an individual who does not meet this 183-day requirement but is found to customarily live in Canada. 
Estate Tax, Gift Tax and Generation-Skipping Transfer Tax: Canada does not have estate tax, gift tax or generation-skipping transfer t Canada's "transfer" tax system is built around the concept of deemed dispositions and capital gains. Very generally, whenever an individual (i) makes a transfer to another person during lifetime (where person is defined to include individuals, corporations and trusts), (ii) dies or (iii) emigrates from Canada, he or she is deemed to have disposed of, (and immediately reacquired in the case of emigration), the property in question for fair market value and therefore, to the extent there are any accrued but unrealized gains in the property, a capital gain (or income gain depending on the nature of the property) and corresponding income tax will result. Note that this deemed disposition and reacquisition rule also applies to certain property held by certain trusts every 21 years.

Generally, Canada does not have exemption or de minimis thresholds and therefore, these rules apply to all individuals, irrespective of the amount of the transfer or the value of their estate on death. Note that in most instances transfers of assets between spouses both during lifetime and on death are exempt from the deemed disposition rule. 
Income Tax Rates: Like the United States, all individuals in Canada are subject to federal income tax, which is based on a graduated rate In addition, each province levies an income tax on its residents; residency for provincial purposes is determined as of December 31 of each year. 
Capital Gains Tax: Canada does not have a separate capital gains tax but rather, one half of capital gains are included in ordinary income and subject to Practically speaking, this means that the full capital gain is subject to tax at roughly ½ of the ordinary income rates. Certain types of capital gains are excluded from taxation in Canada including the gain on the sale of a "principal residence" (irrespective of amount) as are capital gains, up to certain limits, realized from the sale of certain types of business, farming and fishing interests.
The Canada-U.S. Tax Treaty: The S. has tax treaties with a number of countries, including Canada. The Convention Between Canada and the United States of America with Respect to Taxes on Income and Capital Gains (the "Canada-U.S. Tax Treaty") can resolve a number of issues that arise in cross-border planning, including relief from potential double taxation, determination of the authority to tax and elections for efficient tax planning.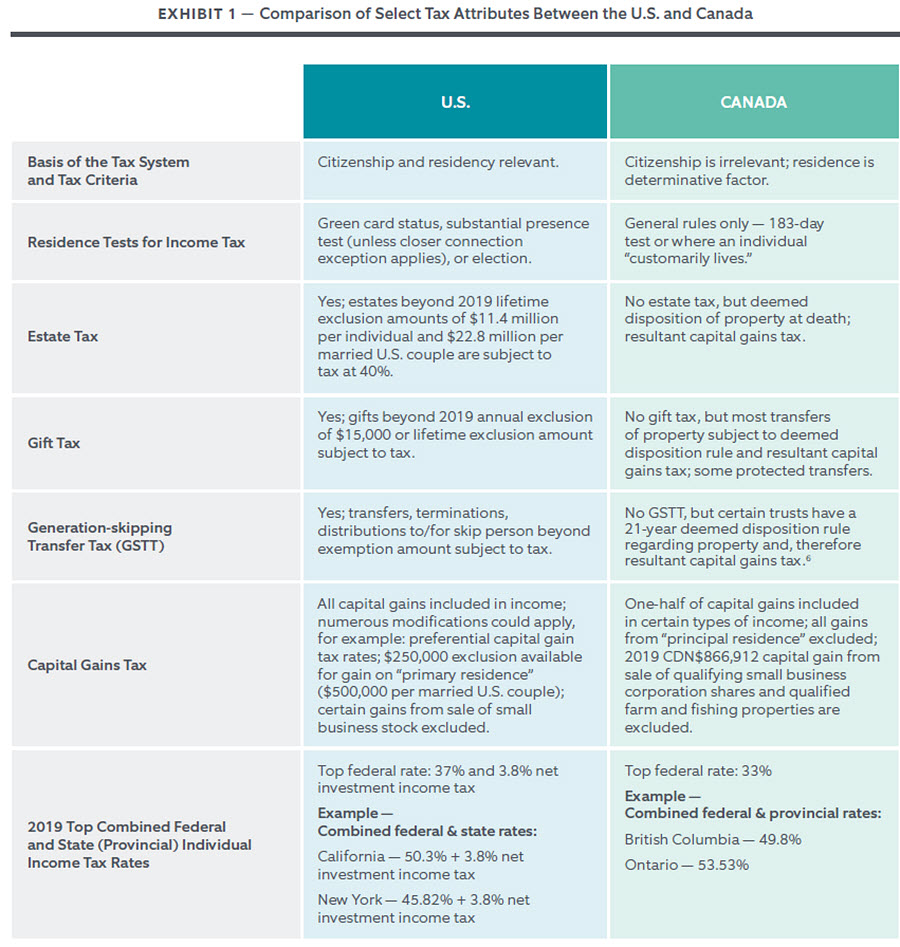 ---
FOR MORE INFORMATION
As a premier financial firm, Northern Trust specializes in Goals Driven Wealth Management backed by innovative technology and a strong fiduciary heritage. Our Wealth Planning Advisory Services team leverages our collective experience to provide financial planning, family education and governance, philanthropic advisory services, business owner services, tax strategy and wealth transfer services to our clients. It is our privilege to put our expertise and resources to work for you.
If you would like to learn more about these and other services offered by Northern Trust, contact a Northern Trust professional at a location near you or visit us at northerntrust.com.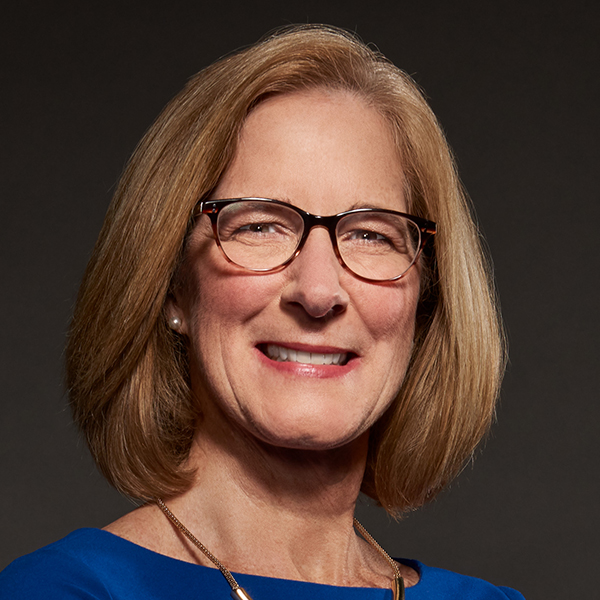 Suzanne L. Shier
Wealth Planning Practice Executive & Chief Tax Strategist/ Tax Counsel
Suzanne L. Shier is the Wealth Planning Practice Executive and Chief Tax Strategist/Tax Counsel for Wealth Management at Northern Trust and serves on the Wealth Management Operating Group.
RELATED ARTICLES
Answers to common questions on international tax law.
What questions should you be asking to develop a goals driven investment strategy? Katie Nixon shares her insight with readers about where their focus should be.
Steps to take at each stage of the journey.