Subscribe to Publications on Market Trends & Insights
Stay informed and put recent portfolio performance in context with market themes and our investment outlook.
10 Ways to Improve Tax Management in Your Portfolio
Taxes are a significant drag on returns, yet investors often manage portfolios as if they were untaxed. Here are 10 ways to change that.
By Andrew Kunzweiler, CFA and Michelle Kelley, CFA, CFP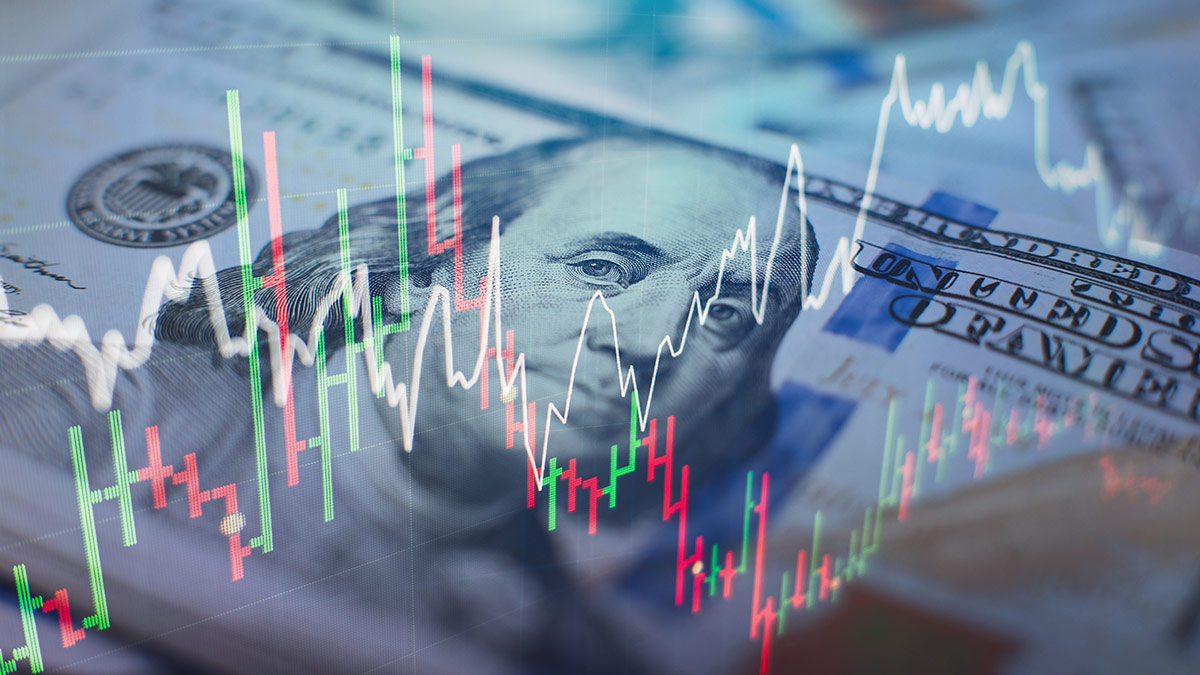 Taxes are often the single largest cost faced by investors and have an outsized impact on after-tax wealth accumulation. A disturbing observation, however, is that much of the money held by taxable investors is managed as if it were untaxed. For taxable investors, the primary goal of investing is to maximize after-tax wealth. Investment managers who implement the key principles of tax efficiency, described below, will help their clients do just that. Although some of the examples are focused on index management, the same principles and techniques can be utilized across many different types of mandates such as factor-based strategies.
#1 Use Separately Managed Accounts (SMAs)

In a separately managed account, investors directly own each of the securities held in their portfolio. This allows for more control over tax management. For example, an SMA can distribute realized capital losses and still earn a market return while exchange-traded funds and mutual funds cannot distribute losses to investors, only gains. Additionally, an SMA account structure enables investors to incorporate any unique investment preferences or constraints that cannot be implemented with exchange-traded funds or mutual funds.
#2 Harvest Losses as They Become Available

Losses can be used to offset gains realized elsewhere in an investor's portfolio to lower the investor's tax bill. Further, losses can be carried forward into the future when they offset other gains. With regular loss harvesting, our research shows that investors can gain 1-2% a year after-taxes over a full market cycle.
#3 Trade Regularly Throughout the Year

Investors should take advantage of the volatility throughout the year to harvest losses rather than waiting until the end of the year. By trading regularly, investors will benefit by having more opportunities to harvest losses. Exhibit 1 shows the price chart in 2019 of a hypothetical stock. Note that a manager purchasing shares of the stock in the middle of January would have had numerous opportunities to realize a loss over the course of the year.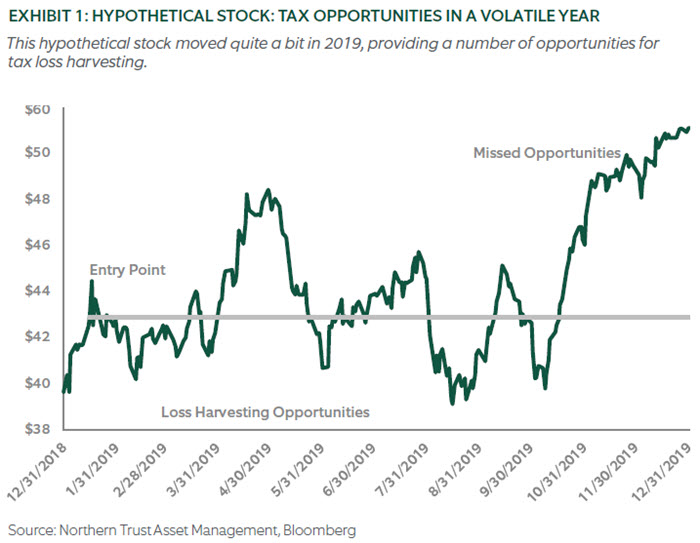 We find it best to trade around the Internal Revenue Service wash sale rule, which states that a security or a substantially identical security can't be repurchased in the 30 days prior to and after a sale for a loss. This means that we are trading in our clients' portfolios roughly every 31-45 days. Trading this frequently helps to manage risk in the portfolio, invest cash received from dividends and corporate actions before it becomes a drag on performance, and take advantage of any market volatility. Keep in mind though that it is important to analyze the portfolio more frequently, even daily, to take advantage of opportunities that may arise within wash sale as they occur.
#4 Take Advantage of Volatility

Obviously, all clients and managers hope that the stock market goes up over time, but a somewhat volatile market in which not every stock goes up is preferred. This is common, as Exhibit 2 shows. There are always stocks that decline in price, even in the face of a rising market environment. Diligent managers will take advantage of any temporary dips in price to harvest losses.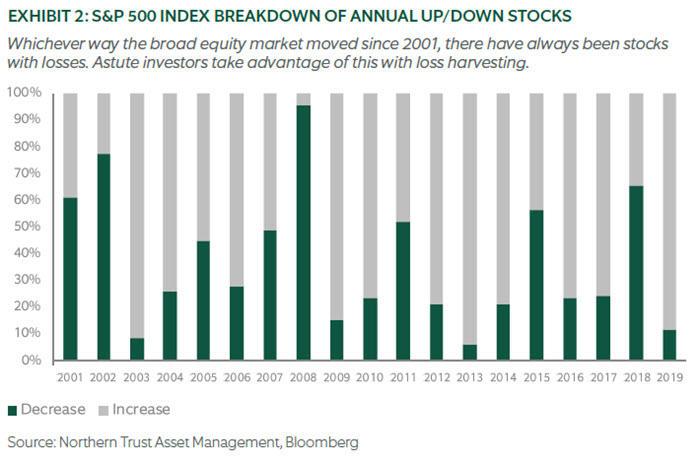 #5 Balance Loss Harvesting and Tracking Error

Investment managers should work with their clients to strike a balance between loss harvesting and tracking error. A tradeoff must occur between close index tracking and realizing losses. Investors can choose to focus on maximizing loss harvesting at the expense of risk, to be more focused on risk at the expense of loss harvesting, or be more balanced between risk and harvesting losses. These needs also can change throughout the year, so regular communication between the investment manager and the client is necessary to ensure the portfolio is aligned with current goals and market opportunities.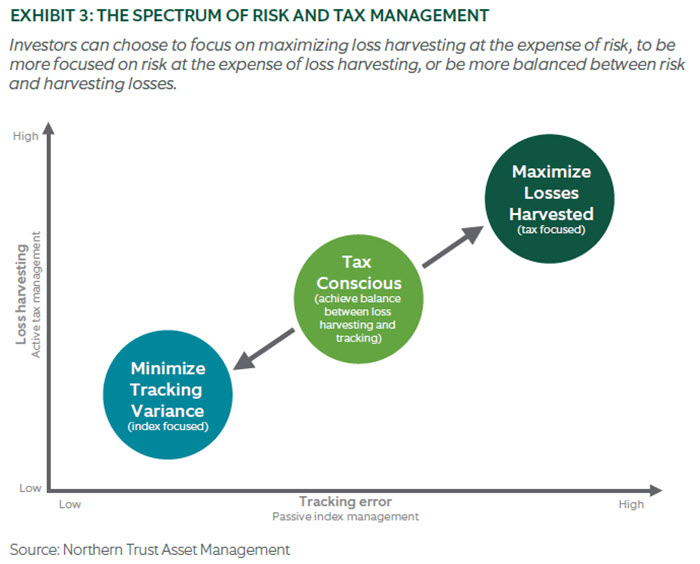 #6 Defer Gains as Long as Possible

Deferring investment gains to avoid taxes is just as important as regular loss harvesting, and it provides significant value to investors. To illustrate the importance of deferring gains, the chart below shows two hypothetical portfolios with initial investments of $1 million. In the first portfolio, gains were realized by selling winners, which results in a capital gains tax payment. In the second, the gains were deferred, so no taxes were paid. The "gains-deferred" portfolio ended up 25%, or nearly $650,000, more valuable than the "gains-realized" portfolio after 20 years. This highlights the power of deferring gains, which allows taxes that would have been paid to remain invested. 


#7 Transition Portfolios Efficiently

Portfolio transitions are another opportunity for managers to defer gains. When a manager is rebalancing to a target allocation or raising cash, the most tax-efficient lots should be sold. Similarly, when looking to fund a new manager or receive assets from a terminated manager investors should consider funding with securities inkind. By funding in-kind, the investor is able to continue to defer gains and transition efficiently.


#8 Manage Consequences of Harvesting Losses

When investors regularly harvest their losses, they reduce the overall cost basis of the portfolio. This creates the potential liability of deeper embedded unrealized gains over time. Here are three ideas to consider that serve to refresh a portfolio:

Gifting: Investors can gift securities with steep unrealized gains to remove them from the portfolio. This is even more effective if the portfolio is replenished with cash after the gift because securities are repurchased at current prices. As a result, the portfolio risk can be managed while increasing its cost basis.

Strategic gain realization: Realizing gains now instead of deferring them may make sense in some cases and can serve to refresh a portfolio. This could be a strong option if a portfolio has many lots with shallow unrealized gains, there is an expiring loss carryforward, or tax rates are expected to be higher in the future. In each case an investor can seek to realize as much in gains as desired, thereby removing appreciated tax lots, and then reinvest the proceeds at current prices.

Add cash to portfolio: Similar to prior examples, infusing the portfolio with new cash and purchasing securities at current prices creates new tax lots that increase the portfolio's cost basis. This should in turn increase the opportunity for future loss harvesting.
#9 Use Sophisticated Systems

Each of the above principles is moot if the manager lacks the investment management systems needed to implement a tax aware investment strategy. The aim of a tax manager sounds fairly simple: match the return of the benchmark and realize losses. But those are two opposing goals and not as easy to implement in practice as they sound.

In order to harvest losses, the portfolio can't look exactly like the benchmark. Further complicating the matter are 1) the IRS wash sale rule, 2) different tax rates that apply to different holding periods and different investor types, and 3) the hundreds, sometimes thousands, of individual tax lots that need to be maintained and accounted for.

Investors will benefit most from tax management powered by sophisticated systems that maintain unique tax lots, consider risk preferences, maximize after-tax value added, consider transaction costs, and adhere to the wash sale rule.
#10 Take Advantage of Experience

The final principle of tax-efficient investment management is that experience matters. The Tax-Advantaged Equity team at Northern Trust Asset Management has more than 30 years of experience in active tax management for clients ranging from high-tax institutions and individuals to foundations and endowments. We implement a flexible, diligent process that balances tax management and tracking error in order to meet our clients' unique tax, risk and investment objectives. We review our clients' portfolios each day to monitor risk, cash levels and the available opportunity set to add tax alpha. When trading in our clients' portfolios, we start with the client's chosen benchmark and layer on any investment constraints or guidelines.

We take into consideration any upcoming index changes or rebalances, and we factor in trading costs to make sure that the value of a realized loss isn't eroded by transaction costs.

Finally, we leverage proprietary risk and optimization tools to manage unintended exposures and maximize added value after taxes.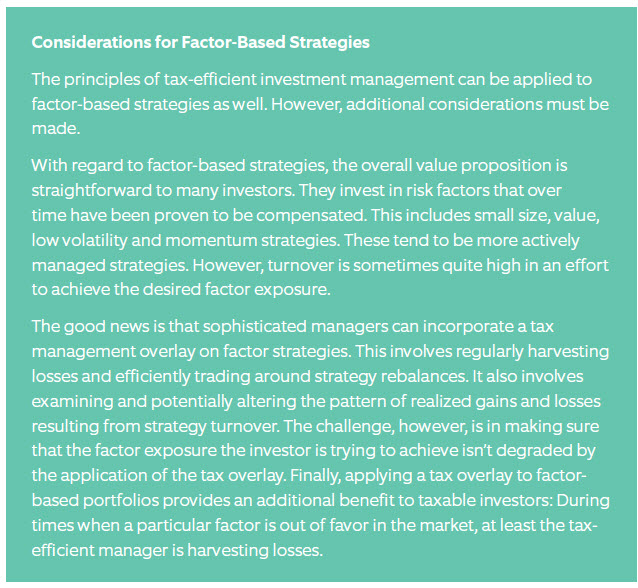 ---
© 2020 Northern Trust Corporation. Head Office: 50 South La Salle Street, Chicago, Illinois 60603 U.S.A.
IMPORTANT INFORMATION.
For Asia-Pacific markets, this information is directed to institutional, professional and wholesale clients or investors only and should not be relied upon by retail clients or investors. The information is not intended for distribution or use by any person in any jurisdiction where such distribution would be contrary to local law or regulation. Northern Trust and its affiliates may have positions in and may effect transactions in the markets, contracts and related investments different than described in this information. This information is obtained from sources believed to be reliable, and its accuracy and completeness are not guaranteed. Information does not constitute a recommendation of any investment strategy, is not intended as investment advice and does not take into account all the circumstances of each investor. Opinions and forecasts discussed are those of the author, do not necessarily reflect the views of Northern Trust and are subject to change without notice.
This report is provided for informational purposes only and is not intended to be, and should not be construed as, an offer, solicitation or recommendation with respect to any transaction and should not be treated as legal advice, investment advice or tax advice. Recipients should not rely upon this information as a substitute for obtaining specific legal or tax advice from their own professional legal or tax advisors. Information is subject to change based on market or other conditions.
Past performance is no guarantee of future results. Performance returns and the principal value of an investment will fluctuate. Performance returns contained herein are subject to revision by Northern Trust. Comparative indices shown are provided as an indication of the performance of a particular segment of the capital markets and/or alternative strategies in general. Index performance returns do not reflect any management fees, transaction costs or expenses. It is not possible to invest directly in any index. Gross performance returns contained herein include reinvestment of dividends and other earnings, transaction costs, and all fees and expenses other than investment management fees, unless indicated otherwise.
Northern Trust Asset Management is composed of Northern Trust Investments, Inc. Northern Trust Global Investments Limited, Northern Trust Fund Managers (Ireland) Limited, Northern Trust Global Investments Japan, K.K, NT Global Advisors Inc., 50 South Capital Advisors, LLC and investment personnel of The Northern Trust Company of Hong Kong Limited, and The Northern Trust Company.